Cooler weather and more time indoors is the perfect excuse to make your own reading nook and curl up with a good book. Check out these 9 Reading Nooks To Curl Up In With A Good Book!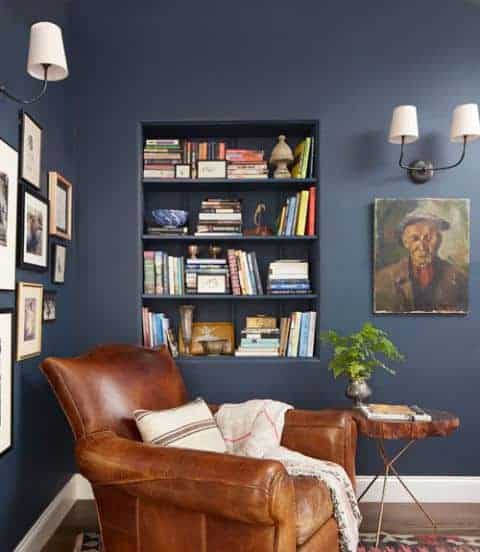 9 Reading Nooks To Curl Up In With A Good Book
It's been getting down into the 30's at night where we live, which combined with cooler sunny days and the changing leaves gives me all the fall feels. In honor of all those fall feelings, I've been doing a cozy fall home series for the past couple of weeks, if you missed the last one, you can check it out here: Fall Hygge: A Cozy Night In.
Elements For A Cozy Reading Nook
Today I wanted to chat about one of my other favorite ways to bring cozy into a home – reading nooks. Reading nooks are great not just for their cozy factor, but also because anyone can make one! You don't need to spend a fortune building out a room, or remodeling a current one, because really you only need a few key elements to make your own welcoming reading spot:
A cozy place to sit
Some throw pillows or a blanket
A spot to set your coffee or tea
A good book
If you are lucky enough to have a designated built in reading nook, there are so many ways you can up the cozy factor by adding your own design tweaks to the space:
Adding soft cushions to a window seat.
Using curtains or blinds to create ambient lighting.
Using a chaise lounge for an extra special place to sit.
Hanging some book related art to help designate what the space is for.
The home we just moved into doesn't have any obvious space for a window seat or nook for reading, but my hope is to make a designated space in our master bedroom with a comfy chair, lamp, and little side table. I'll do a future post on that once it's all done:) If you're thinking about making your own reading spot or "book nook" I hope this inspiration gives you some ideas!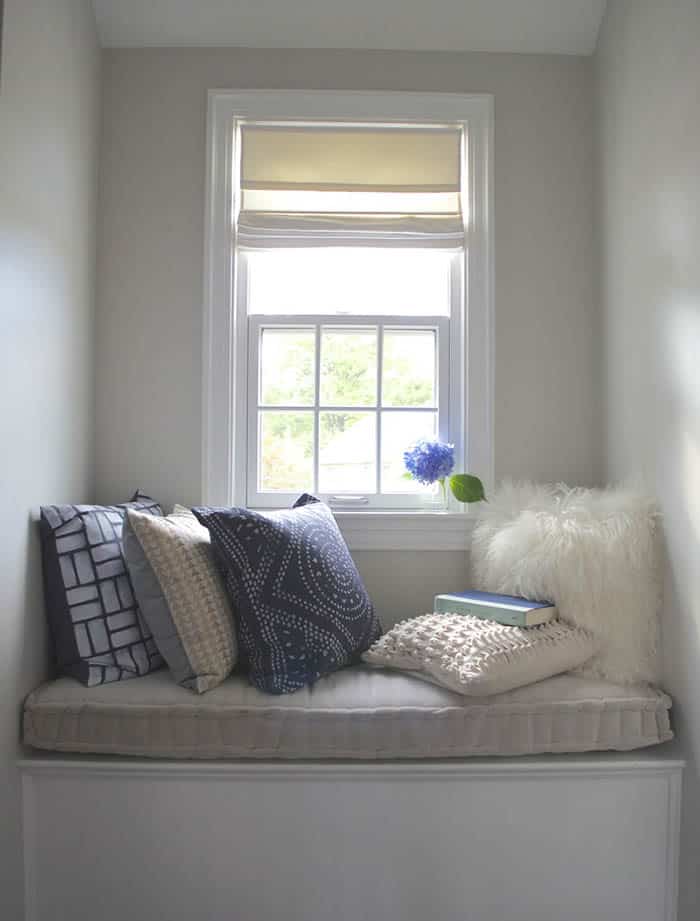 Reading Nook Design Inspiration
I love this reading nook from Design Sponge because it illustrates how you you can make a cozy spot to curl up without a lot of clutter or fancy trappings. A linen roman shade, some throw pillows, and a flower in a simple jar make this space inviting and ready to use.
This more fancy reading spot is definitely one to dream about – but dreaming is what's fun, right?! I love the way the bookshelves outline the doorway and add interest. This idea could be easily replicated in a smaller home if you have a closet or small, unusable room where you could add a built in bench.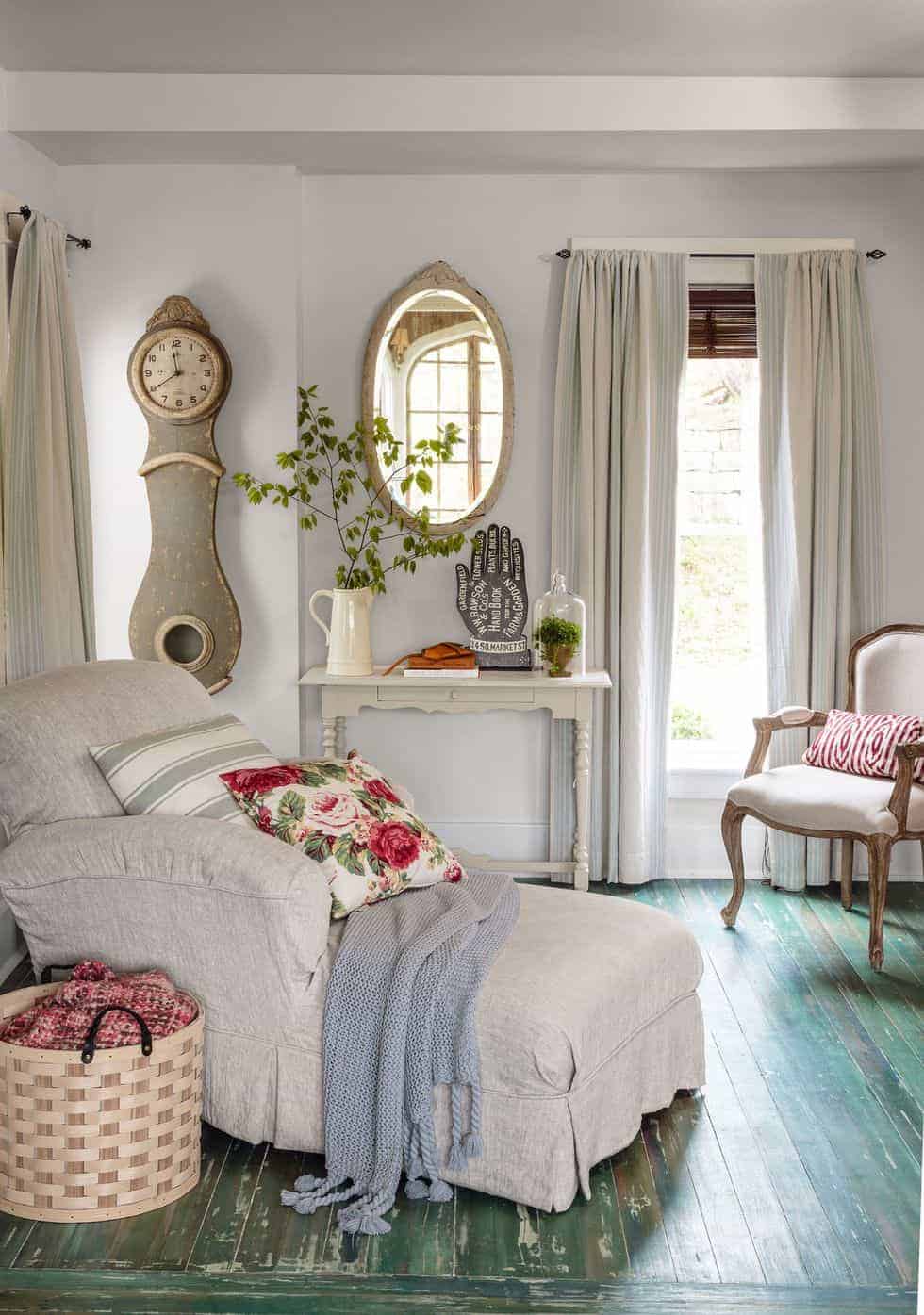 While I love everything about this space, I love that inviting chaise lounge the most! If you have the space in a family room or living room (and the budget!) for a chaise lounge, it takes cozy lounging to a whole other level.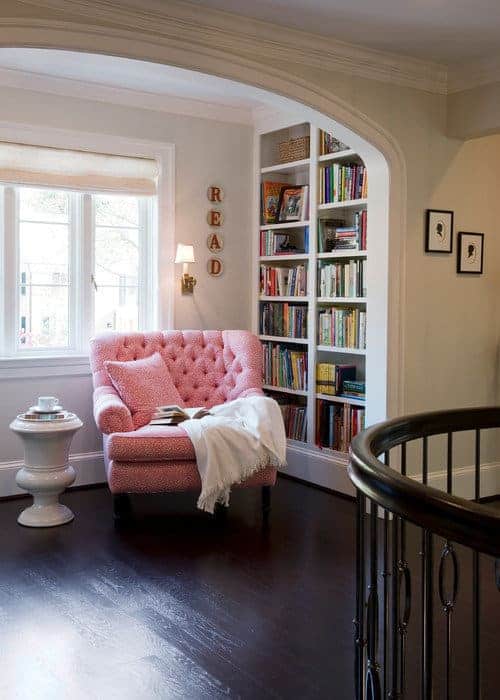 This one is a different example of thinking outside the box when it comes to where you could use a reading nook: a stair landing. If you have stairs, especially a large staircase, you know that landings between floors can often have a ton of unused space available. Turn that space into something warm and functional by adding a chair and side table!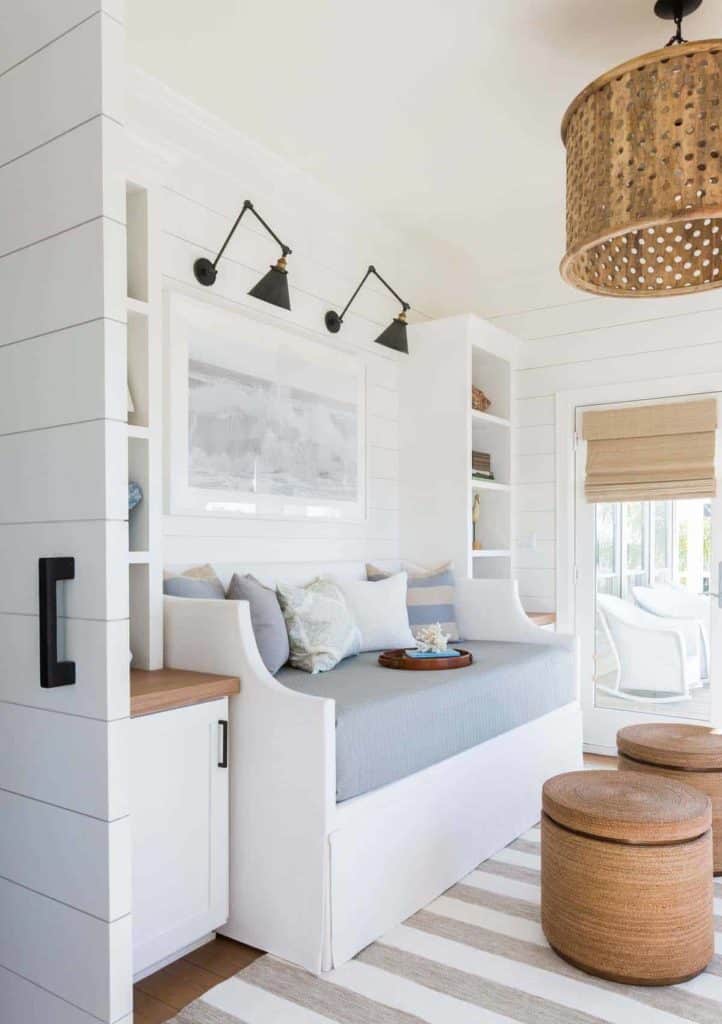 A daybed: the perfect place for an afternoon nap or to curl up with a book. This daybed looks like a custom fit between those built-ins, but you could replicate this idea in a spare bedroom or office as a way to make a room that serves a duel purpose.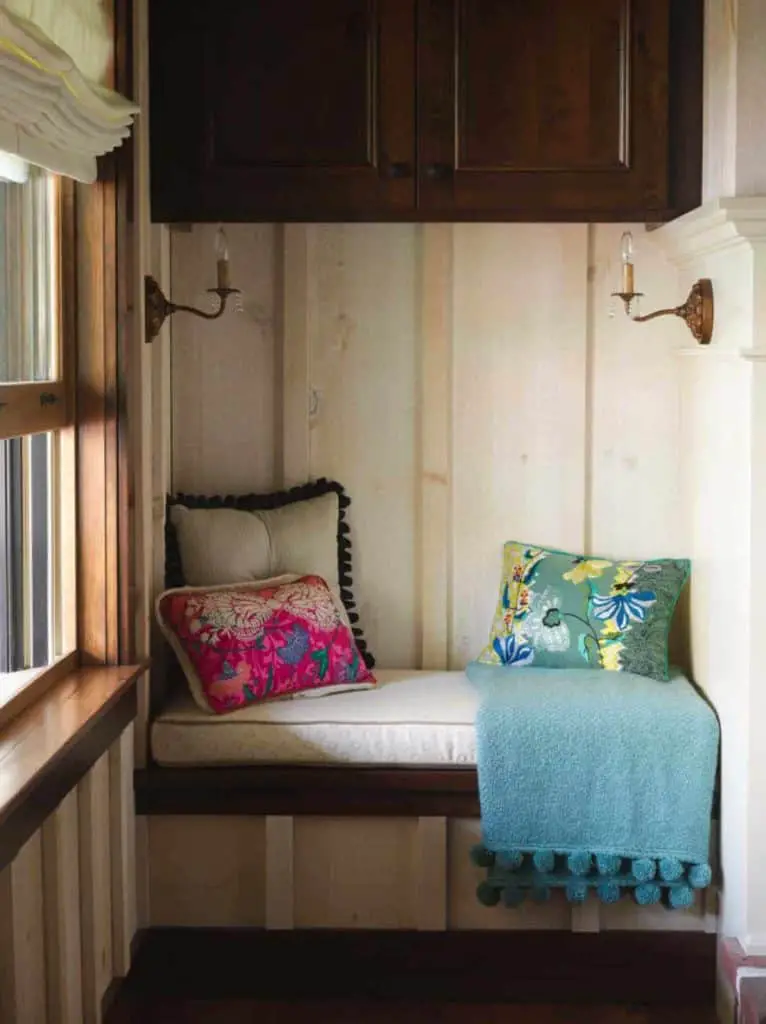 Working With What You Already Have
Another great example of how a simple window seat can become a cozy oasis. Adding wall sconces gives it that extra thoughtful touch and little bit of reading light on a rainy day.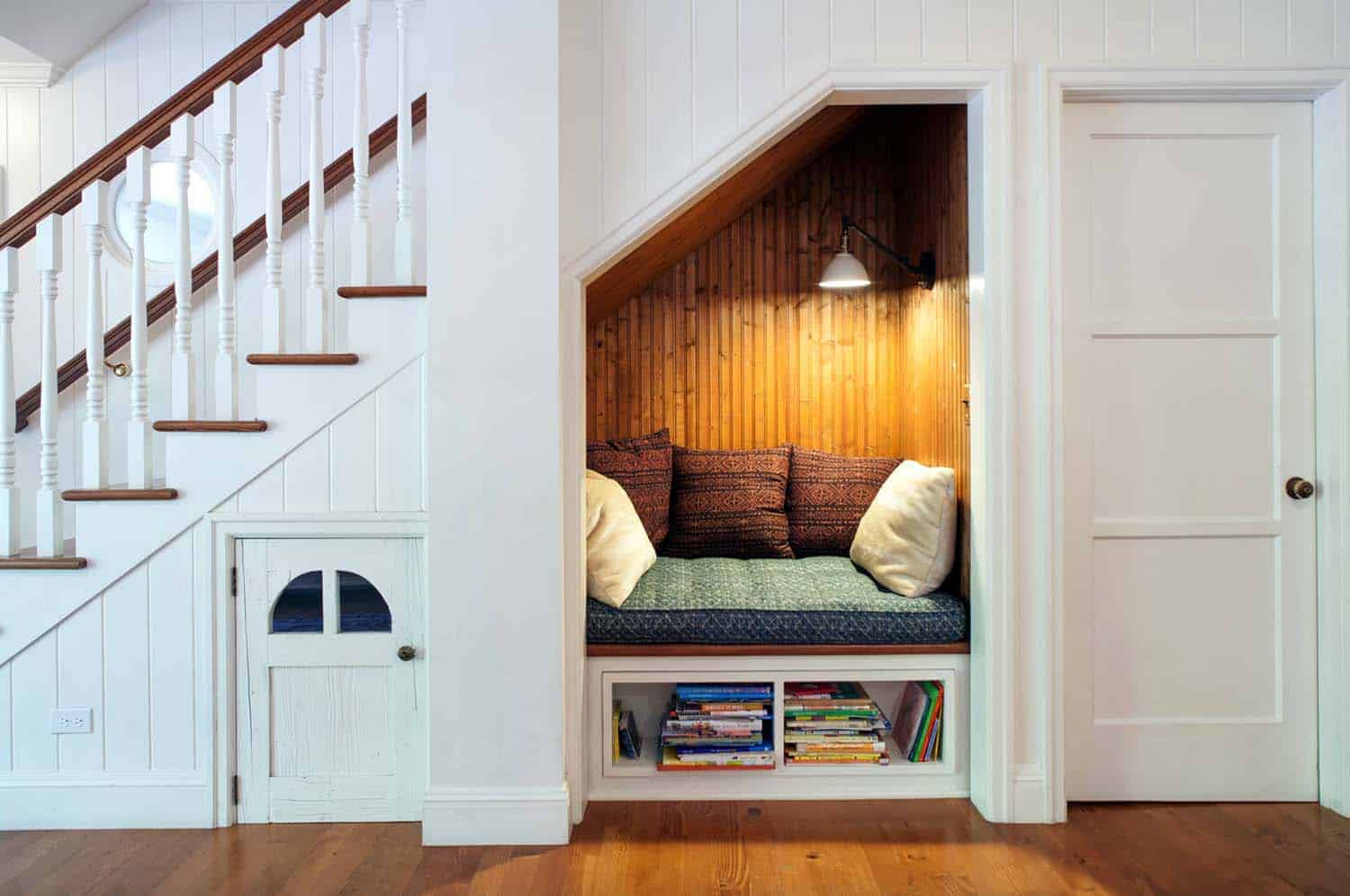 This is by far the most creative idea I've seen for making an unused space functional – a cubby under the stairs! Besides being beyond cute, this little space would be perfect for curling up with your kids or grandkids for afternoon story time (plus I really want to know what's behind that little door to the left:)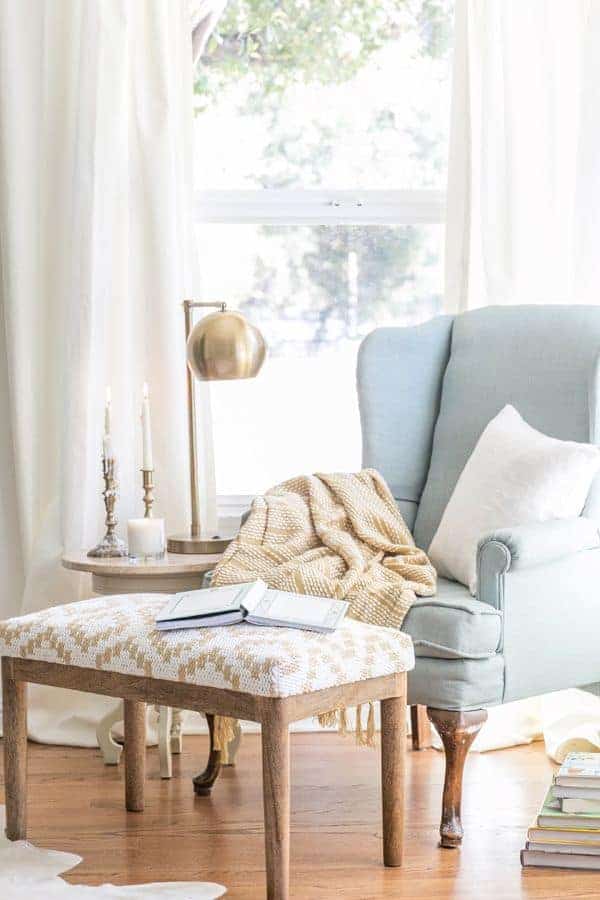 Source
This last image is my favorite just because it's so simple. It's something most of us could replicate in our living rooms; a comfy chair, footstool, lamp, and side table just waiting for you to sit down with your afternoon cup of tea:) Add a stack of books next to the chair and you have all the touches needed for a homey little reading nook.
Do you have a designated reading area in your home or a comfy chair you like to curl up in? If you have a reading chair you love, let me know because I'm in the market for one:)
Want to save this post? Pin it here!