These tips for a kitchen herb garden will help you add some greenery to your kitchen along with the convenience of fresh herbs for cooking.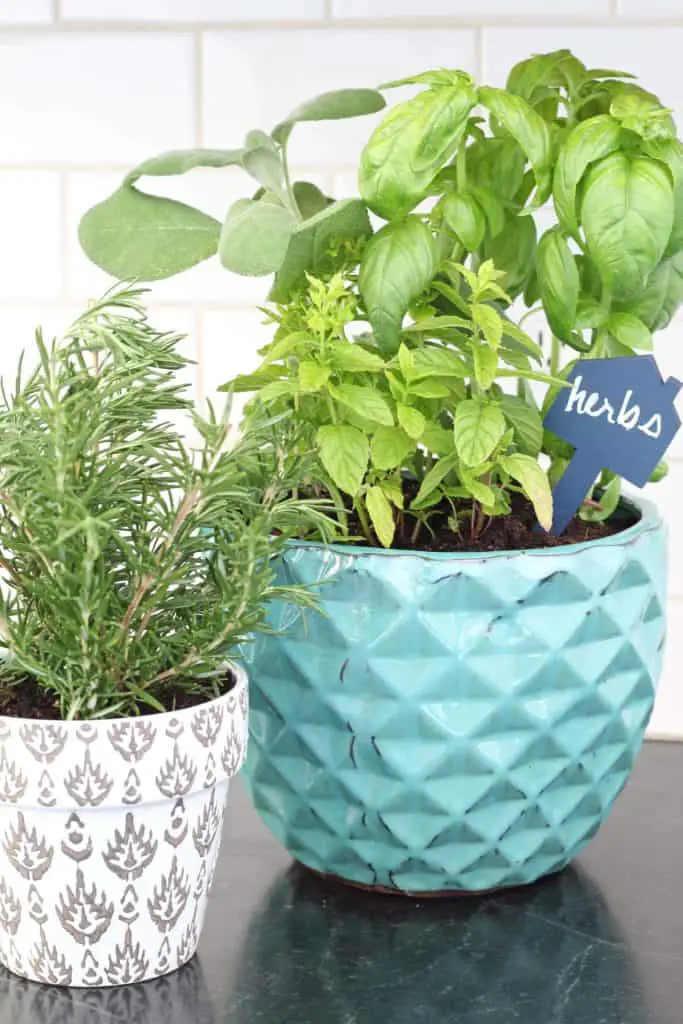 I have a long standing obsession with herb gardens that dates back to my ten-year-old self, which is when I was first introduced to herbs……lemon balm to be specific. I loved the smell of it so much that I brought some home from a neighbor's house and transplanted it in my mom's garden (despite dire warnings about how invasive it was). To this day my mom is still pulling lemon balm out of random garden beds.
But truly, does anything smell better that sweet basil…or a good mint plant? I don't think so. And what better way to marry form and function but to have a herb garden in your kitchen that smells amazing, looks beautiful, and provides fresh herbs to cook with? Put those herbs in a cute pot and I'm sold!
The best part about a kitchen herb garden? Anyone can have one, it doesn't matter whether you live in an apartment with no backyard, or have a tiny kitchen, because they take up so little real estate. There are so many different ways you can make a kitchen herb garden that fits in with your home decor and functions well in your kitchen, so get creative with it! Here are my tips based on what works best for me: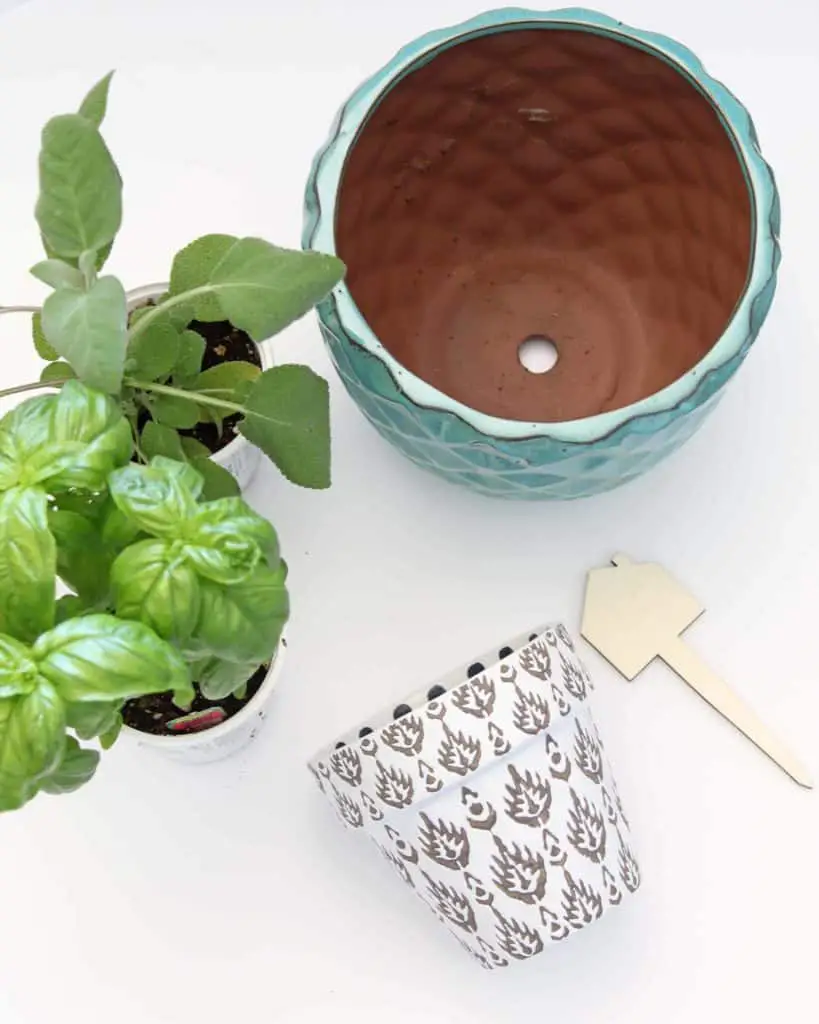 Tips For A Kitchen Herb Garden
1. I like to use a couple of cute pots in varying sizes, colors, and patterns to add some interest. In this instance I chose one pot large enough to fit three herb plants (the aqua one) and a smaller pot that holds one plant (both of these pots are recently from Lowes ). The easiest way to make sure everything fits is to try the plants out in the pot at the store, or bring a pot from home to the store so you can make sure everything fits they way you want it to.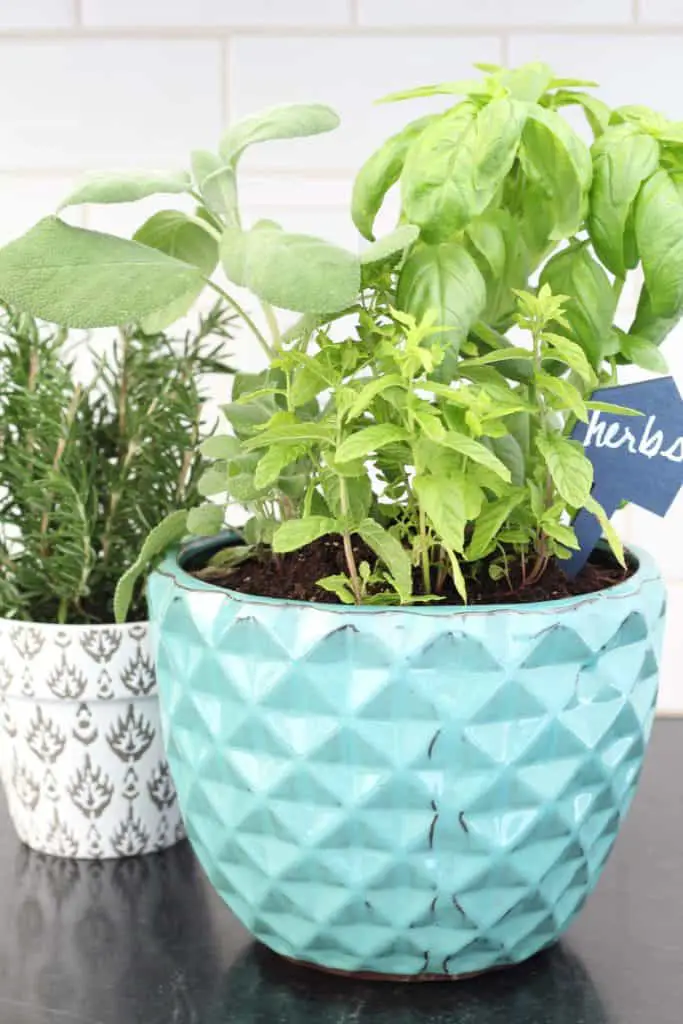 2. Pick out herb plants of varying heights. This tip really goes for any container garden because variation is the spice of life! By adding plants with differing heights, you add visual appeal and the ability to easily see what types of herbs are in the pot. You can see this in the aqua pot where the smaller mint plant is down front, while the larger basil and sage plants fill out the back.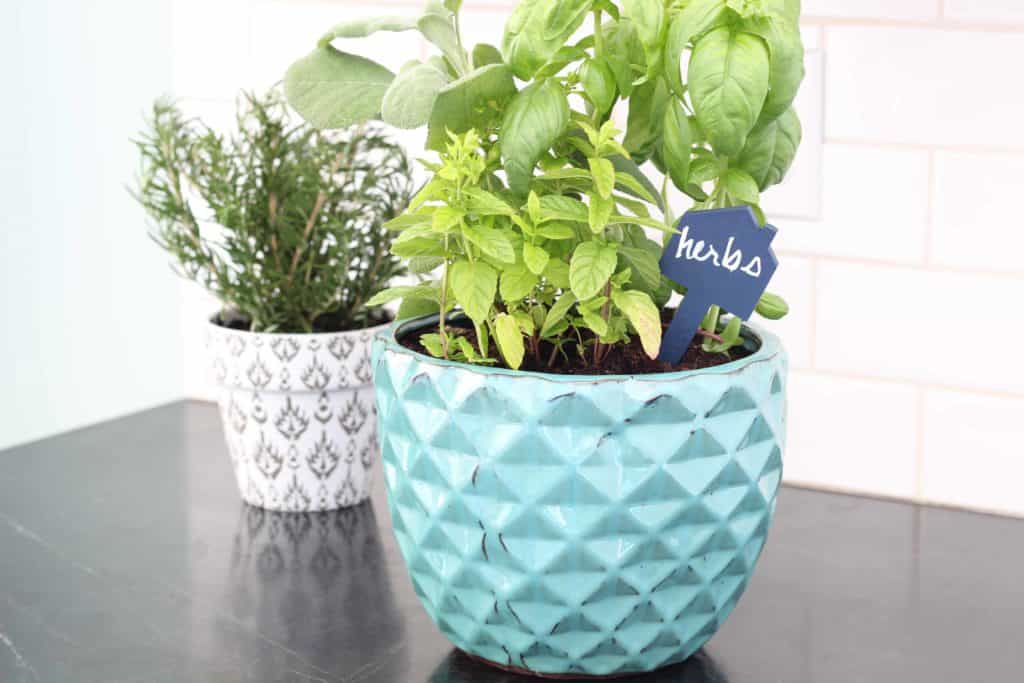 3. Make sure your pots provide good drainage. Nothing kills off an indoor plant faster than rotten roots. Having holes in your pots helps with this, but I also like to add a layer of rocks to the bottom of my pot before I put any dirt in. This helps keep the roots from sitting in any water, and also helps keep your dirt from washing out of the pot every time you water.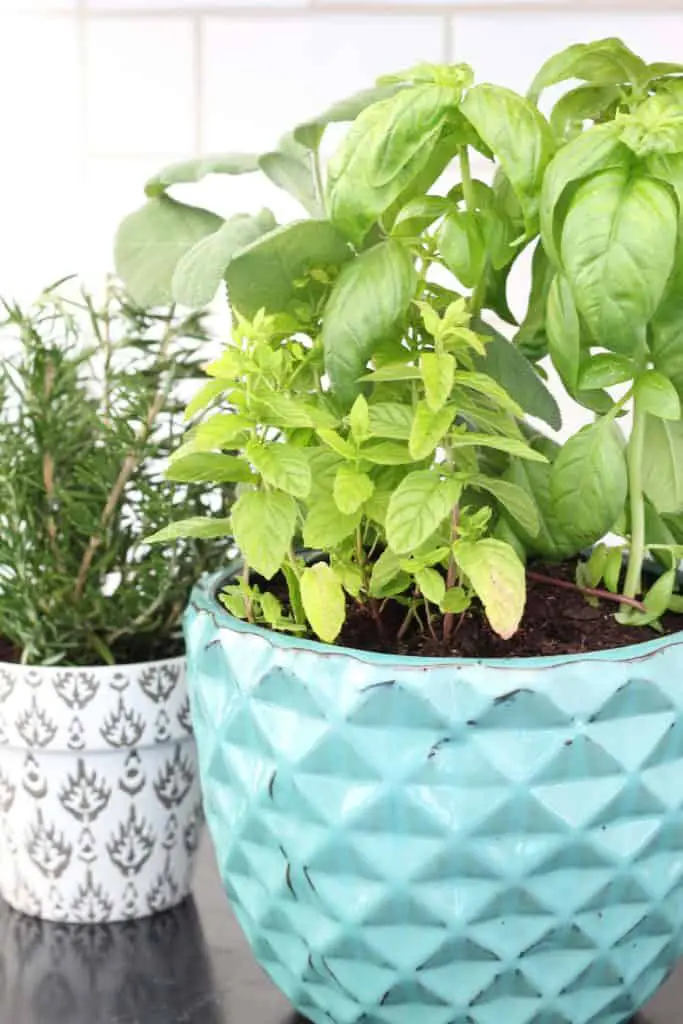 4. Add something whimsical. This isn't meant to be anything practical, just something that makes you smile or happy to look at. I saw the little house silhouette in the clearance section at Joann's for .50 cents and thought it would make a cute garden marker. I painted it blue and used a chalk pen to write on it. There are so many different things you could do – an inspirational quote or verse, even a message if you want to give the herb pot away as a gift!
5. When you decide to use your herbs for cooking, clip them early in the morning if possible. Apparently this is when they are at their peak for flavor. If you don't want to use them until later (like for dinner) just pop them in a jar of water in your fridge until you're ready to use them.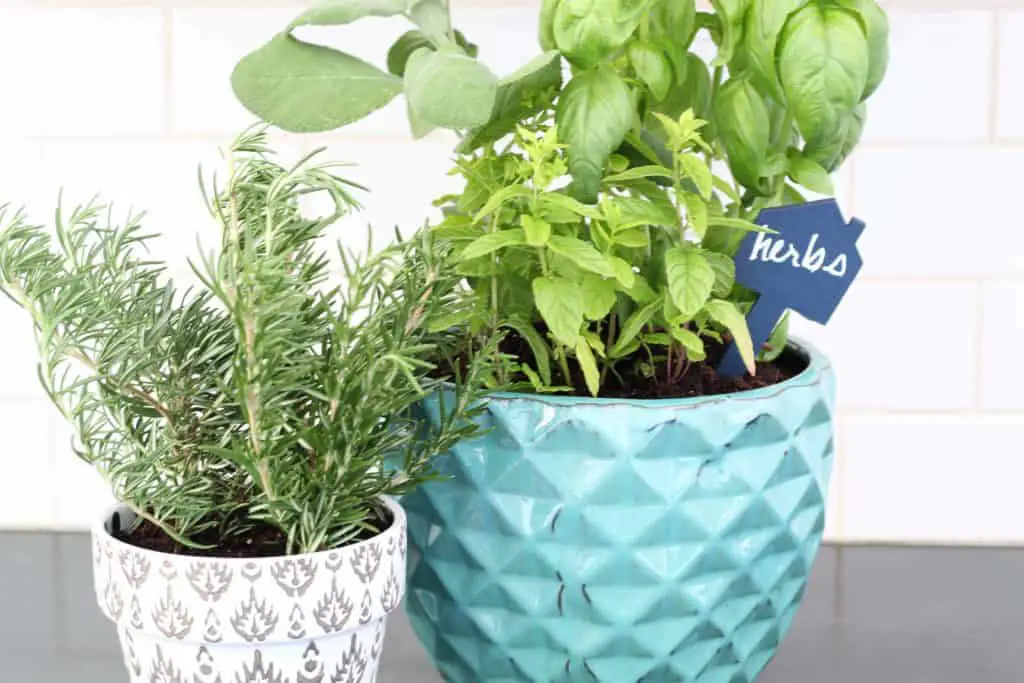 And those are my tried and true tips for making a simple and cute kitchen herb garden! Remember to water about once a week and prune them regularly to keep them growing evenly.
Do you have a favorite herb? Sweet basil tops the list right now for me;)
Want more DIY ideas? You might enjoy making these Beeswax Essential Oil Candles.
Want to save this post? Pin it here!