Leather armchairs are a classic piece of furniture that's been around forever. Here are some of the best sources I've found for leather chairs along with some tips to keep in mind when you're picking one out!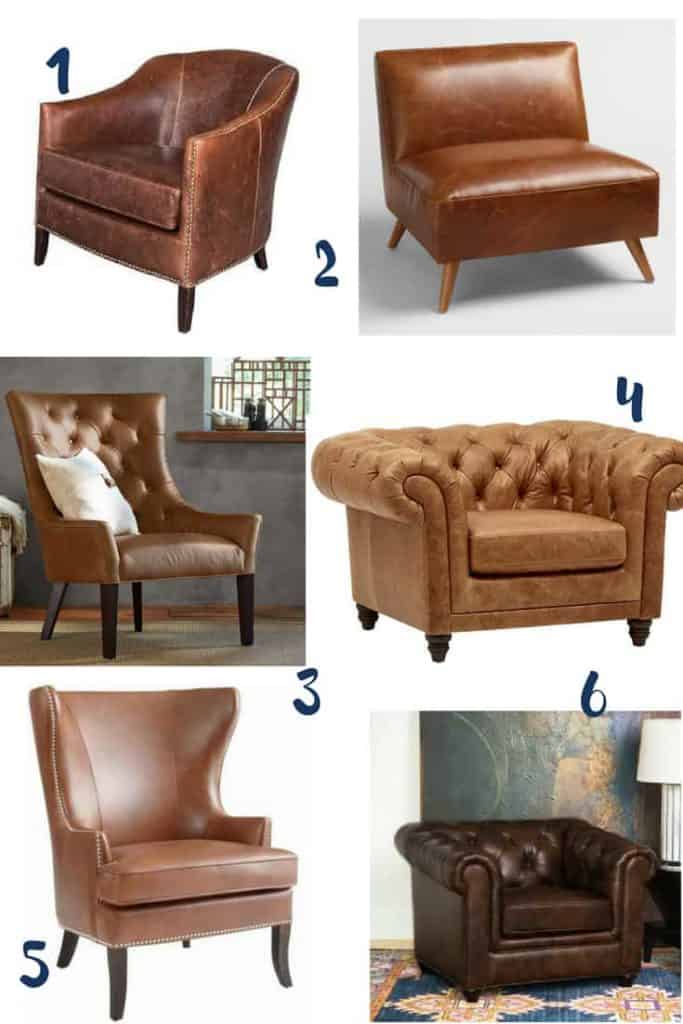 1 |  2  |  3  |  4  |  5  |  6
This post contains some affiliate links for your convenience. Click here to read my full disclosure policy.
I've been eyeing leather armchairs lately for a variety of reasons, the main one being that I feel like they add a ton of character and warmth to a room. The primary reason I've never owned one before is because of the high price point that generally comes with them….and don't get me started on the cost if you need a pair. Yikes.
Where to Find Leather Armchairs
There's good news though, there are more options out there for leather armchairs than there ever have been before, and at decent prices too! I've rounded up some of my favorite chairs and sources in the links above. Two of my favorite places to look for more affordable leather chairs are World Market and Amazon. Both places have really upped their furniture game lately by making affordable pieces that, while still an investment, don't break the bank.
I also wouldn't count out furniture consignment stores when it come to looking for leather chairs (or any furniture for that matter). If you live in a medium to large size city, you're probably going to have more inventory to choose from, but I honestly feel like a trip through my local consignment store once or twice a month is worth the effort; you never know what you could find!
Real Leather vs. Bicast Leather
One thing I have learned as I've been researching leather armchairs (and this applies to almost any leather product) is that not all leather is created equal. How much you're willing to pay will (most of the time) equate to the quality of leather you get. So if you see a chair billed as "leather" and it only costs $200, make sure you read the fine print.
Be aware that manufacturers can get away with calling something 100% leather when in reality it's something called bicast leather. Bicast leather is actually a material made of a split leather backing covered with a layer of polyurethane and then embossed. The result is a shiny, almost glossy like sheen on the leather and a more artificial feeling finish. There's nothing wrong with bicast leather, but if you have your heart set on a buttery soft leather chair or couch just make sure you know what you're getting.
Picking Out The Perfect Chair
Once you've decided what you're willing to pay for a leather chair, the next step is figuring out what style you want. More good news – there are so many more styles than you would think! I've personally been on the hunt for an english roll arm chair in leather, which has been surprisingly hard to find (at least at my price point). Whether your style leans more modern, traditional, or even vintage, you can generally find a leather chair that will compliment it.
Other than deciding on the style of the chair you want, figuring out the scale is the other important factor to consider. Scale is everything. It can be the difference between a space that looks thoughtful and one that looks like an afterthought.
Here are some things to take into account when you think about scale:
How big is my other furniture? You want your new chair to match the scale of the furniture you currently have. For instance, if you have a dainty french country style couch you probably don't want to pair it with a large chesterfield style chair because their scales don't compliment each other.
Next take in to consideration the space where the chair is going. Is it a small room? A large great room with vaulted ceilings? Examining the size and feel of room will help you get an idea of what size chair it can accommodate.
Last, make sure you measure! Again, this could apply to anything you buy for your home; measuring potential furniture before you bring it home is a lesson hard learned for many of us. It can be tempting to impulse buy, but taking the time to measure, and even taping out the measurements so you can visualize it will always be worth the extra time.
Leather armchairs are a classic piece of furniture that's been around forever. What do you think about them? If you've ever owned one I'd love to hear your thoughts!
Want to save this post? Pin it here!