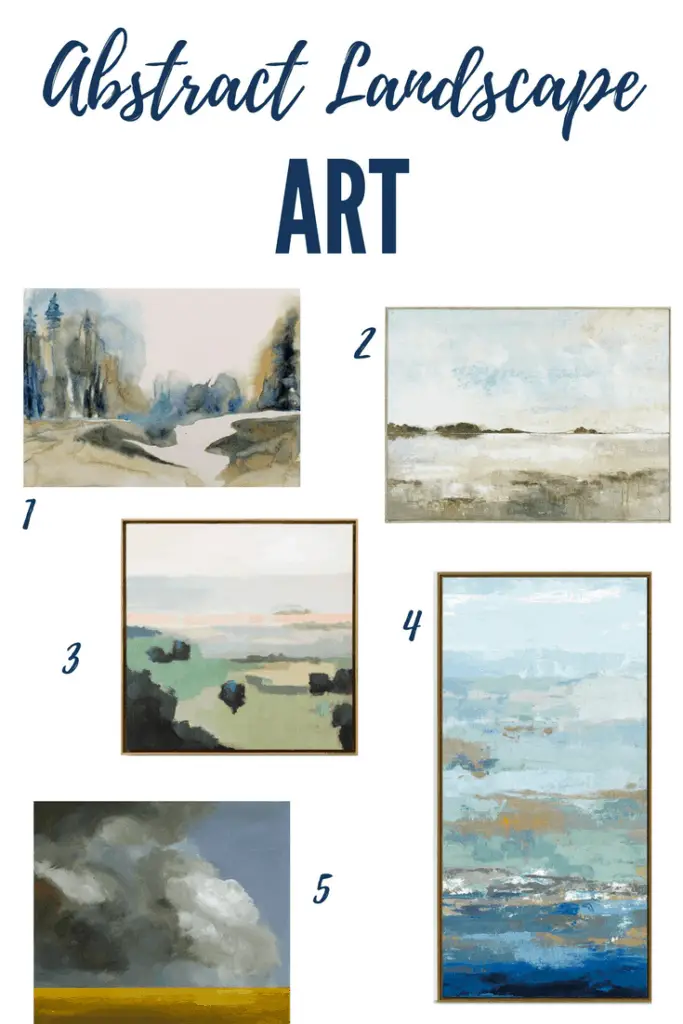 1 | 2 | 3 | 4 | 5 
Hello friends! I wanted to touch on a subject today I've been noticing a lot lately, modern design, and more specifically, abstract landscape art. Mid century modern is really having a moment in the interior design world right now; you can find examples of it everywhere, from Target to high end design studios. Instagram is full of minimalist interiors, warm wood tones, and beautiful natural elements (plants anyone?)
While I enjoy looking at modern design, it's not something that I gravitate towards for my own home. But, there is one element of modern design that I've come to love and try to incorporate into our home – abstract landscape art. I've never really been a big abstract art person, and I can't tell you exactly when I started to see the beauty in it, but I bought my first piece of abstract art from Lindsay Letters  about four years ago and never looked back.
But will it work with my style?
I think the real beauty of abstract art, particularly landscapes, is that it can work with a variety of different interior styles from farmhouse to cottage, and even traditional. In fact, off the top of my head I can't think of a style where it wouldn't work. I believe part of the reason it works so well in so many spaces is because it brings an element of calm to a room without making it feel cluttered or busy. In other words, it compliments what's already there rather than adding visual noise.
As we all know, art can be expensive, but there are so many great affordable options out there too! I've put together some of my favorites above. Etsy and Minted are my favorite places to find affordable art, but Target has also been knocking it out of the park lately too. I recently bought #3 from Target and I have to say, I'm impressed with the quality and size of the art for the price point!
What about you, are you a fan of abstract art?