Trays are a great way to corral items on top of coffee tables, dressers, and console tables. Here's my simple tried and true formula for how to style a decorative tray.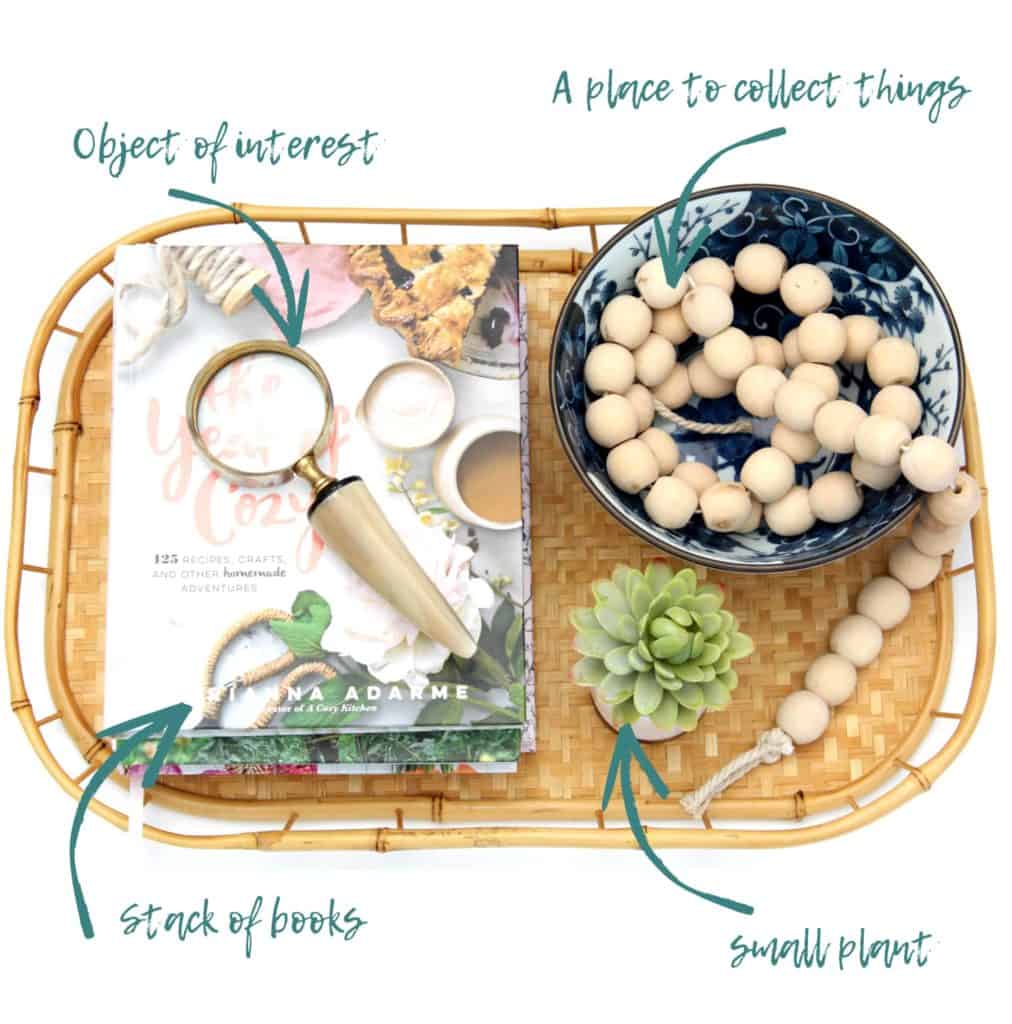 This post contains some affiliate links for your convenience. Click here to read my full disclosure policy.
Trays are one of those unicorn decorative items that actually do what you want your decorative accents to do: serve a purpose. So today is all about trays, what to do with them, how to use them in your home decor, and why I believe they help eliminate clutter.
I feel like we're making progress in our journey towards paring down our home for a variety of reasons, one of those being that we've worked so hard to try and figure out the clutter; In other words, we are constantly asking ourselves: Does this spark joy? What purpose does it serve? Are we keeping an item because we feel like we have to?
How to Style a Decorative Tray
Enter the tray. Trays have always been a decorative item that I loved, but I only recently started using them in the fight against clutter….and they are so effective! They keep things contained in one area, organize items into sections, and make ordinary everyday things look intentional and styled rather than random and cluttered.
I styled a tray that we normally use on our coffee table for this post, but keep in mind that you can use these same concepts and apply them to whatever you need to use a tray for – it doesn't just have to be decorative items! For instance, the bowl with the wood beads in it could easily be swapped out to hold keys or sunglasses if it's by an entryway.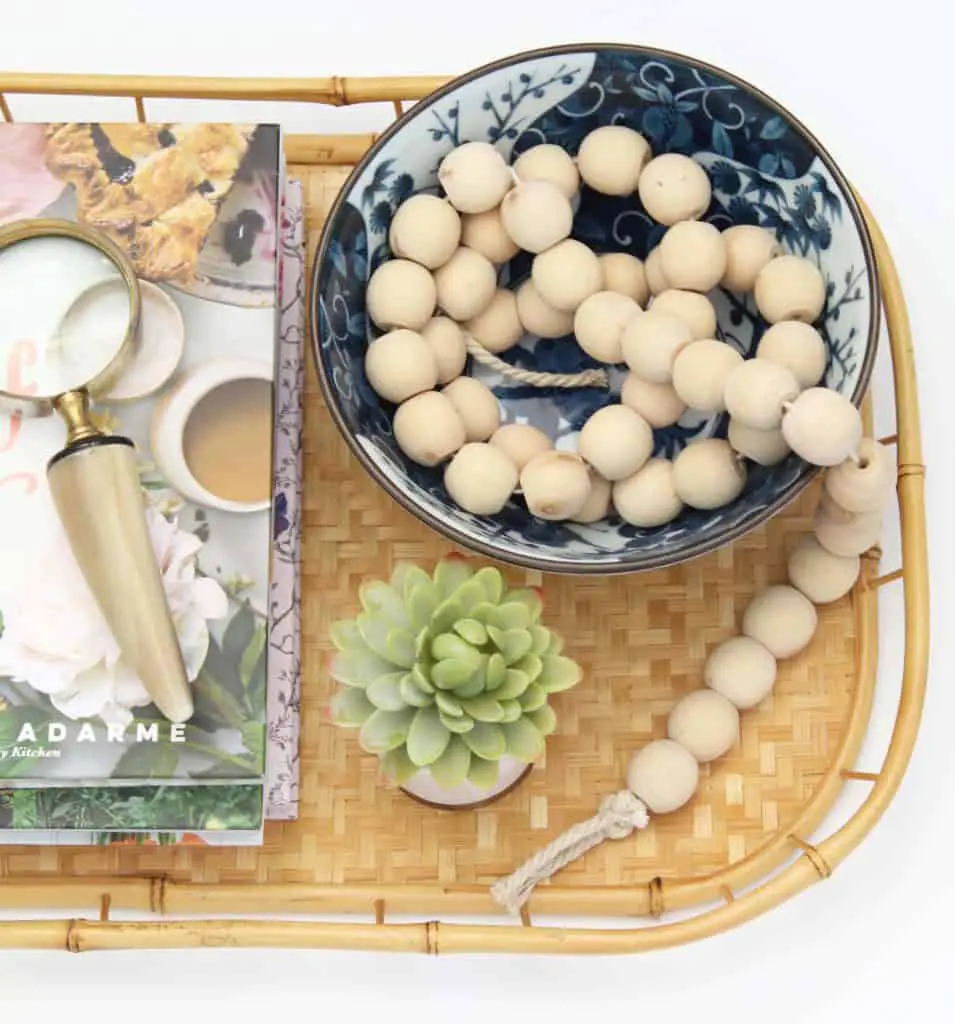 Make It Useful
While I love a good vignette, I also love to make sure I'm putting things in it that I actually use – for me this just makes sense. Why not use useful stuff and eliminate unwanted clutter? There is a caveat to this though, sometimes you need to add something just because it's pretty and makes you smile! I find if I do this every once in a while throughout my decor, it adds that little bit of unexpectedness or whimsy that a room otherwise wouldn't have.
In the tray I styled for this post, a prime example of this would be the raw wooden bead lanyard. This obviously serves no useful purpose, but I like them and they add some organic texture to the tray and the room they normally live in. The other items in the tray are all usable items; the coffee table books, magnifying glass, and plant all serve their own individual purposes.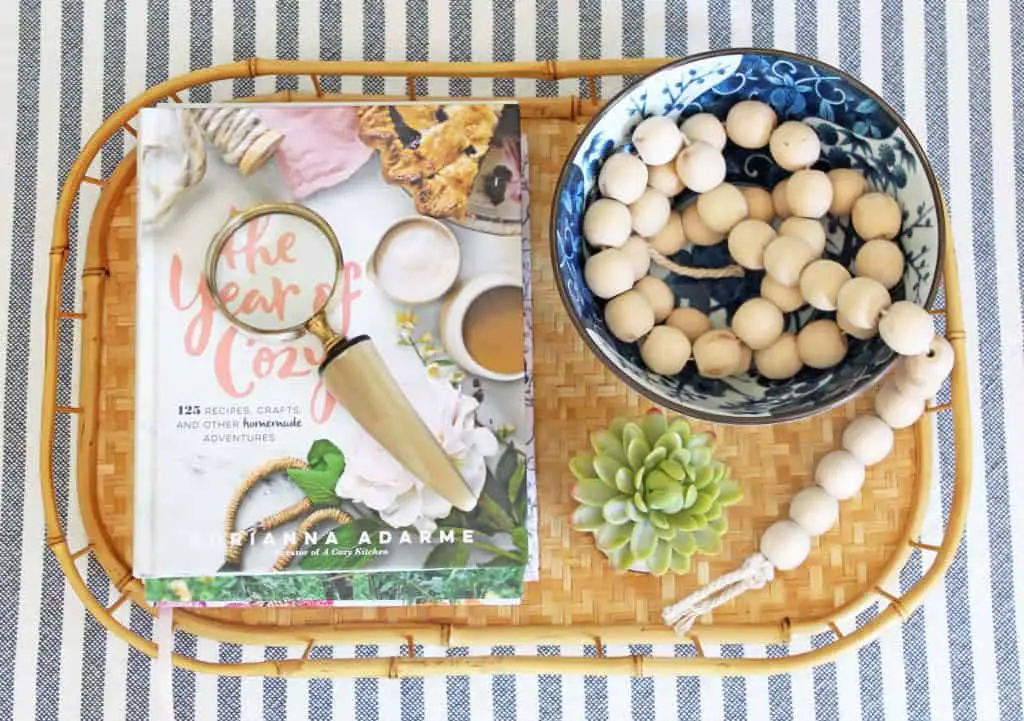 The Year of Cozy  /  Domino:Your Guide to a Stylish Home  /  Similar Bowl  /  Faux Succulent  /  Wooden  Beads  (I made mine using ones like these)
The Formula
I'm a creature of habit, so quite honestly, I usually stick to the same formula (or some variation of it) whenever I style a tray. It goes something like this:
I always start with a stack of 2-3 of my favorite books. The famous quote about a room without books being a room without a soul is something I live by. Since we have a smaller home, and no dedicated library space, I like to scatter books throughout the different rooms. It solves the issue of where to store them, and I find that we tend to use things more when they're easily accessible.
Next I added a bowl as a place to collect things. Keys, beads, phone, spare change, you name it and it can go there (and look a little fancy while it does;)
Something green like a small plant or sedum ball are normally my go-to's for filling up the last bit of space on the tray. Fresh or faux, a plant adds some life to everything.
The last item I add is something I like to call an "object of interest." This can be anything that's out of the everyday ordinary. Normally this is something with a vintage bent for me. In this case, an old magnifying glass is a fun conversation piece while still be a useful item for looking through old picture albums or books.
p.s. If you're in the market for unique trays, make sure you check your local thrift stores. I found this old 1950's bamboo TV tray at Goodwill and have found so many uses for it over the years!
I hope these tips give you a starting spot next time you need to organize an ottoman, tabletop, or coffee table. Do you have a favorite way to use trays?
Want to save this post? Pin it here!