Need some brunch ideas for Mother's Day? Check out this collection of drool worthy Mother's Day brunch favorites!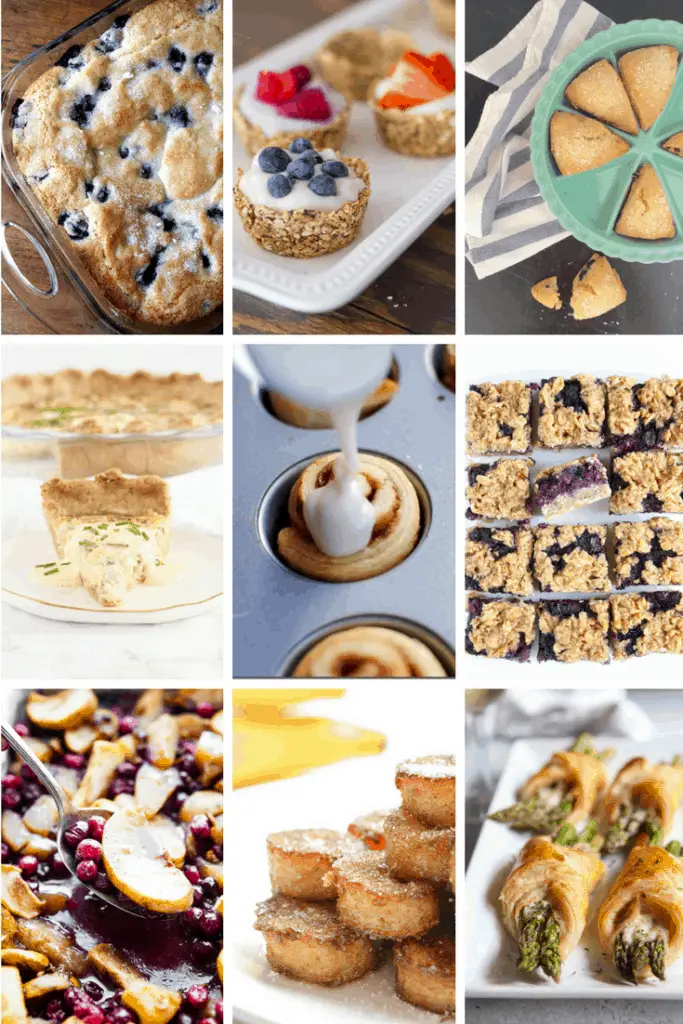 1. Buttermilk Blueberry Breakfast Cake  2. Oatmeal Cups with Fruit & Yogurt  3. Lavender Blueberry Scones  4. Eggs Benedict Quiche  5. 8 Minute Mini Cinnamon Rolls  6. Gluten Free Blueberry Breakfast Oat Bars  7. Gluten Free Spiced Hot Fruit Bake  8. Pan Fried Cinnamon Bananas  9. Asparagus Pancetta Puff Pastry Bundles
This will be my second Mother's Day as a mom (well, third if you count the one pregnant!) and it has definitely taken on more meaning for me in light of that. As a mother now myself, I appreciate my own mom more knowing how much hard work goes into raising and loving children!
For me (and a lot of others I would guess) Mother's Day has always involved good food; Mother's Day brunches being one of the most popular. Where we live in Portland you can see lines for city blocks during the breakfast and brunch hours on Mother's Day, and most places don't even take reservations!
To Brunch In or Out?
Rather than waiting an hour or more for a table, my idea of a relaxing brunch happens at home (but not with me cooking;) The easiest way to pull off a nice brunch is to treat it like a potluck and have everyone bring a dish. That way no one person is doing all the work, and you get a good variety of food with minimal effort. Plus, the great thing about brunches is that they lend themselves to that style of entertaining anyway!
I made some 8 minute mini cinnamon rolls  this past weekend that would be perfect for Mother's Day, or any day for that matter! The best part about the recipe, aside from how quickly you can make it, is being able to use as much or as little sugar/cinnamon/icing as you like. I left out the icing this time to make them lower in sugar, and they were perfect paired with morning tea:) I hope you have a Happy Mother's Day, however you celebrate it!
What about you? Do you have any traditions for Mother's Day?
Want to save this post? Pin it here!