This modern succulent wreath is an easy DIY project that will add a touch of summer to your front door in no time!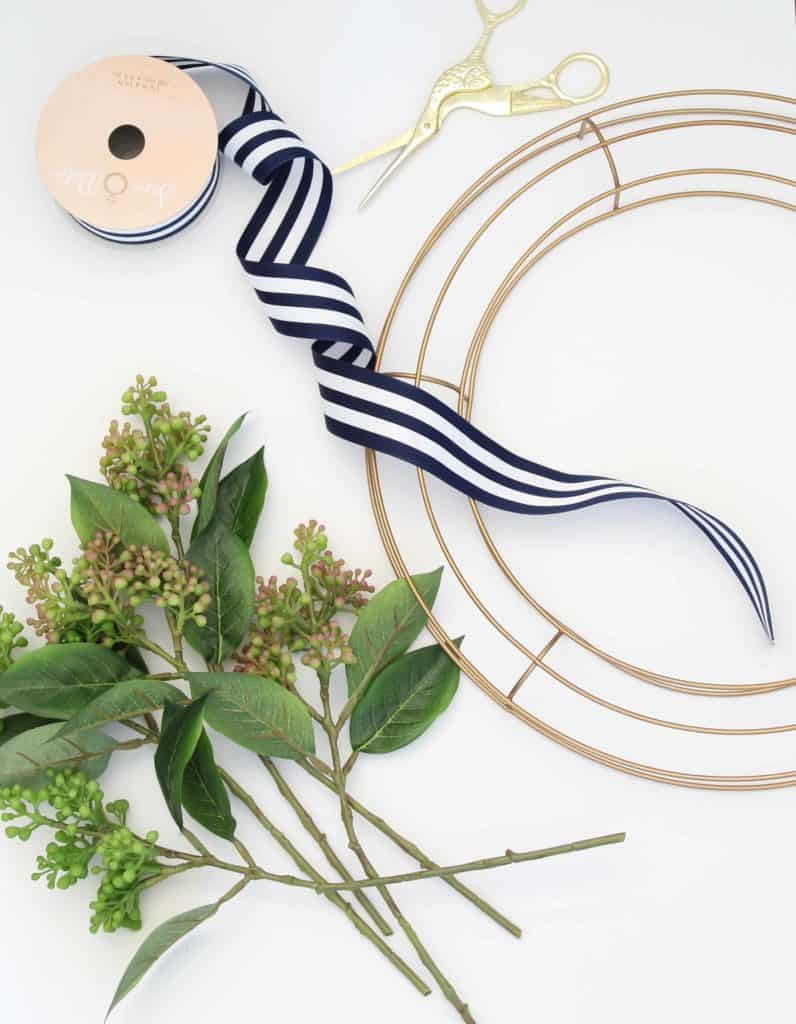 I have a small addiction to wreaths, as evidenced by our attic space where no less than a dozen or so wreaths are in various stages of storage. If I had a dollar for every time my husband asked how I wanted to organize that pile of wreaths……well I could easily fund my addiction for many years to come.
I think we all have certain decor items that we are drawn to time and time again, and wreaths are definitely one of those items for me. If you think about it, the front door, the most traditional place for a wreath, is the first thing people see when they come to your home. So why not add a little something special to it?
DIY Modern Wire Succulent Wreath
Wreaths are so versatile and so great for adding a touch of the current season to in your home, and best of all? They don't have to be hard to make. This modern wire succulent wreath is a blend of two trends I've been seeing a lot of lately.
The first is the "deconstructed" look. Deconstructed basically means you're taking something down to it's simplest form and exposing how it's put together. It's a fancy term for being able to see the inside of something. You can see examples of this at Anthropologie with some of their furniture (i.e leather chairs with the wood frame exposed in places) and store displays.
The faux succulents are the second part of the two trends I mentioned earlier. Succulents, and plants in general, seem to be everywhere these days. I'm not sure exactly where it started, but adding a pop of greenery with a plant into any room has become one of the main decorating trends of the last couple of years.
Which brings us to this modern wire succulent wreath. The exposed wire wreath frame (in a gold finish, because it still has to be pretty, right?) and simple succulent stems work together to  make a wreath that's light, airy and perfect for summer.
What You'll Need
This post contains some affiliate links for your convenience. Click here to read my full disclosure policy. 
Twist Tie
Faux Succulents  (I found mine at Joann's, but if you can't make it there, Amazon has some great options as well.)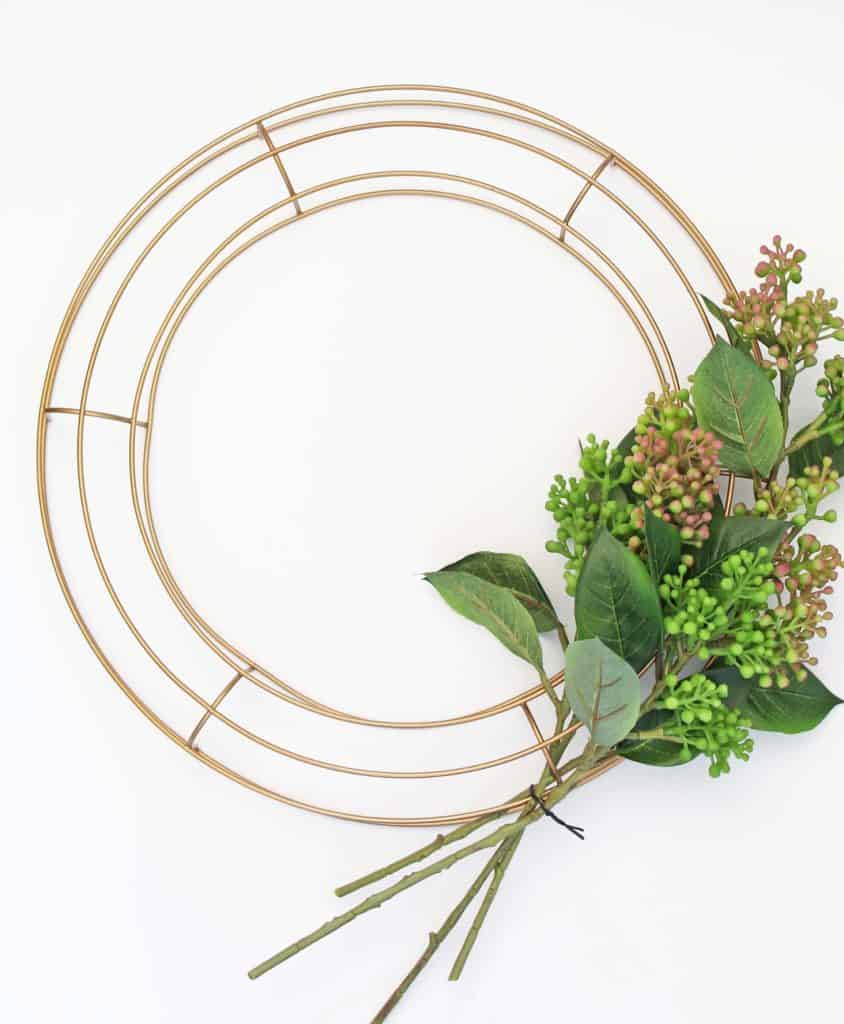 1. After your wreath frame is spray painted and dried, arrange the succulent stems at a slight angle off to one side of the wreath. This is somewhat of personal preference, I like to stagger them so they kind of hug the curve of the wreath frame. Keep one stem out for use later. After you have the succulent stems arranged the way you want them to look, secure the whole bunch to the wire wreath frame using a twist tie.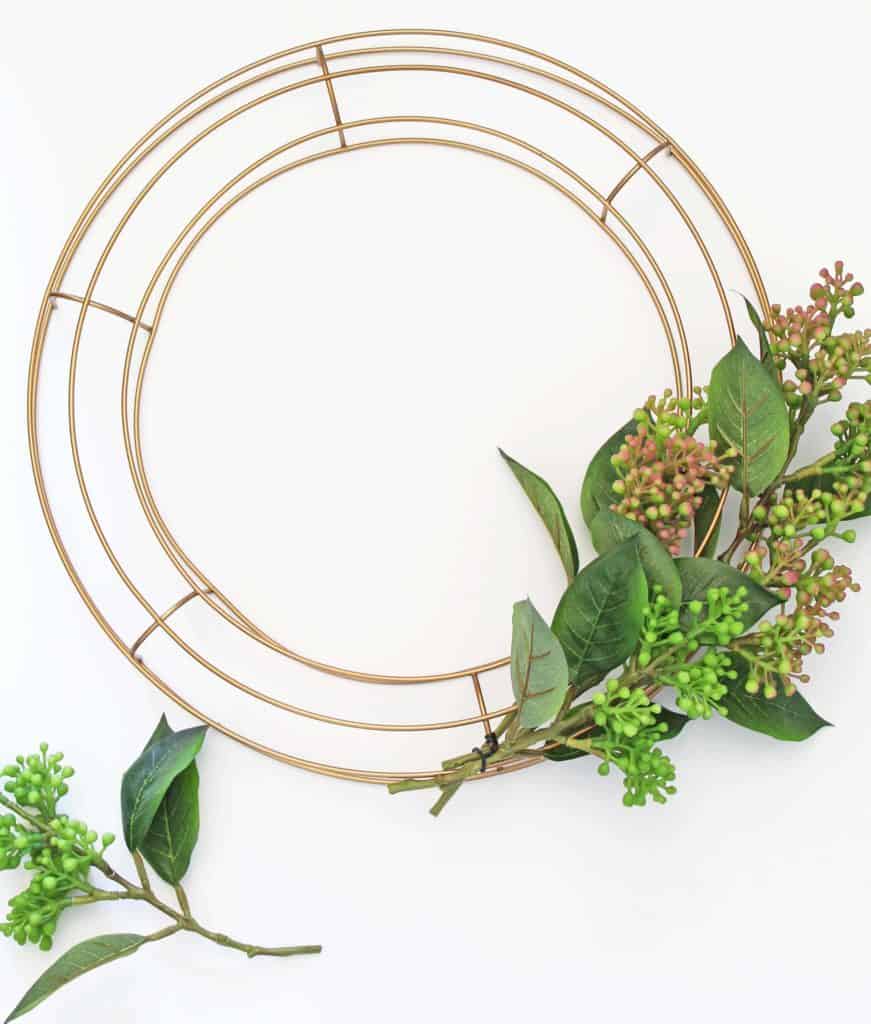 2. Then cut the stems about an inch below where you have them twist tied to the wire wreath frame. Take the stem you kept separated out and flip it around so it's going the opposite direction from the stems already on the wreath.
3. Going the opposite direction, slip that stem through the middle of the bunch of succulents already attached to the wreath frame. The main point of this is to hide the area where the succulents are attached to the wreath frame. Adjust it until you're happy with the look, then use a second twist tie to attach that last stem (I hid my final twist tie under the leaves).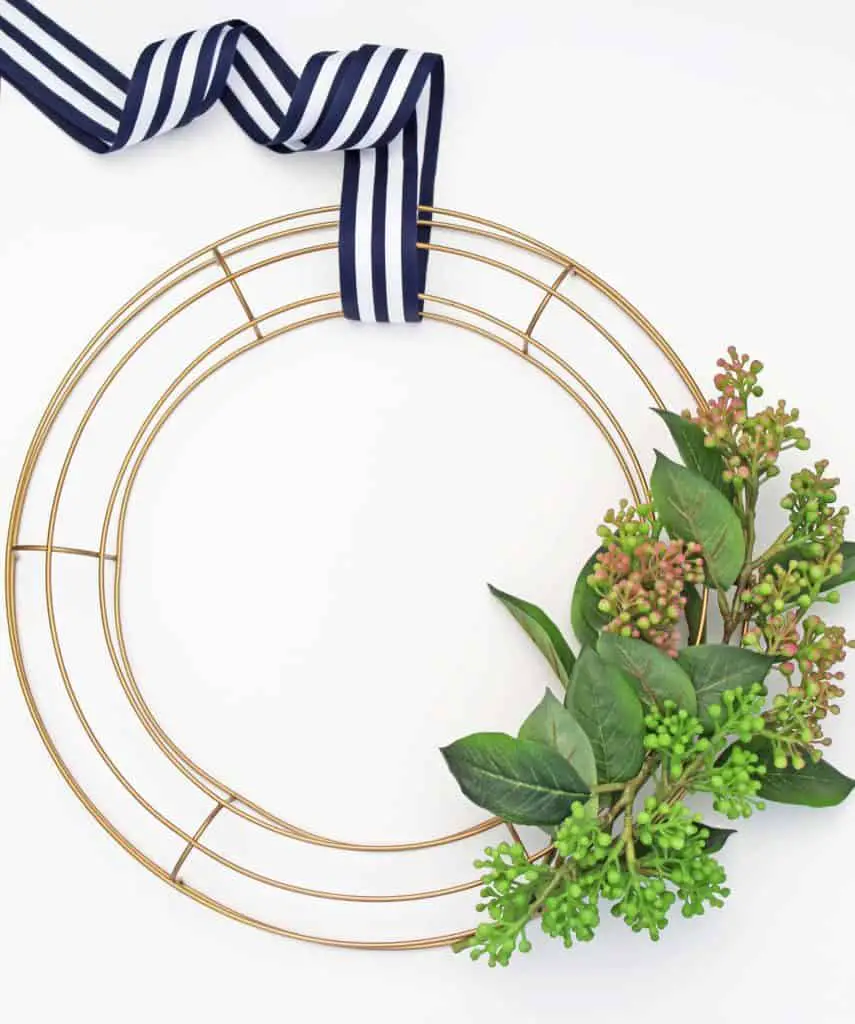 Lastly, loop some colorful ribbon through the frame so you can hang it. I'm partial to stripes and they feel summery to me, so I used some navy blue and white ribbon for this one.
What about you? Any other wreath addicts out there? 😉
Want to save this post? Pin it here!