These quick fall tablescape ideas can be pulled together in under 10 minutes and leave you with a cozy and simple fall table ready for guests!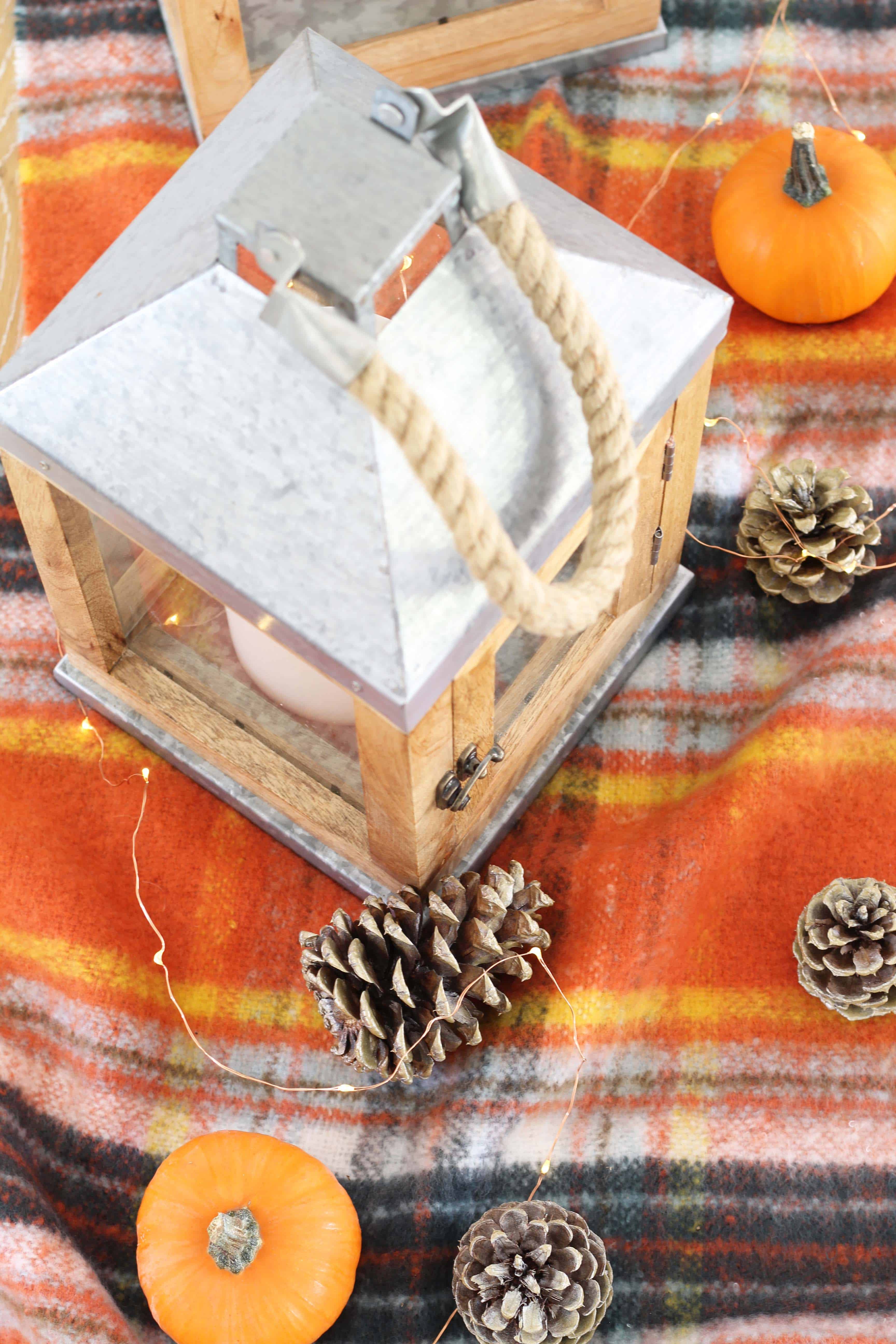 As you may know, I'm all for easy decorating and using what you have to make your home feel special everyday, but I think the holidays make us all want to do a little bit extra. Trying to use what you already have can be challenging sometimes (especially when the stores are full of new decorations right now!) But I think it's a challenge worth attempting.
For this simple fall tablescape I got a little creative and pulled things from my closet, front porch, and around the house to make a cozy table that would be perfect for an afternoon of having friends over (can't you just picture the yummy food tucked all around it?) Or even as a fall centerpiece you could leave up as decor for the season if you have a dedicated formal dining room or somewhere you don't eat everyday. Alas, since we use this table for all of our meals, this only got to stay up for the afternoon.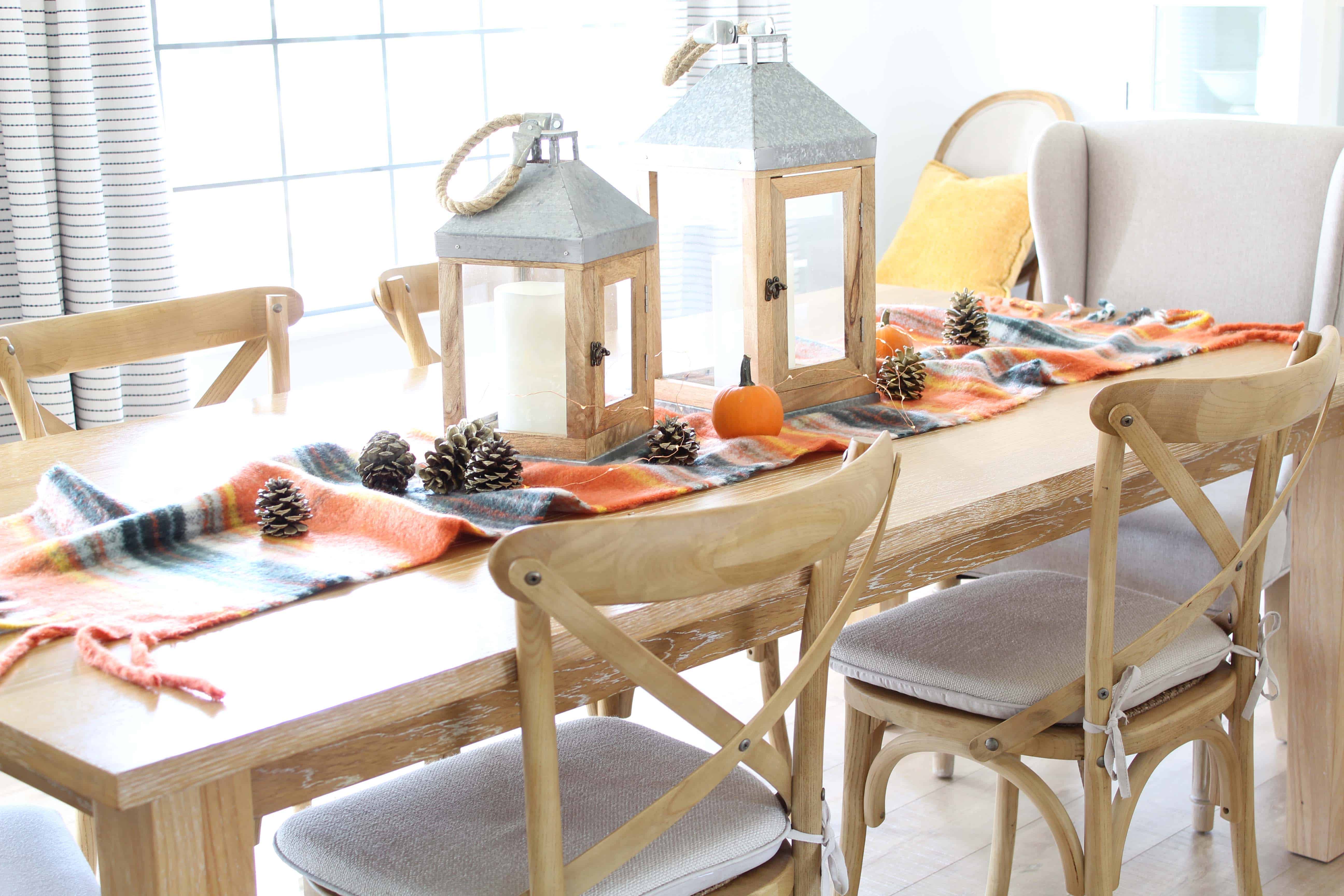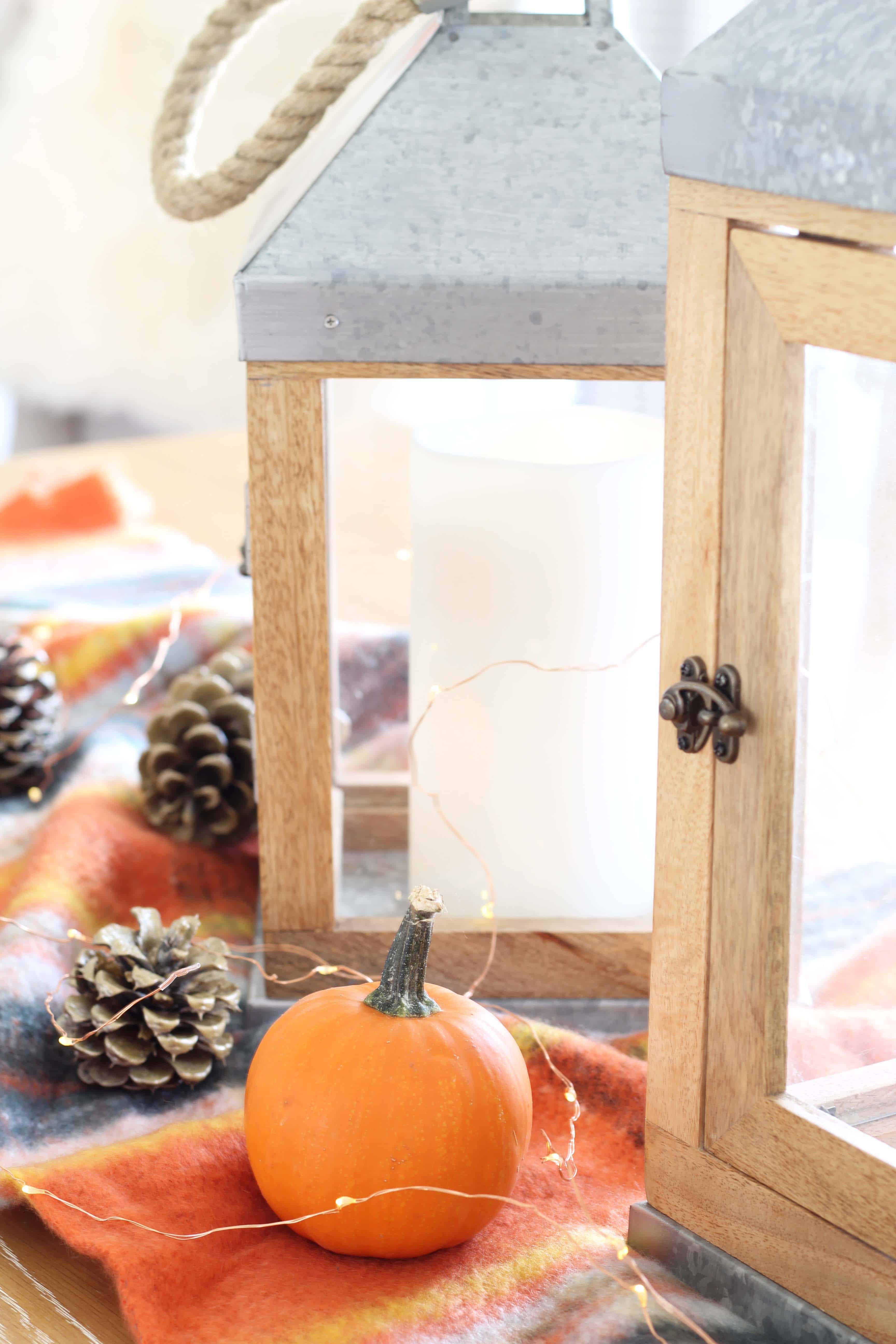 Quick Fall Tablescape Ideas
There are really just three main elements to this tablescape. All of them are everyday household items that can be used in multiple ways. For the first base layer of this tablescape I used a fallish feeling  blanket scarf. Remember when those were all the rage a few years back?  Well if you still have one, pull it out and use it for double duty as a table runner. If you don't, there are some really good affordable options here.
You could also use an actual plaid blanket if you have one you like. To me nothing says fall more than something warm and fuzzy thrown across your table, ha. 😉 In all seriousness, I think it's a simple way to add warmth, texture, and color using something you probably already have in your closet.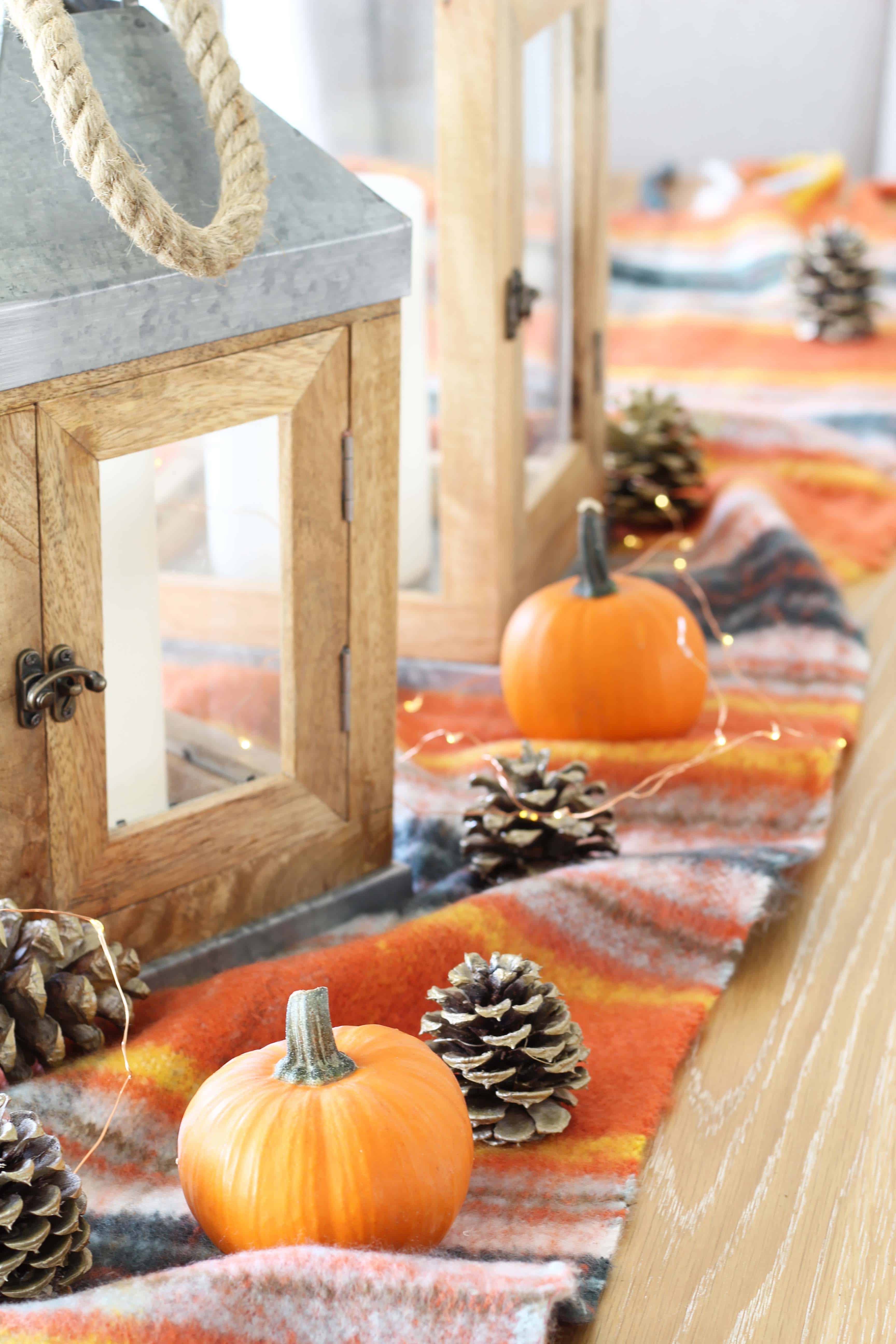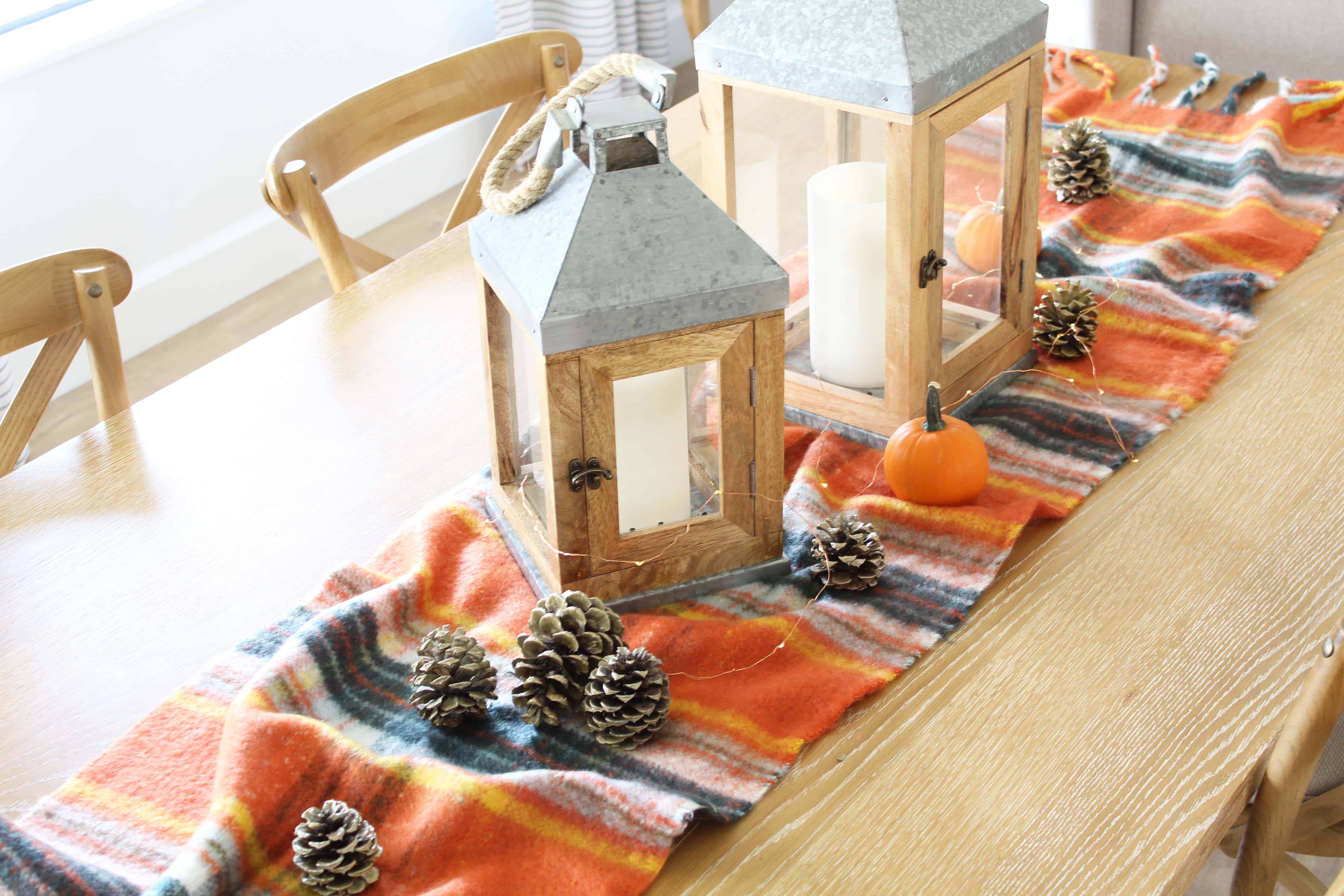 Natural Elements
If you read last week's post where I made a  DIY pinecone and fairy light jar, you'll recognize the gold pinecones and fairy lights getting reused here. At the risk of sounding like a broken record, fairy lights make everything feel special (at least to me). I scattered some mini pumpkins along with the pinecones over the blanket scarf and then interwove the fairy lights throughout.
If you don't live where there are a lot of pinecones, feel free to substitute whatever you do have a lot of. If you have beautiful fall foliage, use those leaves and branches! There is nothing more fall hygge feeling than adding something from nature to your inside decor.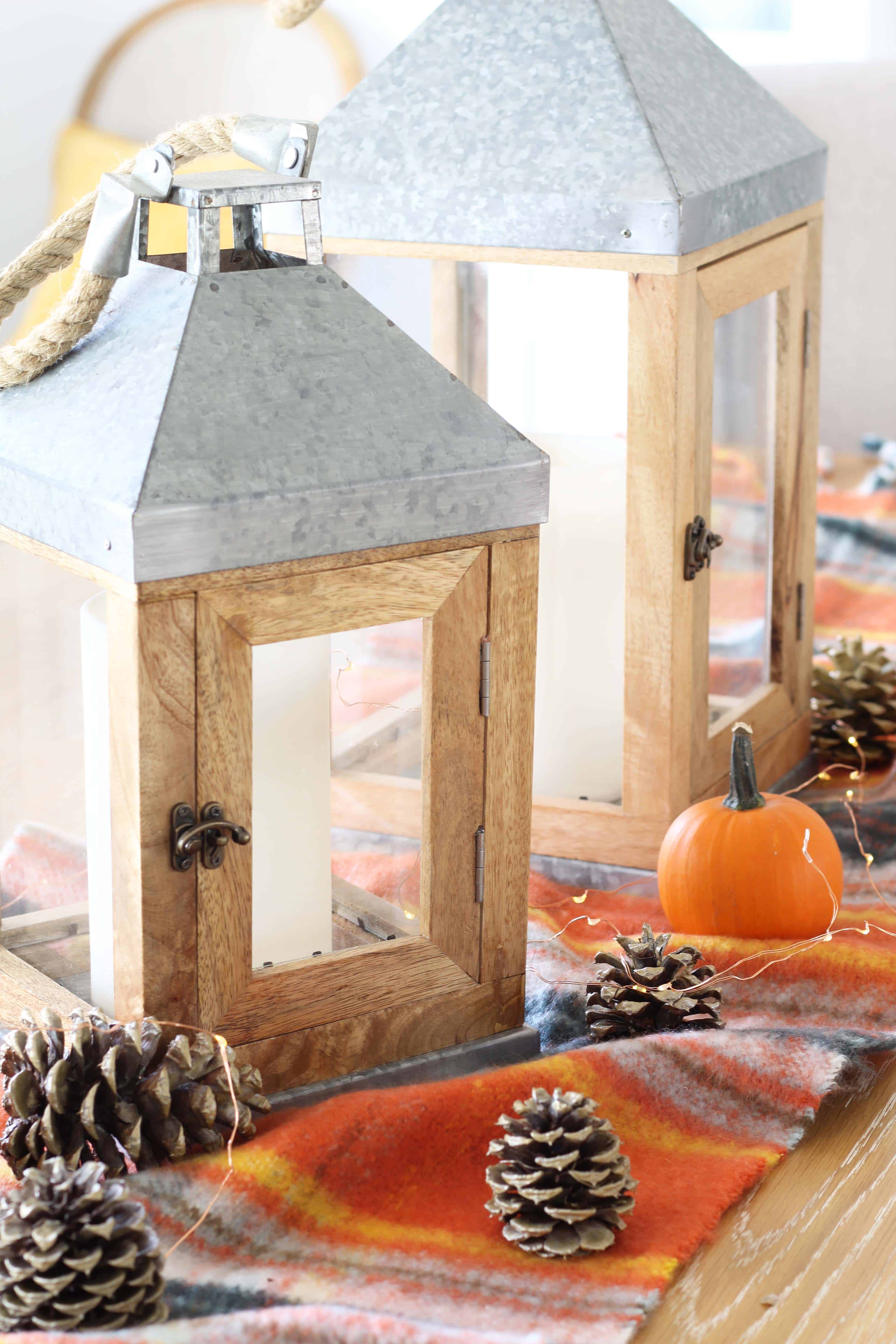 Lanterns & Candles
The final touch is a couple of lanterns we normally have out on our front porch. The natural wood and galvanized metal seem to go with just about anything and work well in any season. They're so versatile! I bought mine on clearance at Lowe's a couple of summers ago, but if you're looking for something similar these are close.
I added battery operated candles to our lanterns, but I think the lanterns linked above already come with them. Battery operated candles have a couple of great things going for them: One, they last forever. Two, a lot of them come with battery operated timers now (make sure to check for this feature when buying them!) Best. Idea. Ever. You just set them for the time you want to come on each evening and they automatically turn on and off. Instant ambiance. 🙂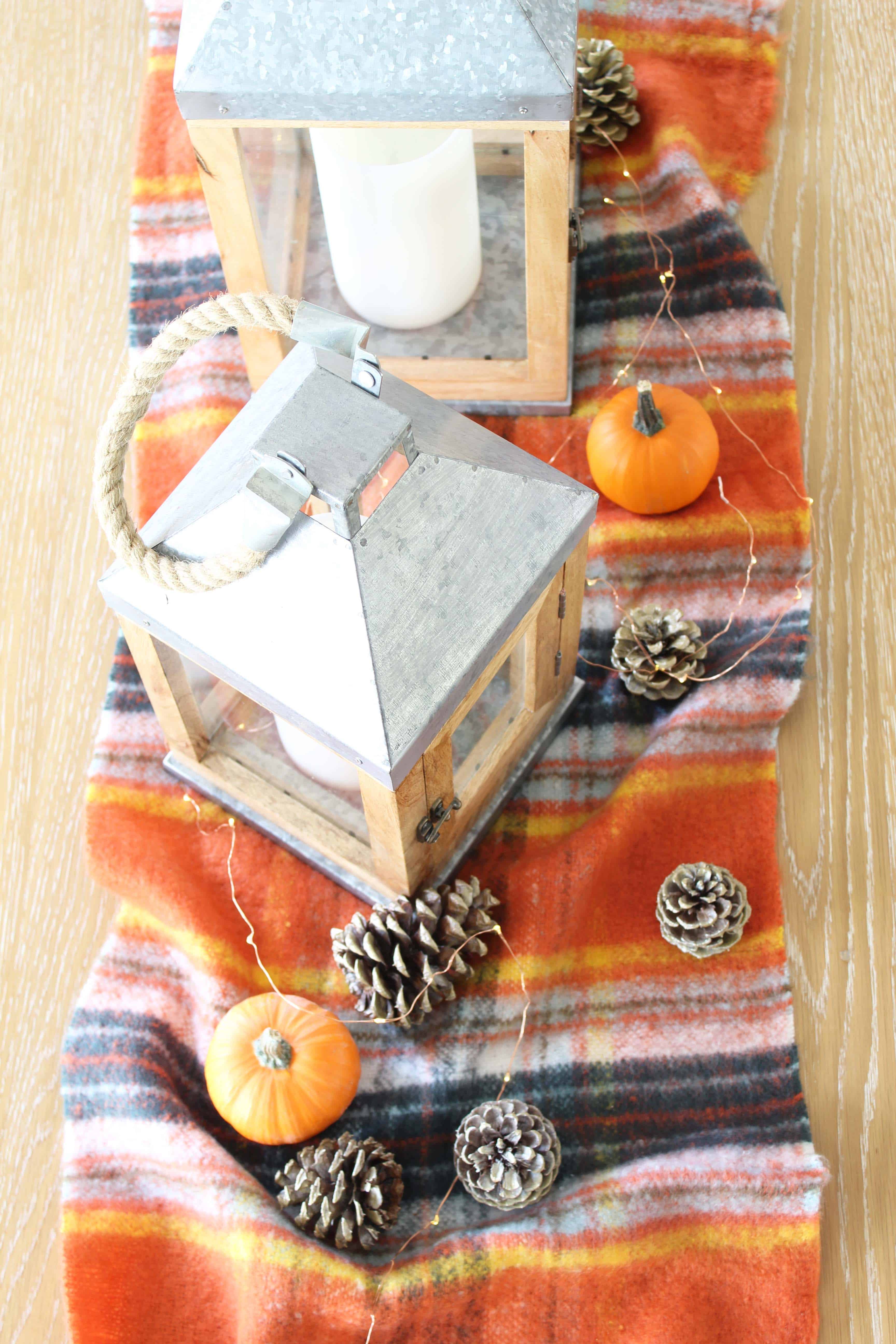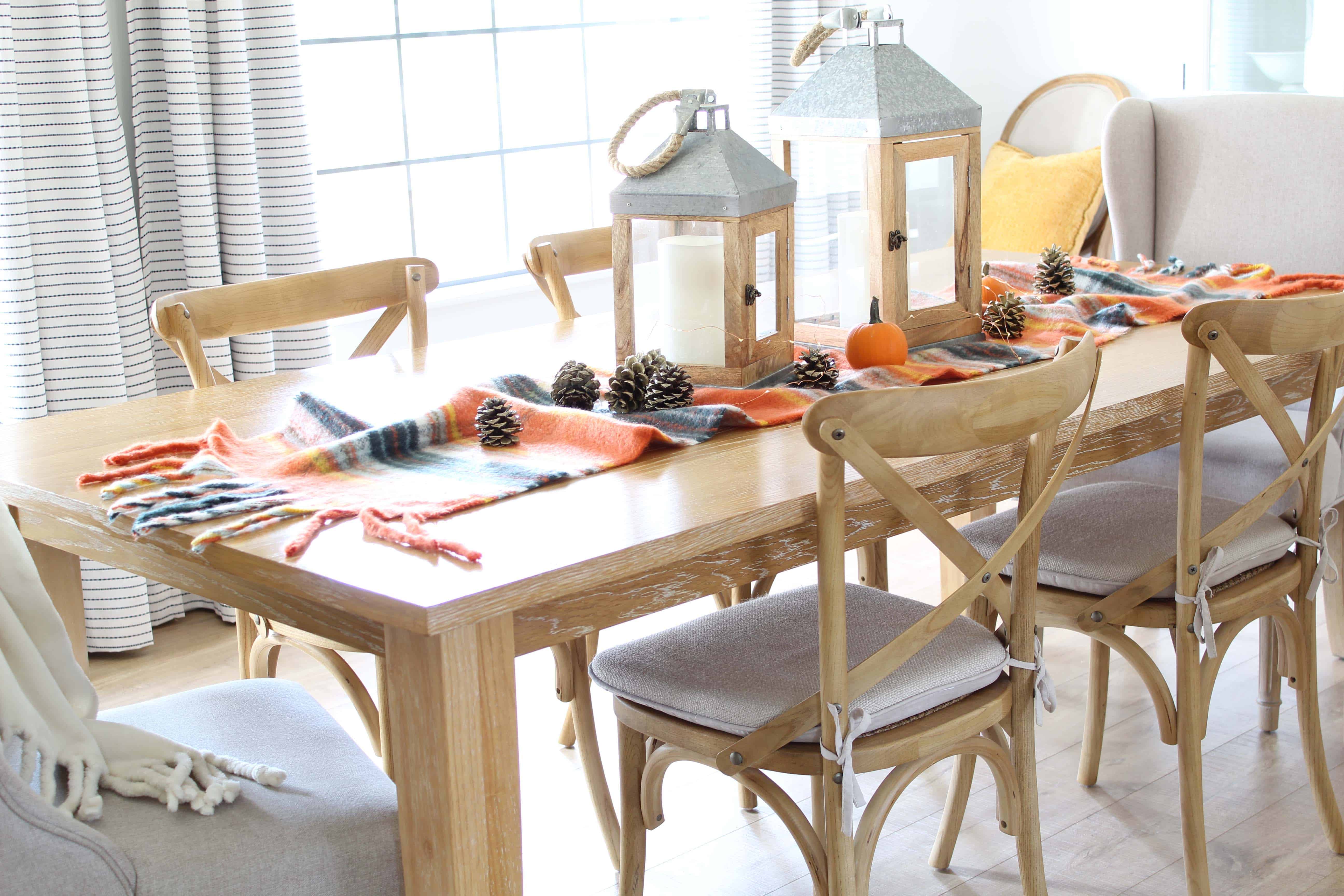 Overall this whole tablescape took me under 10 minutes to put together. It was a fun way to do something creative for an afternoon and helped bring a little fall cheer to our home. I hope it sparks some ideas for your own home, and if it does, I'd love to hear about them!
This post contains some affiliate links for your convenience. Click here to read my full disclosure policy.
Want to save this post? Pin it here!