Mornings are busy in our home and sometimes figuring out what to eat for breakfast can become an after thought. This easy high protein fruit smoothie bowl is ready in minutes, healthy, and fills you up!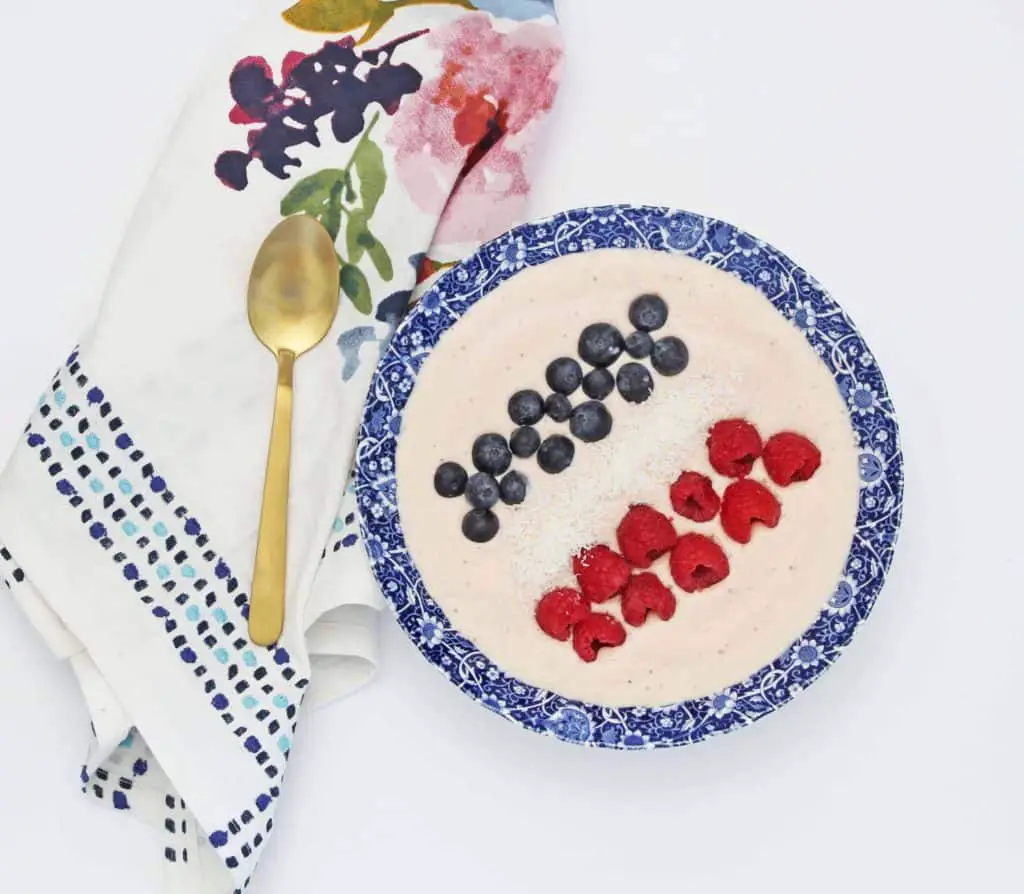 As I was taking these pictures I realized this unintentionally turned into quite the patriotic looking smoothie bowl! Anyway, on to today's topic, breakfast and the amazing thing that is the smoothie bowl. If you haven't ever had a smoothie bowl, they're basically a regular smoothie on steroids. They are thicker, and loaded with extra toppings to make them a more substantial meal. In my opinion, the best thing about them is the way you can sneak healthy stuff into them and not really taste it;)
Healthy Habits
I'm a creature of habit, or should I say a creature of easy habits. I know myself and I know what happens to my healthy eating habits when I don't have a plan – I end up eating a chocolate chip cookie for breakfast. When I was working my 8 – 5 job, I relied heavily on the four ingredient smoothie I shared here  because it was quick to make and take on the go. Now that I'm home for breakfast my go to's are this high protein fruit smoothie bowl or whipping up some 3 ingredient pancakes.
Since our family switched to more paleo based eating habits a couple of years ago, I've been tweaking some of our favorite recipes to make them more paleo friendly. While this smoothie bowl isn't completely paleo because of the dairy in it, it is high in protein and good fats; which for me is the key to staying fuller longer.
Plain greek yogurt adds the perfect amount of thickness while also providing that sought after protein.
Flax seed and shredded coconut give it a substantial dose of healthy fats.
So next time you're struggling with a healthy breakfast option, give this high protein fruit smoothie bowl a try and let me know what you think!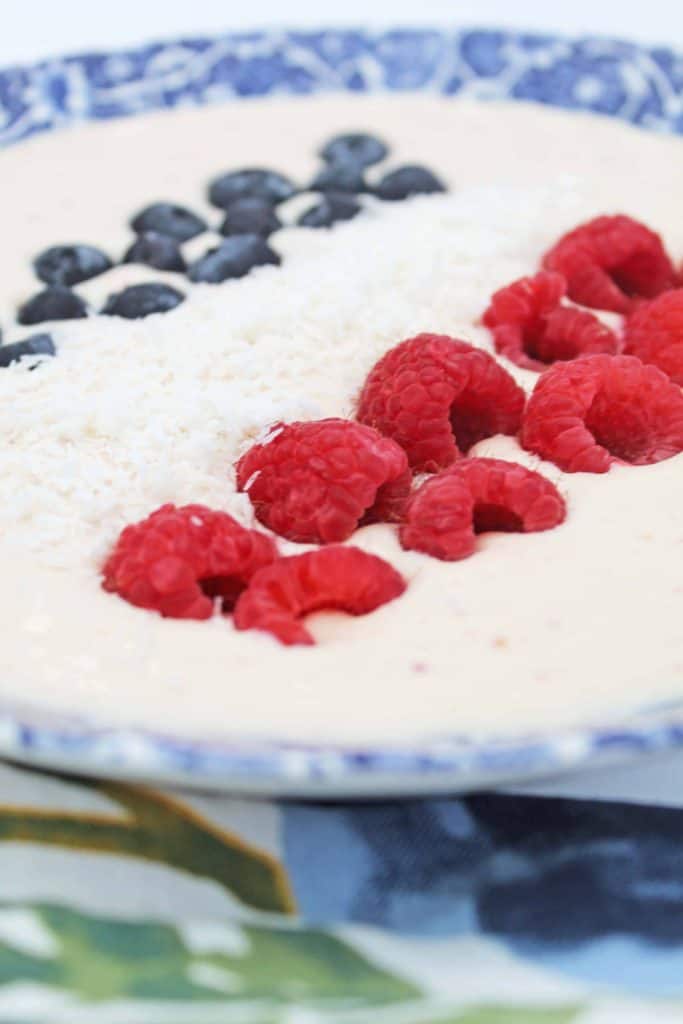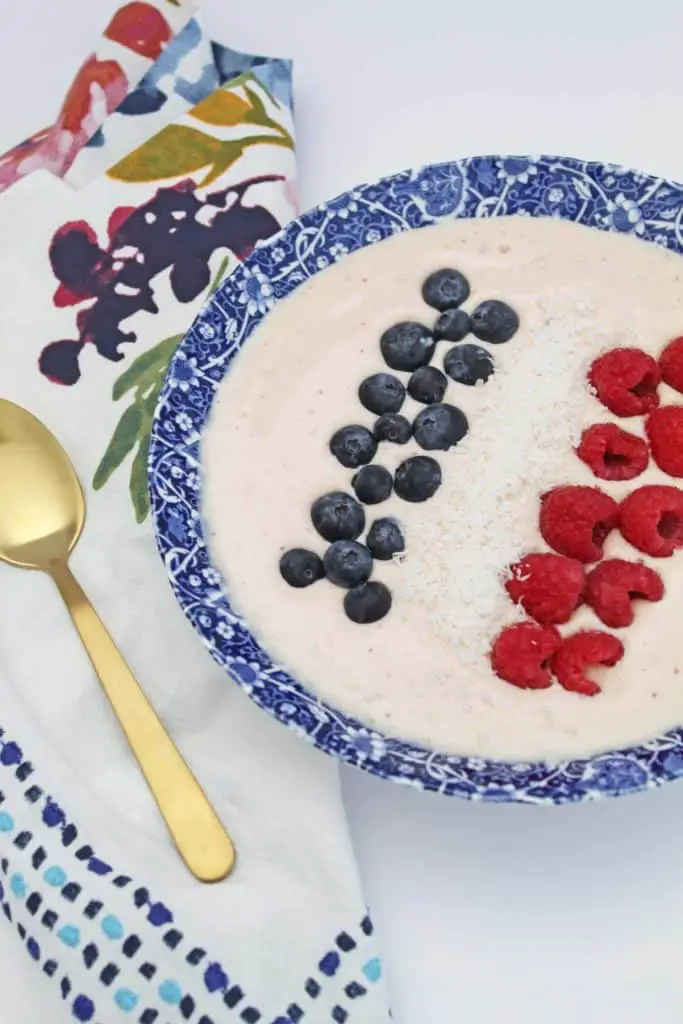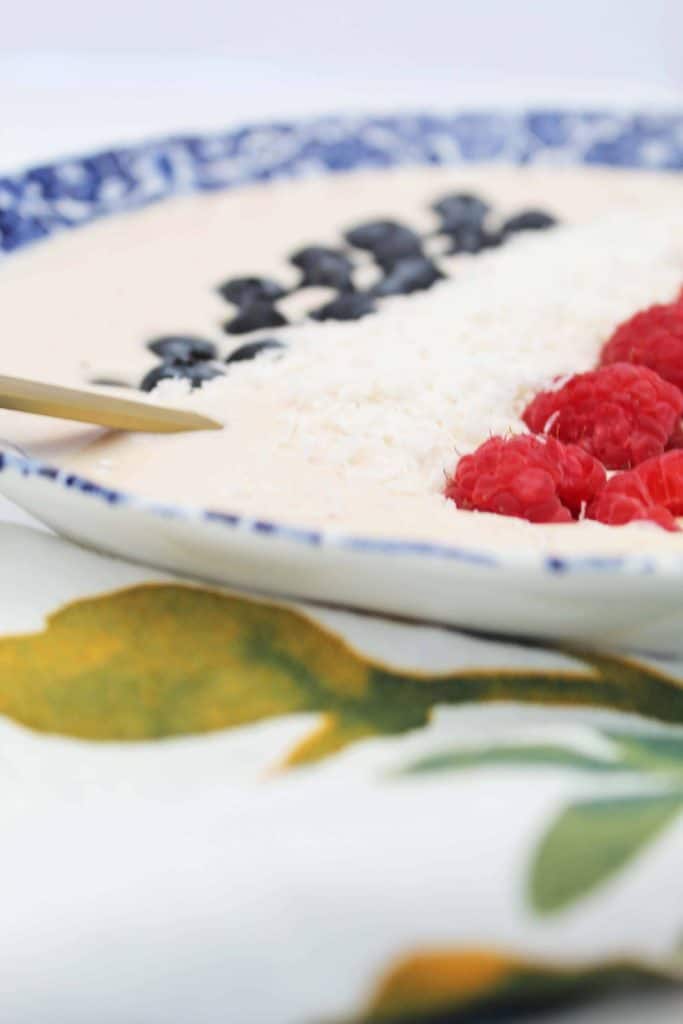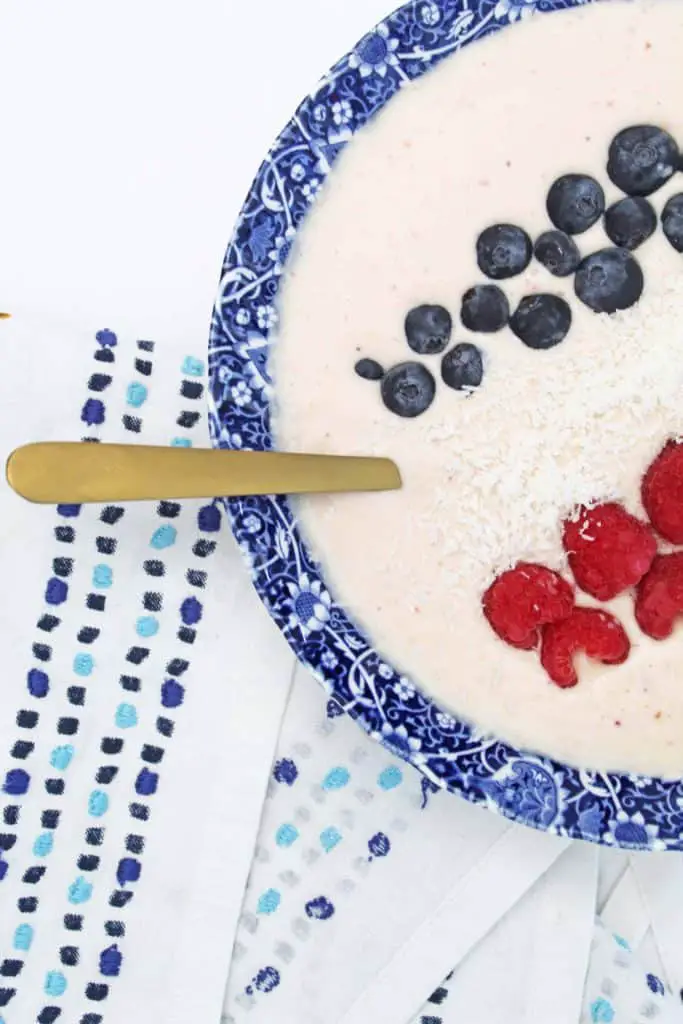 This post contains some affiliate links for your convenience. Click here to read my full disclosure policy. 
Recipe
1 1/2 Cup of Frozen Fruit
1 Tbsp of Protein Powder
1 Tbsp Flax Seed
Whole Milk or Your Milk of Choice
1/4 Cup Plain Greek Yogurt
Unsweetened Shredded Coconut
Handful of your favorite berries
Place the frozen berries into the *blender first (this helps make sure they blend completely). Add protein powder and flax seed. Pour your choice of milk over the berries until it almost covers them. Place 1/4 cup of greek yogurt on top and blend. Once you pour the smoothie into your bowl, top it with berries of your choice and shredded coconut.  Enjoy!
* I use a magic bullet blender  which I can't recommend enough! It makes great 16 oz single servings that fit perfectly in a bowl or mason jar.
Want to save this post? Pin it here!