Everything you need to know about jute and sisal rugs including the pros, cons, how to clean them, and the best places to buy them!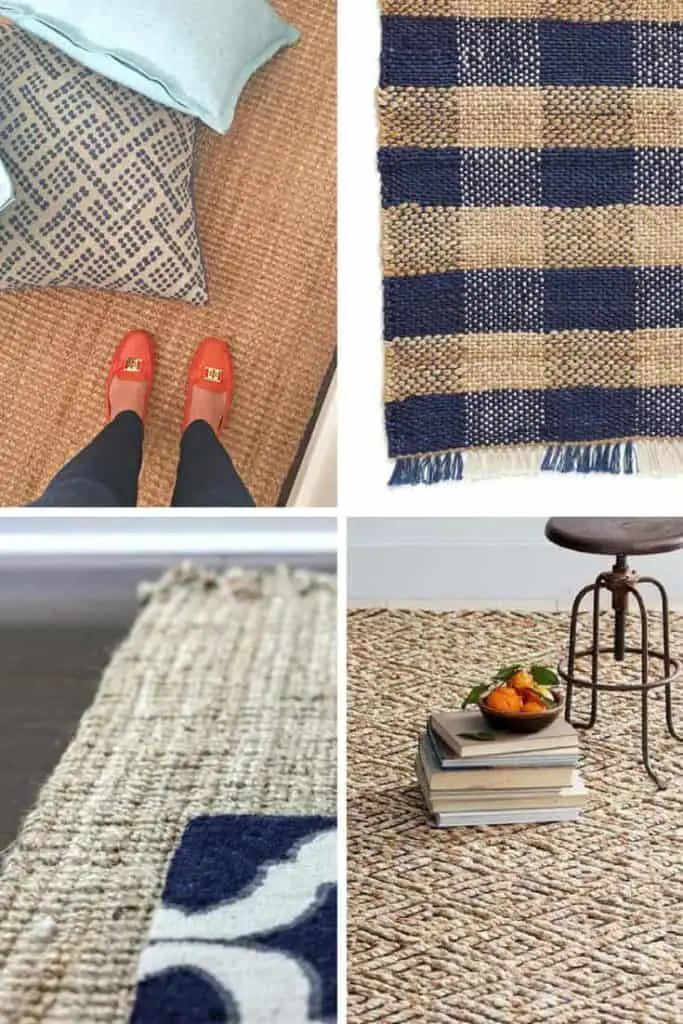 This post contains some affiliate links for your convenience. Click here to read my full disclosure policy.
Jute and sisal rugs have been a staple on the home decor front for quite a while now, and I can totally see why; they're versatile, neutral, and go with virtually any decor style. They're also reasonably priced and available to buy from numerous stores. So what's not to love? Well, as with anything that sounds perfect, there is usually always a downside.
I've owned quite a few jute and sisal rugs over the years, ten years to be exact. So I feel like I have a pretty good idea of what's been great about these rugs and what's been not so great. I've rounded up some of the pros, cons, and my best advice for how to clean jute and sisal rugs below. And, spoiler alert – why we're not going to have any in our next house.
The Pros
The pros list for jute and sisal rugs is pretty strong, and with good reason!
Durability – You could run these rugs over with a mack truck and they would still look good. We had a sisal rug in our family room and a jute rug in our living room for ten years and they both still look great. No real wear patterns, and they seem to hide just about anything that falls on them.
Longevity – Because they are so durable, they last forever; add a reasonable price point to the mix and that makes jute or sisal rugs a smart buy from a budget standpoint. I can also attest to the fact that after ten years, both of our rugs are still in excellent shape.
Neutral Color/Texture – Because of their neutral color and great texture, they work with just about any design aesthetic; farmhouse, coastal, cottage, traditional or transitional – you name it and a jute or sisal rug can probably be incorporated into that style.
The Cons
The cons of natural fiber rugs are pretty well know, but the extent of how bad they are can depend on the manufacturer, care, and even where the rug was made.
Abrasivness – Jute rugs are suppose to be soft, and while I agree that they are softer than sisal, to me they still feel rough compared to a traditional rug. That's also part of the reason they're so durable and last so long. Honestly, the roughness of our two rugs didn't really bother me much…until I had a child. After almost two years of sitting and playing with my daughter on our rugs, I'm tired of the scratchiness and getting poked by stray bits of naturalness 😉
Shedding – So everyone warns you about this, and I've seen reviews where some people don't have any problems with shedding – but shedding had always been an issue with our natural rugs. The amount of dust bunnies produced from ours seems to triple daily, which leads to a lot of swiffering. This is probably the number one reason we won't have these types of rugs in our next house. After ten years, I'm just over the constant need to sweep.
Hard on Floors – This is something I didn't realize when we bought our rugs. You. Need. A. Rug. Pad. Otherwise you will end up with a perfect imprint of your rug's pattern rubbed into your hardwood floor's finish (sigh). Lesson learned, if it feels rough on your skin, it's probably going to be rough on your floors.
How to Clean a Jute or Sisal Rug
I think there are two side to this coin. On the one hand, these rugs hide  everything, which is great. On the other hand, if you do spill something on them they can be hard to clean depending on how dark the food or liquid is. Vacuuming is the other issue, which can sometimes lead to the weave of the rug getting pulled out.
Done right and with a little bit of effort, you can clean jute and sisal rugs yourself. Here are some of the ways I've cleaned mine over the years:
Vacuum weekly, but make sure you use a vacuum with a "hardwood floor" setting. This basically means your vacuum has a setting where you can switch the brushes or vacuum beater off so it just suctions. This keeps the weave of your rug nice and prevents it from being sucked into the vacuum.
Rinse them off. I do this every summer by taking our rugs out to the back patio on a hot day and using a hose on high pressure to rinse all the gunk and dust that's collected in them throughout the year (works best to vacuum before you do this). I also use this opportunity to gently scrub out any spots I see in the bright light of day;)
Use a good old fashion rug beater. You'll be amazed and probably a little bit disgusted by the amount of fiber, dirt, and dust that comes out, but it's oh so satisfying as well.
The Best Places to Buy Jute & Sisal Rugs
I have a few favorite places I've bought jute and sisal rugs over the years with good results. If you're looking for affordability, Ikea has the best deals on smaller sisal rugs (5 x 7 and under) although I have seen some larger 8 x 10's every now and then (the top left pic is our family room Ikea rug).
My other go to source is Amazon. We bought our jute living room rug  there and have been really happy with the price and quality. Just make sure to read reviews before you buy a rug on Amazon – not all jute rugs are created equal 🙂
p.s. That navy blue buffalo check jute rug (top right pic) is from Caitlin Wilson Design,  isn't it amazing?
Are you a fan of jute or sisal rugs? Does the shedding bother you?  I'd love to hear about your experience with them if you have one!
Want to save this post? Pin it here!