These charming and simple Thanksgiving table ideas celebrate the coming together of family and friends, and leave room for a turkey (or two!)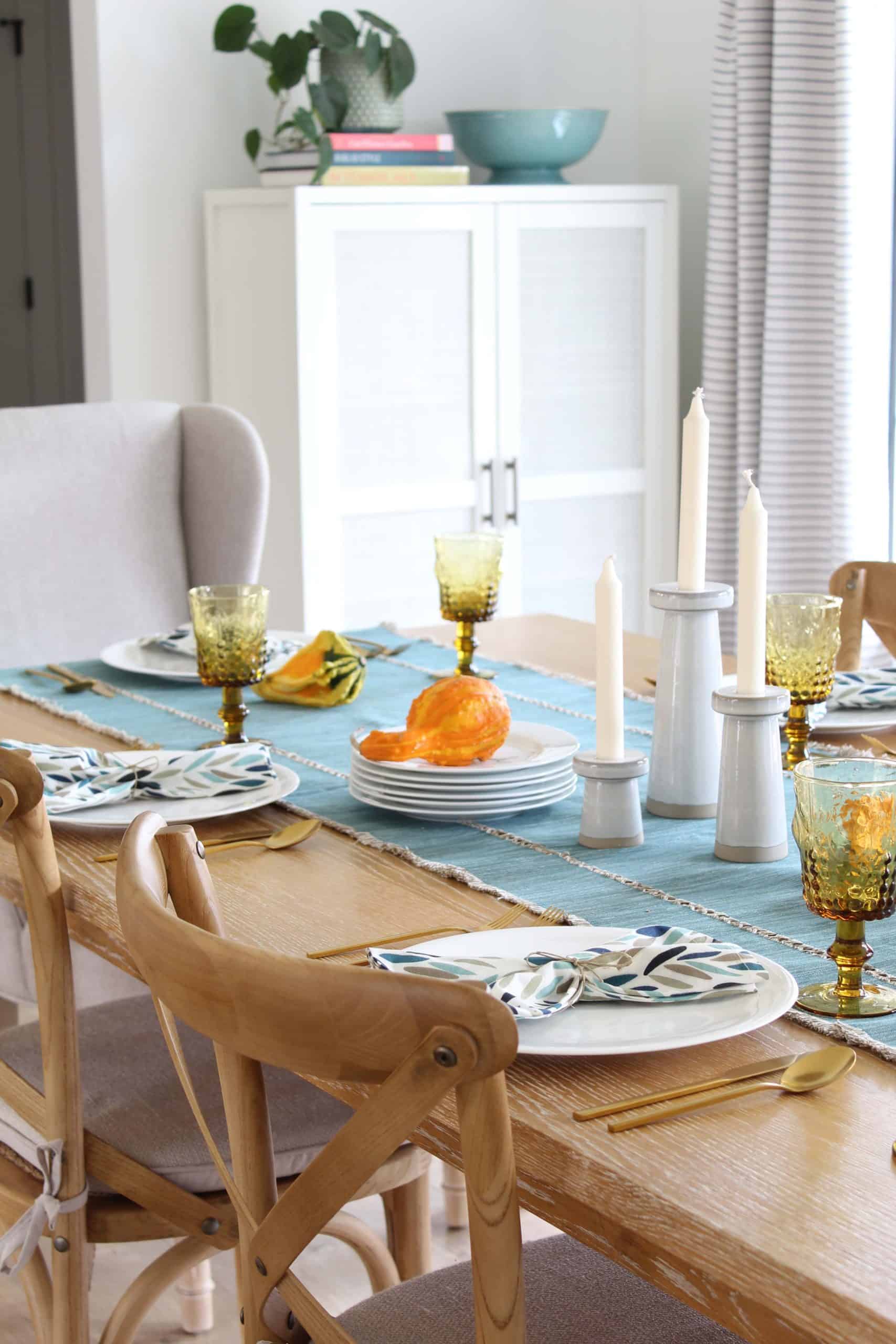 Thanksgiving marks the beginning of the holiday season, and I think we're all ready for it! To me, Thanksgiving feels a little more casual this year since it will just be our immediate family around the table. And while it may not be a big extravaganza, I still want it to feel special and intentional, a celebration of all the things we have to be grateful for this year.
I put together this tablescape with the idea that I wanted it to use what we already had on hand, as well as have a simple, slightly modern scandinavian farmhouse feel to it.
Charming & Simple Thanksgiving Table Ideas
In my last post on Thanksgiving Table Decor Ideas  I talked a little bit about building a tablescape around one special item (i.e. vintage silverware, heirloom plates, a statement tablecloth, etc.) For our Thanksgiving table it's some vintage feeling amber goblets that instantly bring a fall feel to any table.
Adding a little bit of fall color through the goblets and a few gourds is an easy way to bring in fall without having to make everything Thanksgiving themed. I used my trusty aqua linen table runner again (you can see it in our Christmas Tablescape here).  And while it's not a traditional fall color, it seems to go with pretty much whatever color scheme I throw at it.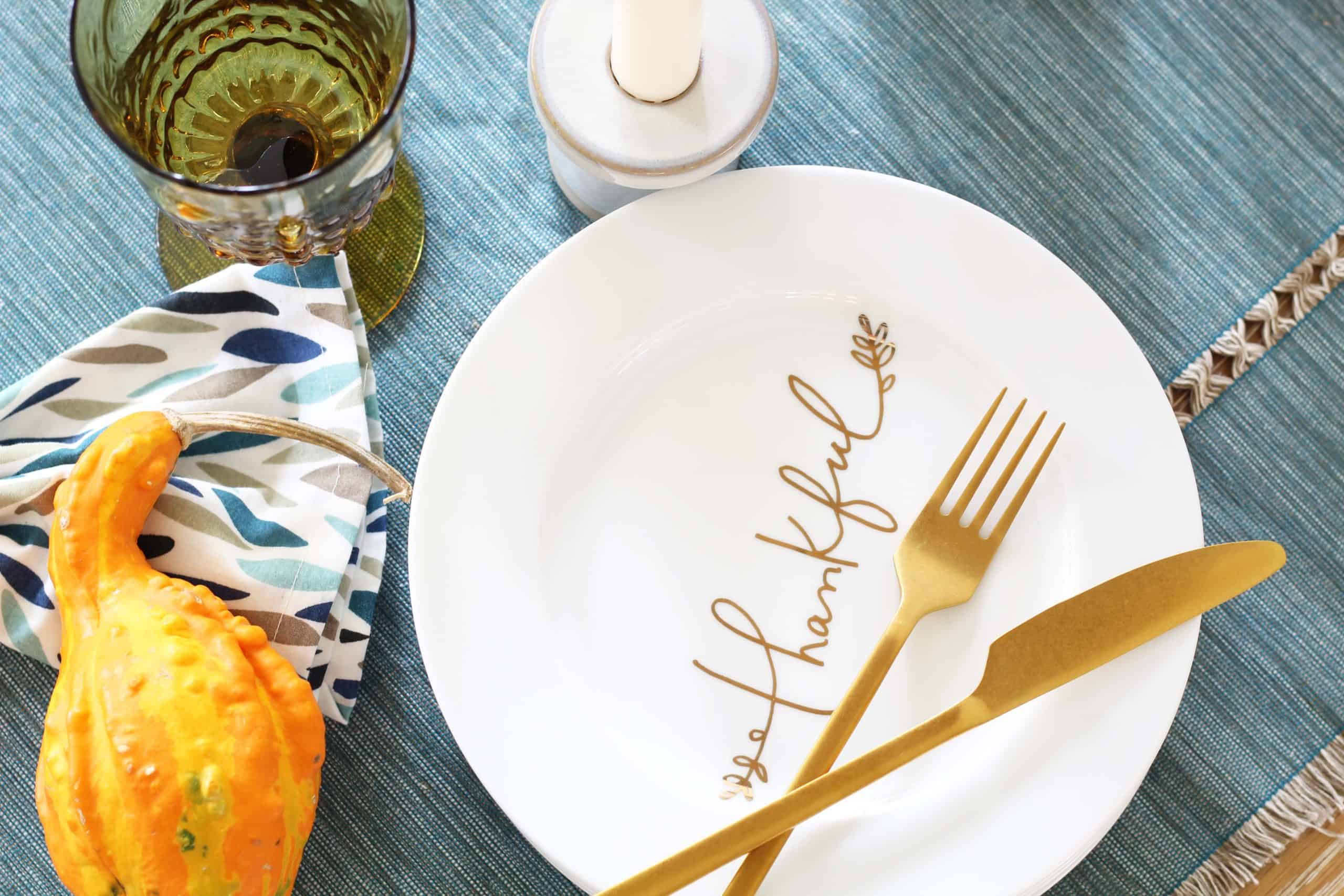 Using Accents Plates
I love to use themed accent plates paired with our everyday white dinner plates. It's a great way to add a touch of seasonal decor without having to buy an entire set of seasonal plates. We've had these thankful dessert plates for about 4 years and I still love the simple touch of glamour they bring to the table.
Look for accent plates, dessert plates, or salad plates during after Thanksgiving and after Christmas sales. You can also pick up affordable options at stores like HomeGoods or TJMaxx.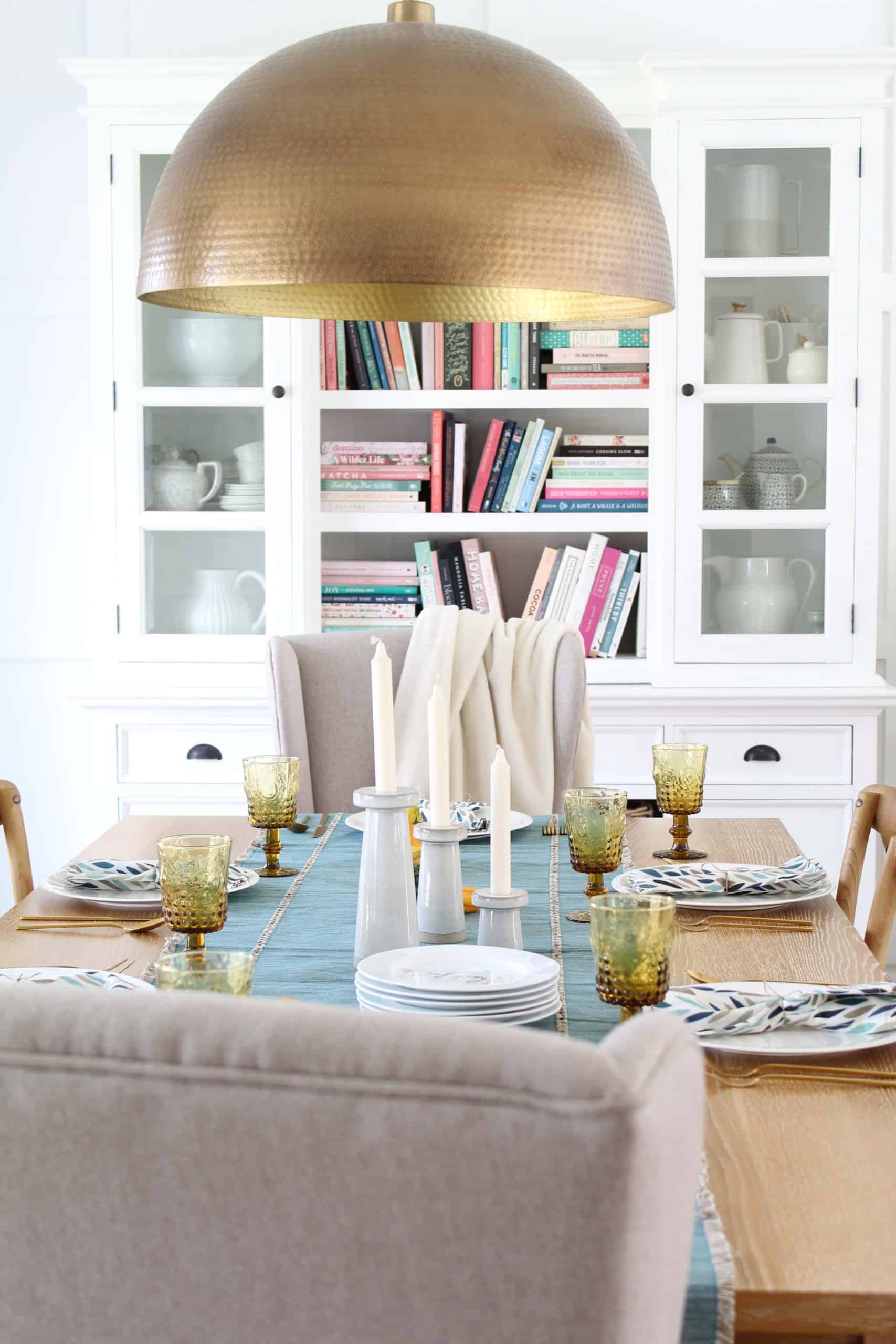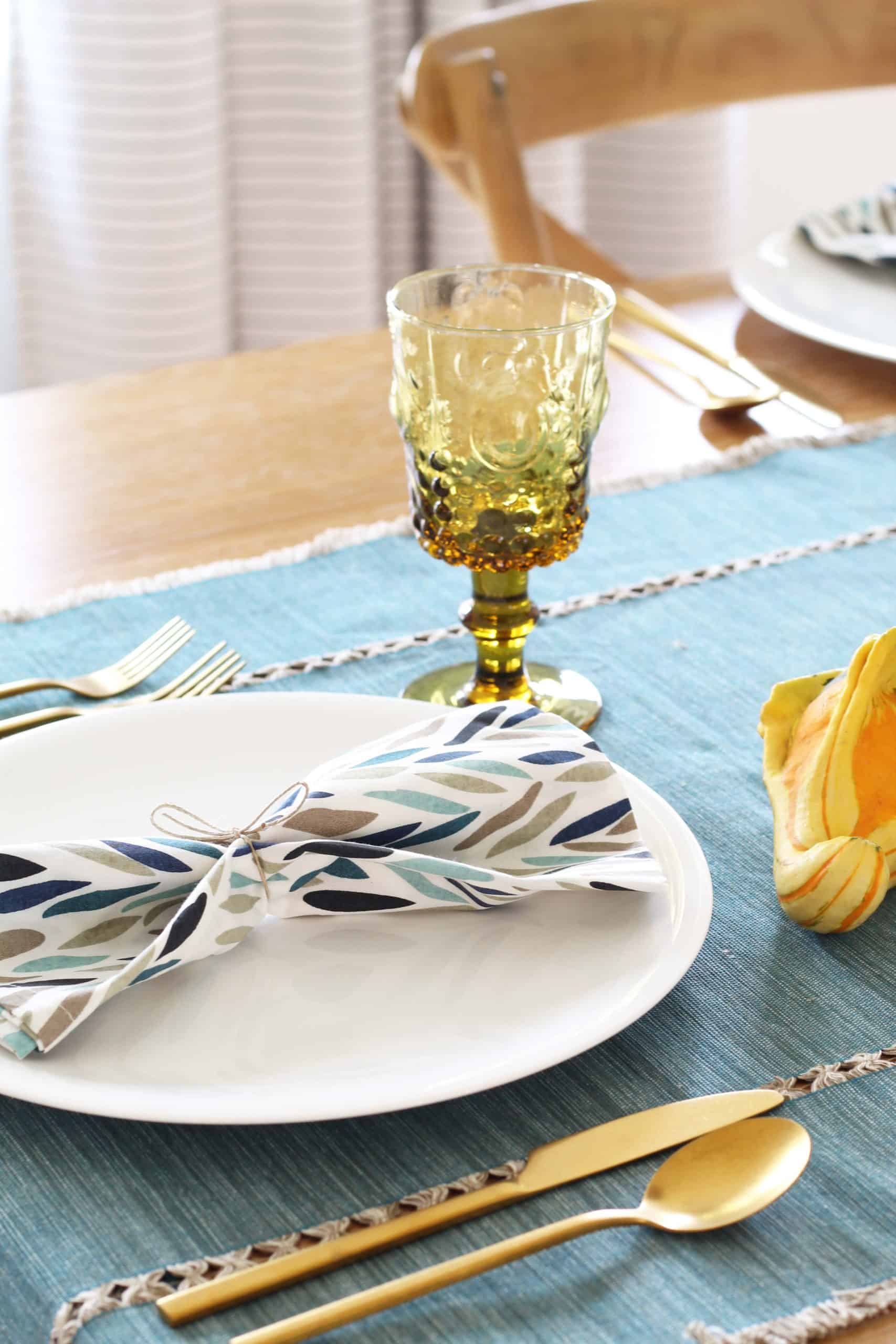 Adding A Touch Of Gold
Gold flatware has been around for quite a few years, but still feels a little bit trendy to me. I do love how it warms the table up and feels like you're eating off something special and out of the ordinary. If you love the look, but don't want to commit to an investment piece there are a lot of more affordable options out there as well.
If gold isn't your cup of tea, collecting vintage silverware is another great budget friendly way to add character to your table. Check out this post for more tips on how and where to collect it!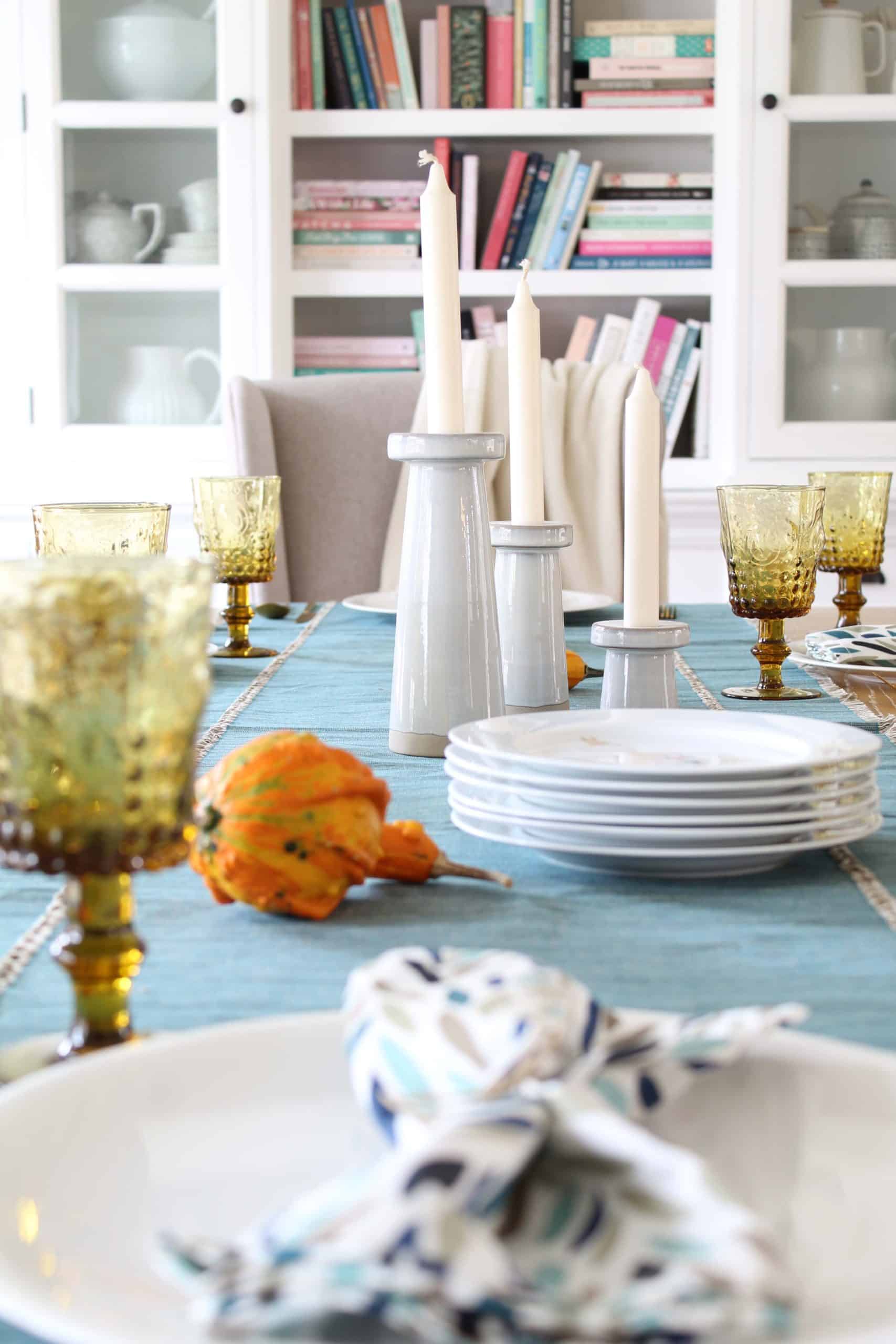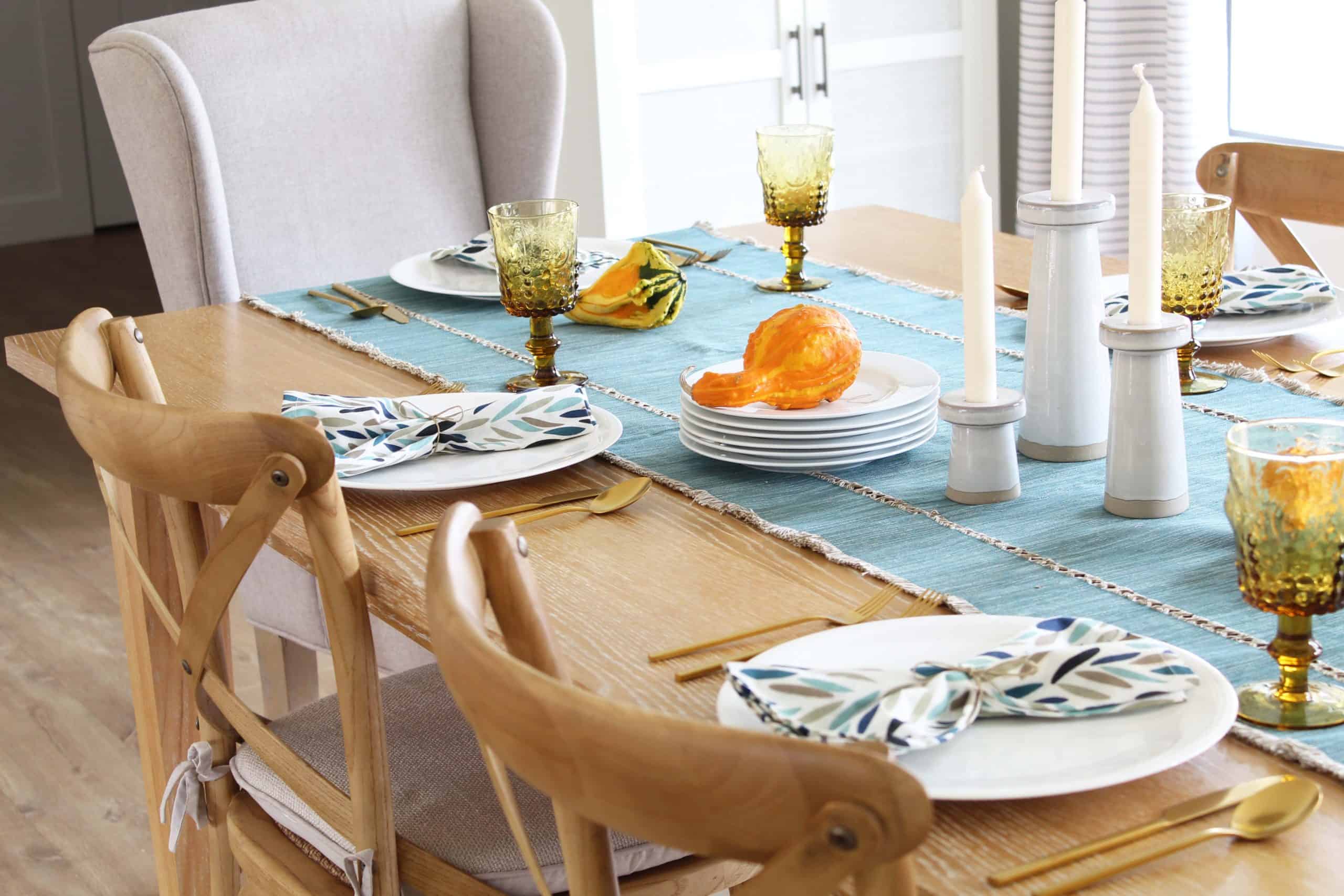 Using Natural Decor
Using some natural elements is my absolute favorite way to decorate for any holiday. Maybe it's the connection to nature, or how nice it is not to have to pack away a bunch of seasonal decor, but using decor straight from nature really is one of the best budget friendly ways to decorate a holiday table.
Adding some colorful gourds was perfect for this time of year, and if you haven't used them before, gourds last forever. I bought these ones back in late September and they are still going strong!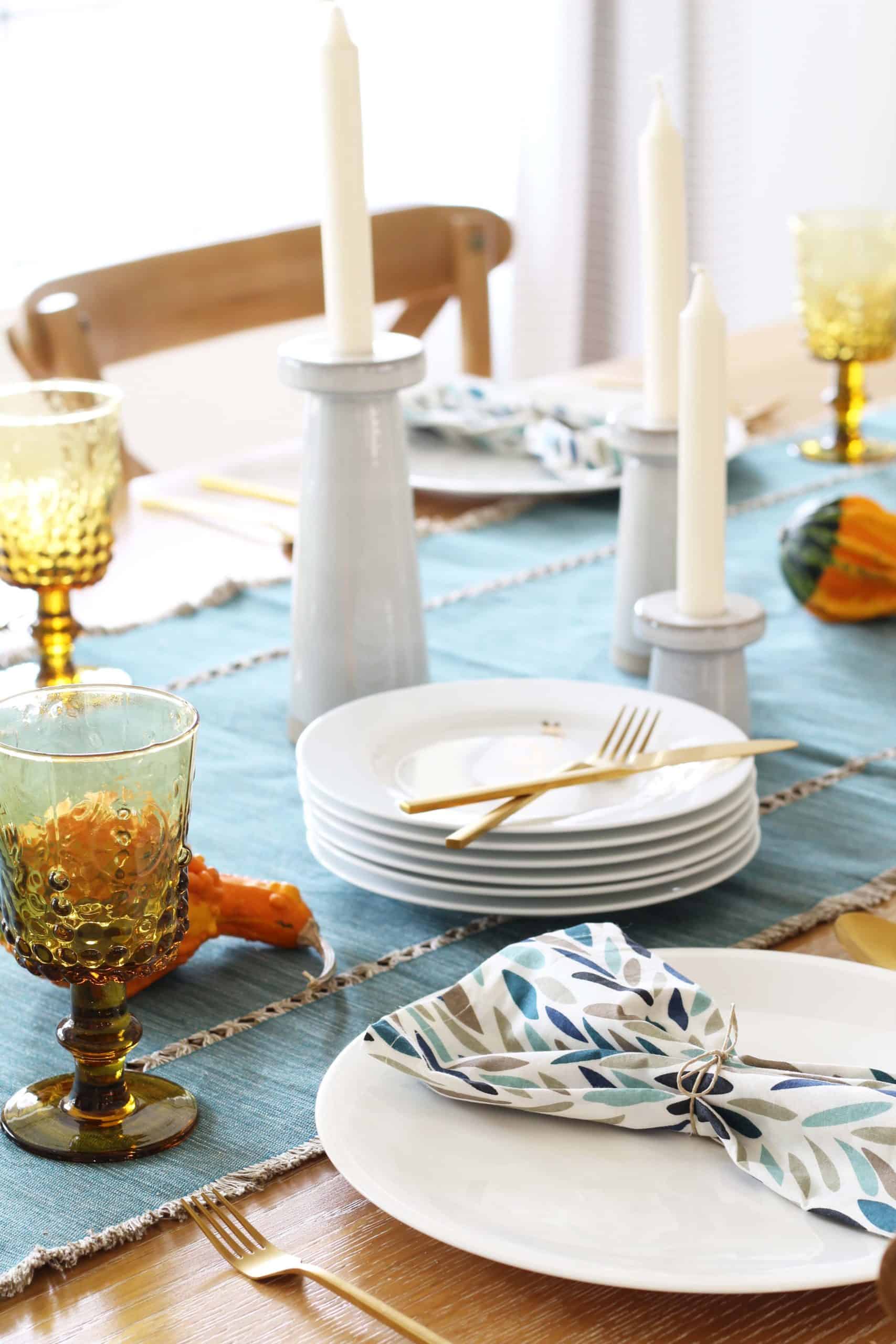 It's my goal this year to take advantage of more time at home and the slower pace to try and make this Thanksgiving memorable for our family. Part of that is yummy food, part of that is decorating a thoughtful table, but most importantly, it's who you share it with.
I hope that you have a safe and healthy Thanksgiving full of love, gratitude, and of course, lots of good food!
This post contains some affiliate links for your convenience. Click here to read my full disclosure policy.
Want to save this post? Pin it here!