Looking to spruce up your thanksgiving table? Here are seven ideas for modern farmhouse thanksgiving table decor for turkey day!
This is one of the first years we will be having Thanksgiving in our own home. Normally we travel a couple of hours west to spend time with family and have Thanksgiving at my childhood home. This year, we will be staying close to home and hosting……ourselves.
Since I don't normally set a thanksgiving table, I thought it would be fun to brainstorm some ideas for a fun, casual modern farmhouse tablescape. I'm going to do a follow-up post to show you all the actual tablescape I'm planning, so stay tuned for that!
Modern Farmhouse Thanksgiving Table Decor
When I think of thanksgiving, I always picture natural, earthy elements, pumpkins and gourds, some kind of gingham, and a little bit of gold thrown in for good measure. Oh, and candles, alllllll the candles.
Since Thanksgiving is a day for giving thanks with family, I love the idea of a casual table. Nothing too fancy, and a tablescape that allows room for the food! While I love to look at pictures of beautiful tables full of decor, I always wonder how they actually function when it comes to space for food. So my goal is not to go overboard, ha!
Lastly, for me, no table (or decor in general) is complete without a little bit of whimsy. A fun pumpkin cocotte, or a small nod to the season with a pair of turkey salt and pepper shakers keeps things playful and fun.
Creating Traditions
Pinterest would have you believe that most people change their thanksgiving decor each year, and while I do think there is some of that going on, I think a lot of us love the tradition of using the same plates, glassware, or special silverware each year.
One thing I firmly believe is that you don't have to go out and buy all new stuff to have a beautiful Thanksgiving tablescape. Having just one special item that you use year after year can create a lasting tradition in your family, whether that's using your grandmother's silverware or simply lighting candles on your table.
For our family, I'm trying to do this by using special amber glassware that feels very specific to Thanksgiving and the feeling autumn evokes. My hope is that pairing the glassware with our gold cutlery that we use for special occasions along side our everyday white dishes will make make for a casual, but special Thanksgiving table.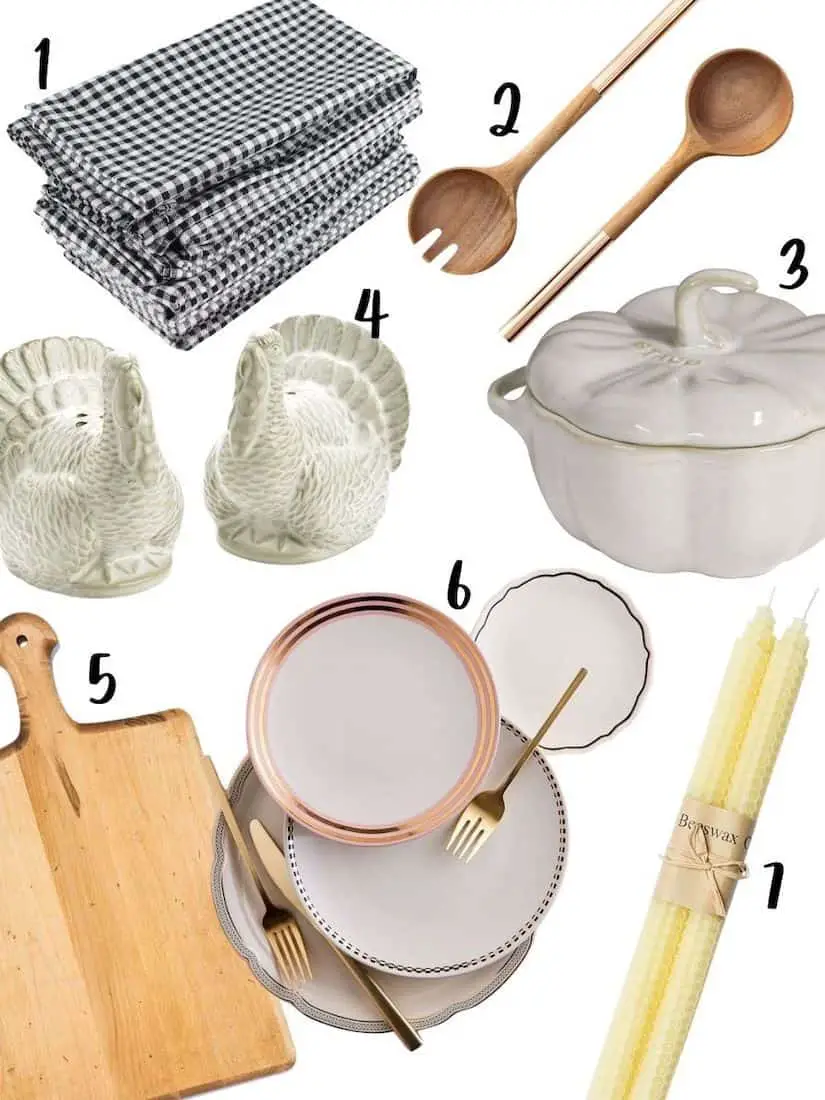 1 | 2 | 3 | 4 | 5 | 6 | 7
Adding Your Own Style
Whether you've inherited family heirlooms or not, adding your own mark to your Thanksgiving table is a fun way to make it your own for your family. This can easily be done by adding in one or two items that you love, that speak to your style.
For me, there is nothing prettier than mixing old and new, vintage and modern. I think it makes homes beautiful without feeling like everything was bought all at once.  Take time to examine what really speaks to you, maybe it's a big investment piece, like a dutch oven, that you'll use throughout the year. Or maybe it's something smaller but whimsical, like cute appetizer plates. Whatever you choose, remember, nothing makes a table prettier than gathering around it.
Whether you're spending Thanksgiving with family this year, or staying closer to home, I hope you found some inspiration here for your own table!
Shop The Post

This post contains some affiliate links for your convenience. Click here to read my full disclosure policy.
Like this post? You Might Enjoy:
Want to save this post? Pin it here!