Area rugs are a great way to bring warmth and texture into your home. Check out these simple tips on how to determine what size rug you should buy for your bedroom, and a round-up of 6 affordable aqua area rugs!
1 | 2 | 3 | 4 | 5 | 6
I've been researching and sourcing area rugs lately….a lot! I tend to get really into a topic and maybe go a little overboard on research when it comes to purchases for the home; I just hate spending money on something I don't end up loving a couple of months or a year later. Which leads me to today's post on area rugs, because if I'm doing all this research, I want to share it so you can use it too!
I love area rugs for so many reasons, the main one being that I'm not a big wall to wall carpet person. The other reason being they are easy to change out if they get damaged or need to be cleaned, and because I believe they add an extra layer of warmth and interest to your home. Done right, area rugs can be a great, affordable design tool in the toolbox.
I've been looking for area rugs for a few key places in our home, in particular our master bedroom. Since my go to color scheme in our home is a palette of darker blues with pops of aqua thrown in as an accent color, I've been looking through a lot of aqua rugs lately. Above are my top 6 picks based on design style and affordability. I'm leaning towards #4, but #6 is a close runner up.
What Size Rug Should I Use With My Bed?
Which bring us to the next question: What size rug should I buy? Should I go by the bed size or the room size? This is really good question, and if you're asking it, you're on the right track.
Here's my opinion: you should buy a bedroom area rug based on the bed size first, and the room size second. I made a chart below to help illustrate this. For instance, if you have a queen size bed, you're probably going to want to use either an 8 x 10 or a 9 x 12 area rug with a bed that size.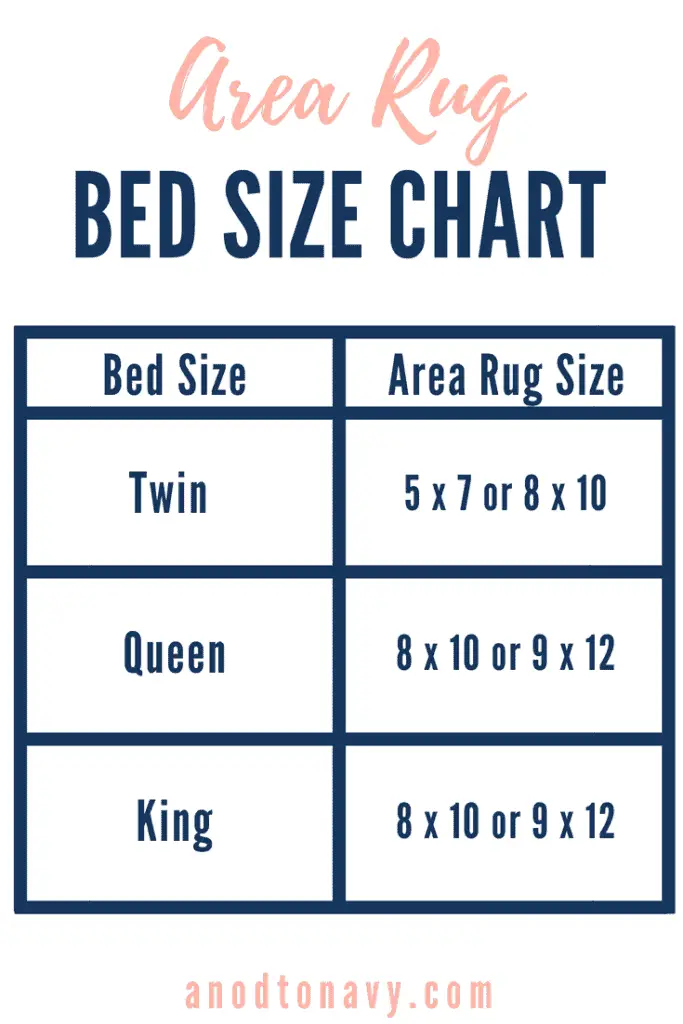 Now that you know your two rug size choices, look at the room size. Is the room large? Small? Somewhere in between? How much flooring space do you want exposed around the area rug? Do you want to leave a couple of feet between it and the wall? These types of questions will help you determine whether you want the larger or smaller of the two rug sizes that work with your bed.
Lastly, decide how you want the rug to be positioned under your bed. Do you want it placed the long way (parallel) under the bed, or perpendicular to the bed? This decision will mostly be determined by the shape of your bedroom. For instance, we have a small rectangular shaped bedroom, which means a rug only really fits one way in that room. If you're lucky enough to have a large bedroom, the the position of the rug is really up to your personal preference!
3 Steps to the Right Rug Size
Just to recap, here are the 3 steps you should keep in mind when picking out your rug size:
Choose a rug based on bed size first.
Narrow down your rug choice based on the size of the room.
Determine which direction the rug is going to be placed.
If you're looking for more information on what size area rugs to use in other areas of your home, Home Made Lovely  did a great post on just that topic.