This simple fall entryway adds little touches of the season with orange fall tones and a hint of aqua.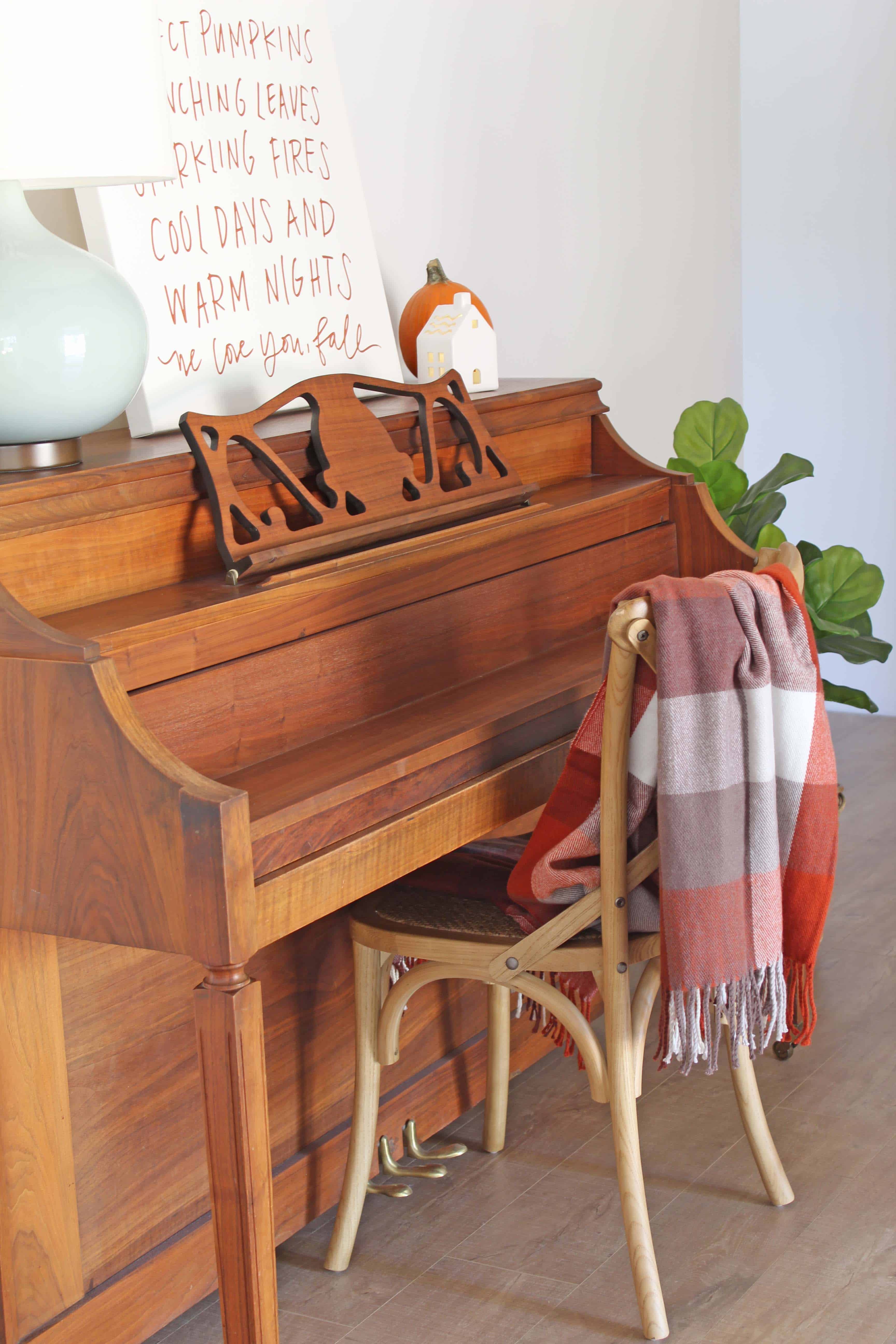 Welcome! Come on in and take a sneak peek at our new entryway with some simple fall decor. After selling our previous home and 6 weeks spent staying with my mom, we've officially moved into our new home. Yay! We are still working on some of the finishing touches (the biggest one being we don't have a kitchen yet;) but things are slowly but surely coming together.
Our Fall Entryway
I'm excited to do some more home tour posts in the future, but currently this is the only space not covered in construction dust, so it's the only area I've been able to unpack a little and add some touches of fall to. Just to give you and idea of the layout, this wall with the piano on it is the first thing you see when you walk into the house; to the left is our great room and to the right is a short hallway to a bedroom and guest bathroom.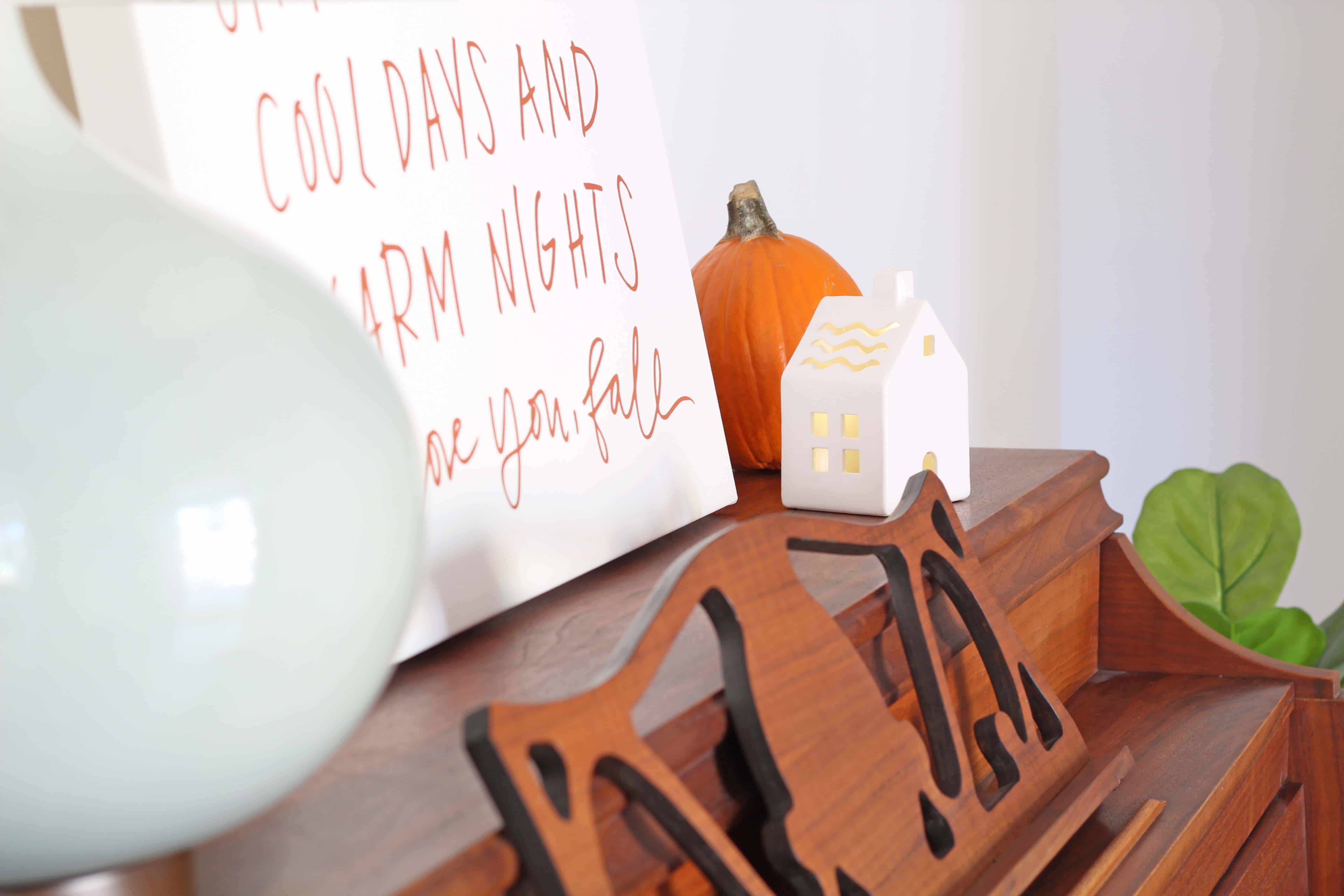 The obvious centerpiece of this vignette is the  Lindsey Letters  fall art print. I bought it on clearance in the middle of the summer because I've been looking at it for forever and I found out they would be discontinuing it soon. So into the cart it went, and I've been moving it around ever since trying to keep it from getting damaged in the move.  Even though the one isn't available anymore, there are so many other cute options in her fall line, check them out!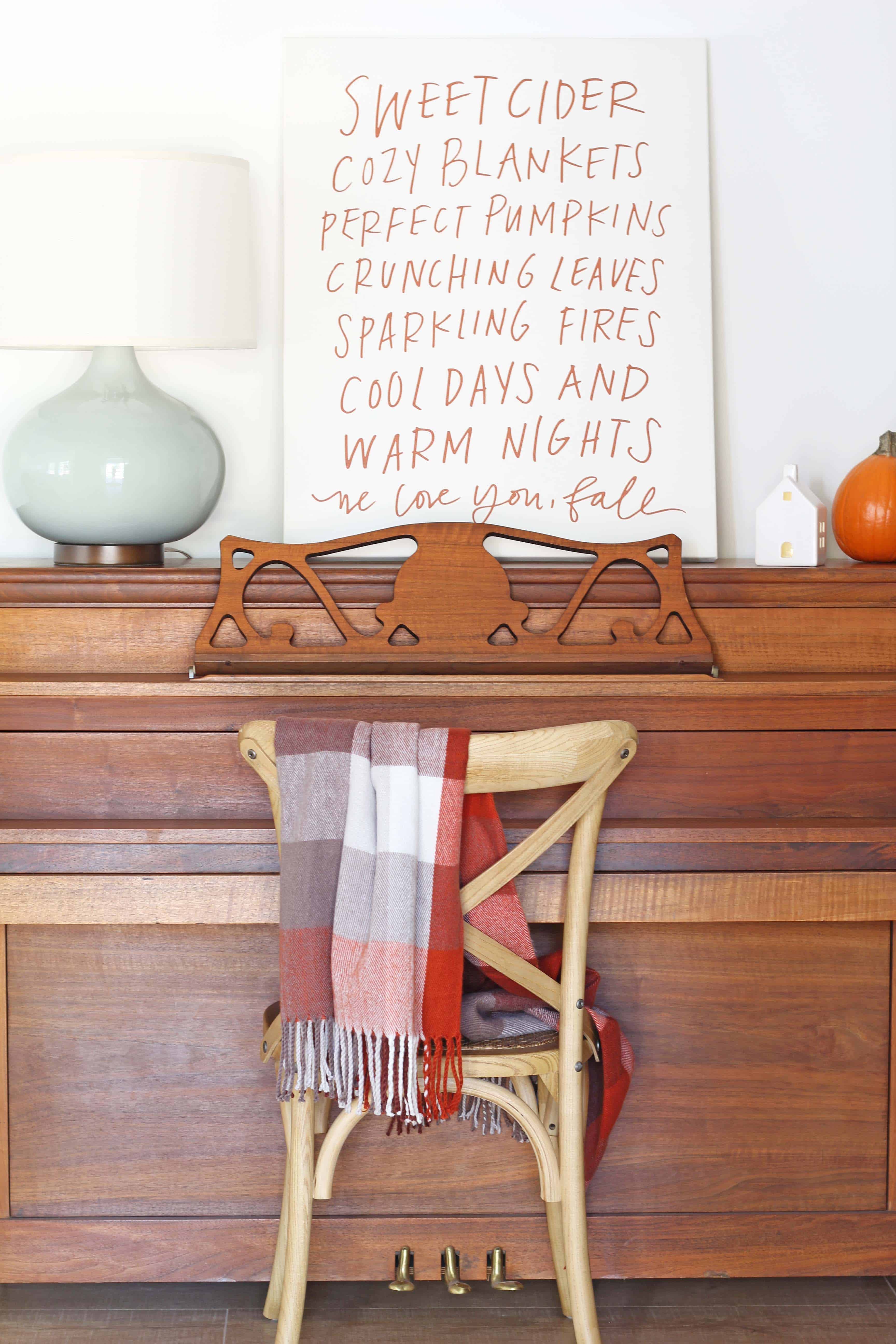 My husband grew up with this piano in his family home and my hope is that one day our daughter will play it. It's definitely been well used and well loved:)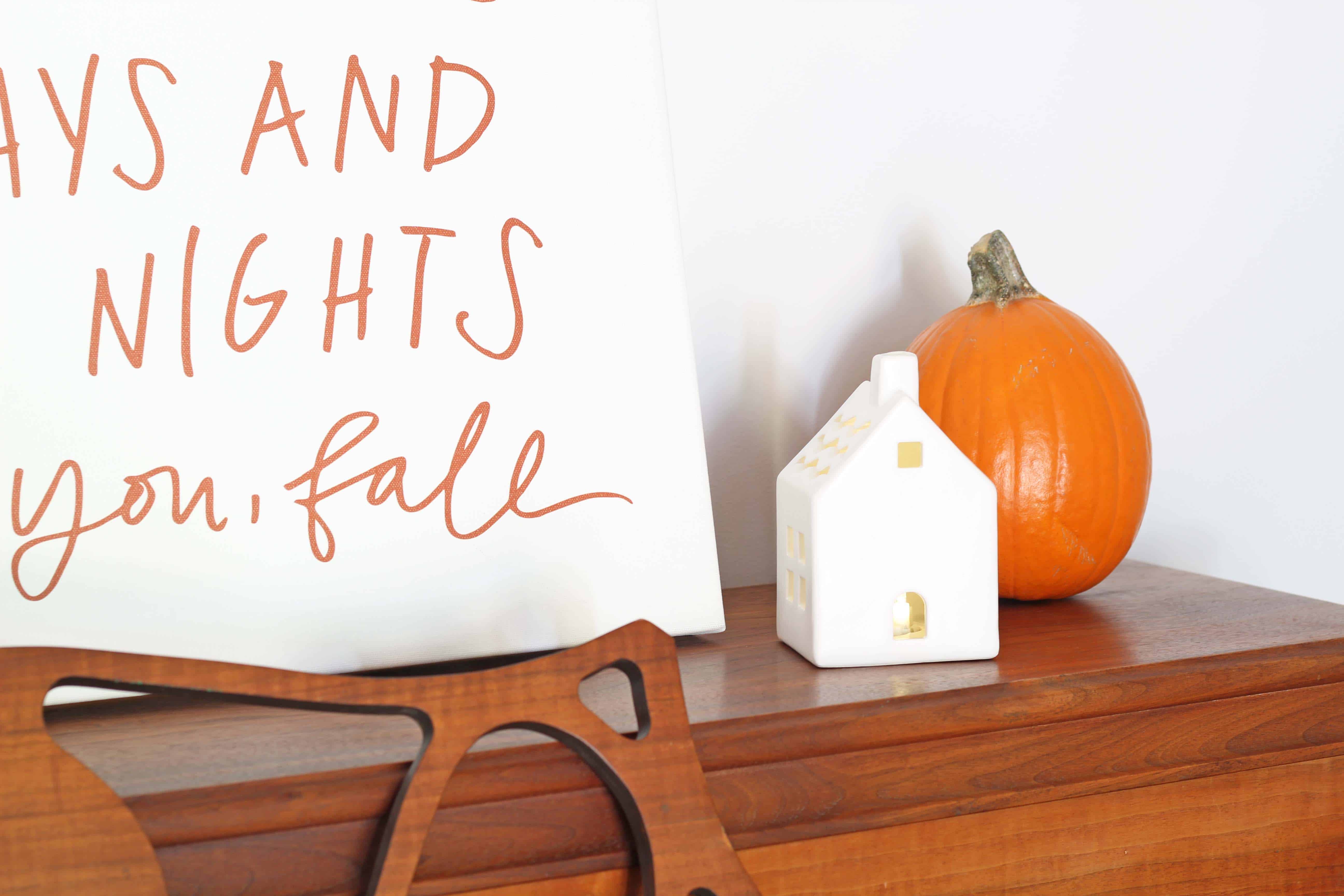 Ceramic Village Houses
I popped into Target last week and saw this cute little ceramic house in the dollar section (I tried to find it online so I could link to it, but no luck). It has an LED tea light it it that we turn on at night for a cozy glow, plus there's just something so homey about a little ceramic village house;)  If you're looking for white ceramic houses, there are a lot of places carrying them now, Pier 1,  and Crate and Barrel  are both places I've seen them recently.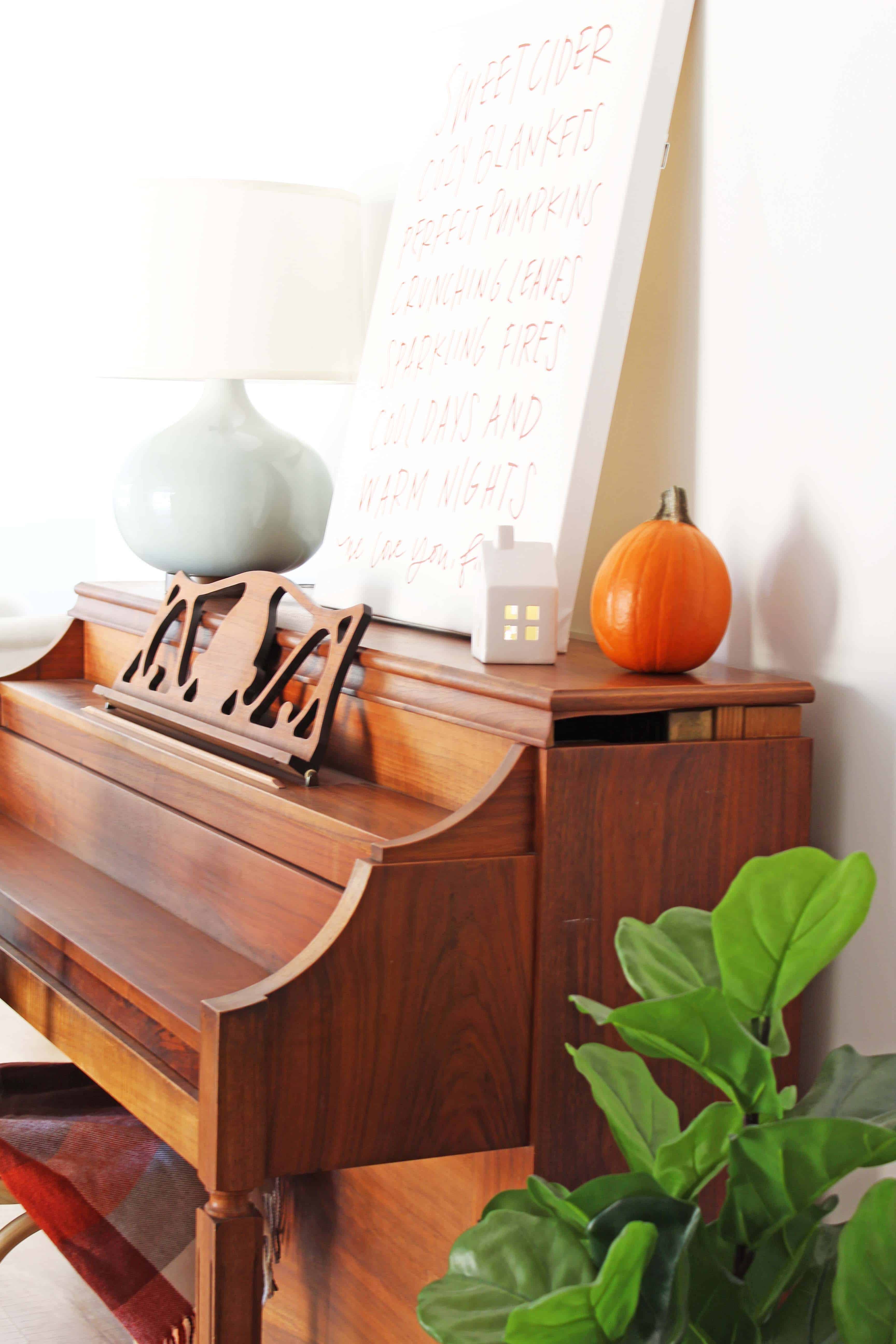 And of course, no fall vignette is complete without a pumpkin in it, right? 😉 Also, you might notice the missing piece of trim wood on the side of piano – it was missing by the time we inherited it. If anyone has any ideas on how or where to replace that, I'm all ears!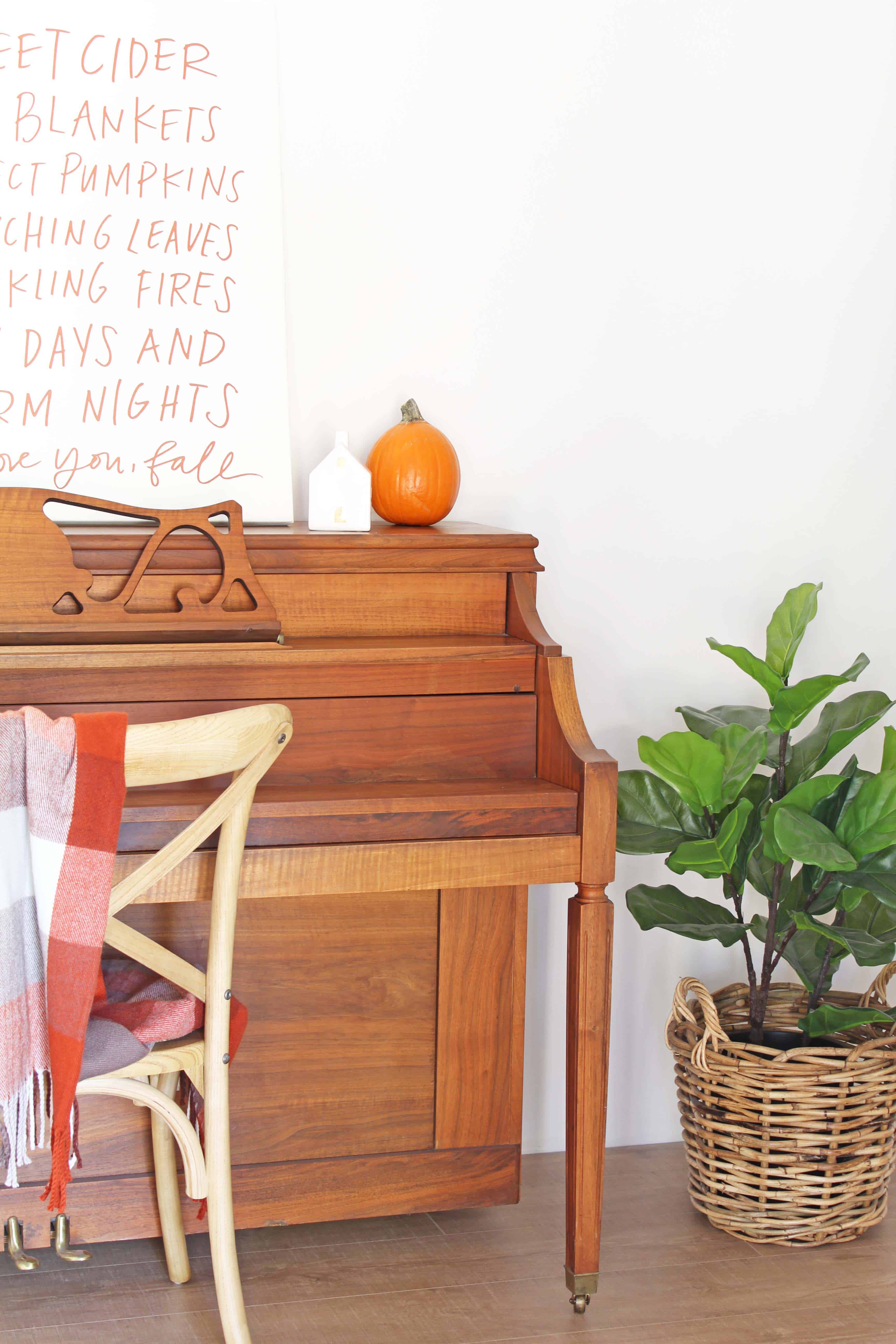 Adding Fall Colors
Our piano stool is currently MIA, so we're using one of our dining chairs for now until it turns up in the mass of boxes out in our garage. I pulled out my fall throw because I think one of the easiest ways to add the feeling of fall to your home is to add a throw to a chair or bench. It makes things feel cozier and adds some seasonal color. I bought mine a couple of years ago at Michaels and I love the pattern and color it adds to a space.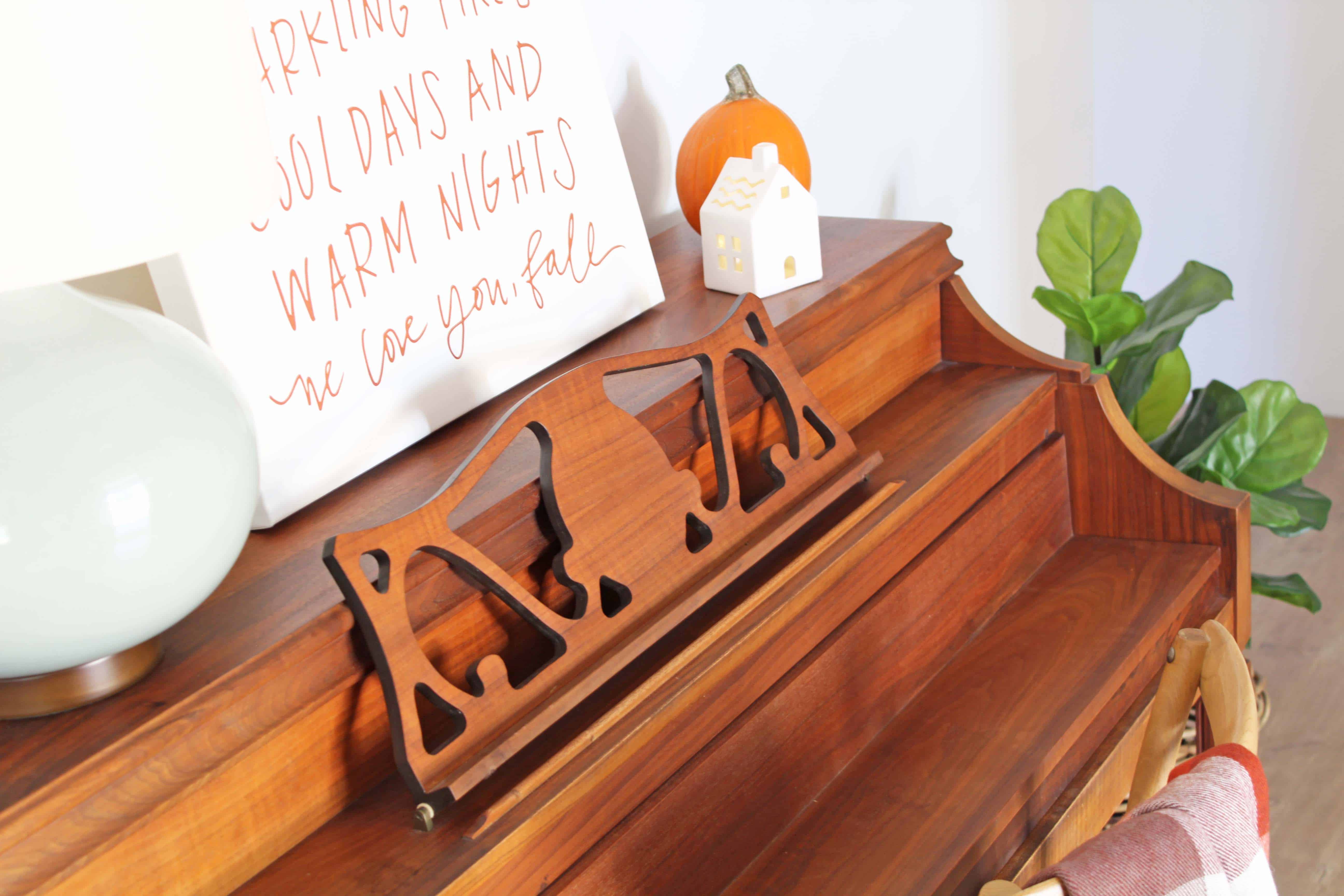 What I love most about our fall decor this year is that moving has forced us to pare down a bit. I love to go all out decorating, but sometimes it's nice to keep it simple and festive without all the extra stuff. Do you know what I mean?
Tell me, what's your fall decorating been like this year? Do you do something different every year, or do you like to change it up?
Want to save this post? Pin it here!