String lights can make just about anything feel magical, including your backyard! Here's the easiest way to hang string lights on your patio.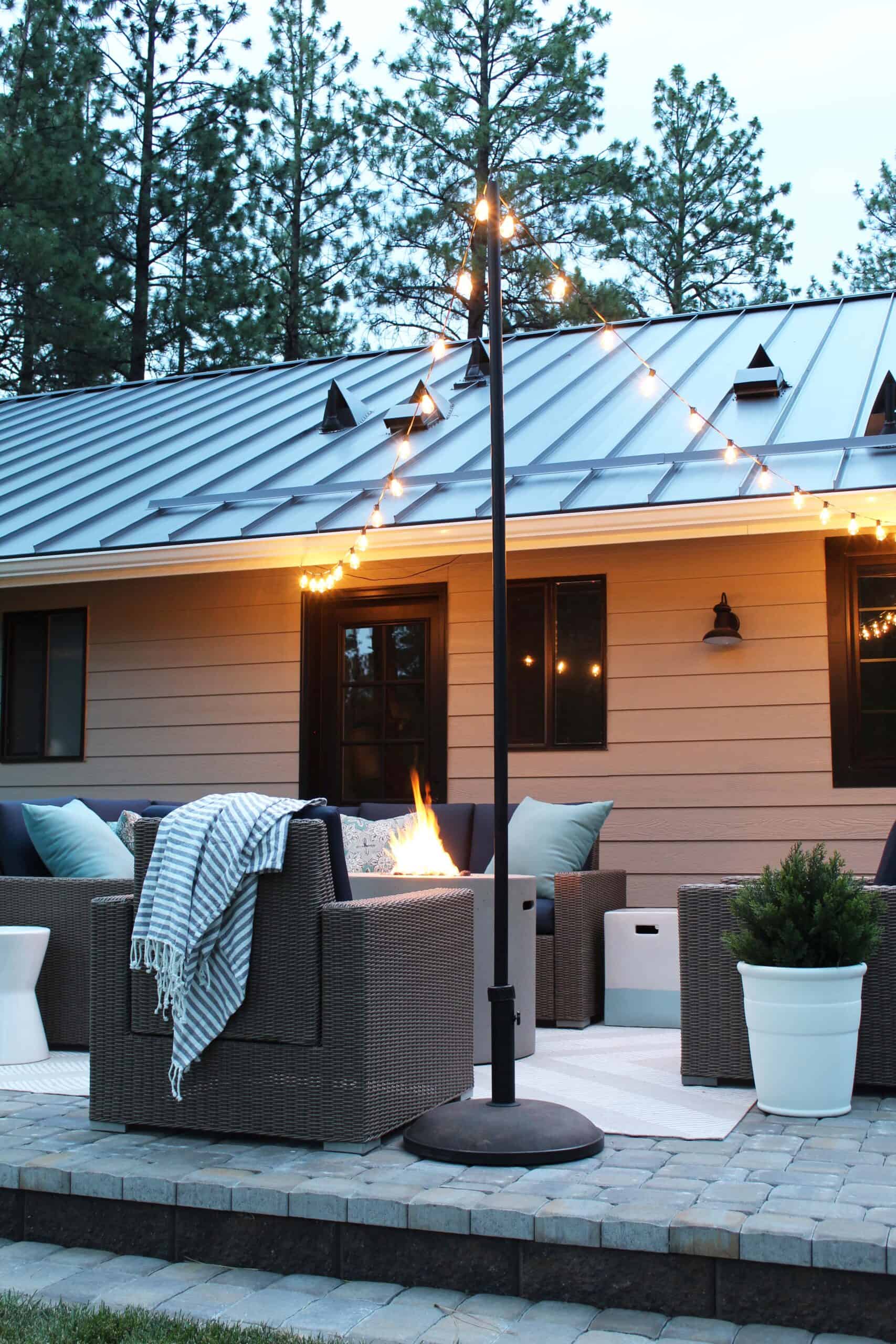 This summer was all about the little projects that make our house truly feel like a home. String lights over our patio was one of those projects. I've actually had these edison style string lights in a box for the past five years. Yes, I know, so silly it's almost criminal.
But, you know, life. First we had to replace our previously rotten deck, and by the time that happened, winter was upon us. This summer I vowed …… the string lights would go up. And they did! After a little brainstorming and finagling, I figured out a super simple way to install string lights that didn't involve any digging or building of complicated contraptions.  Here's how we did it!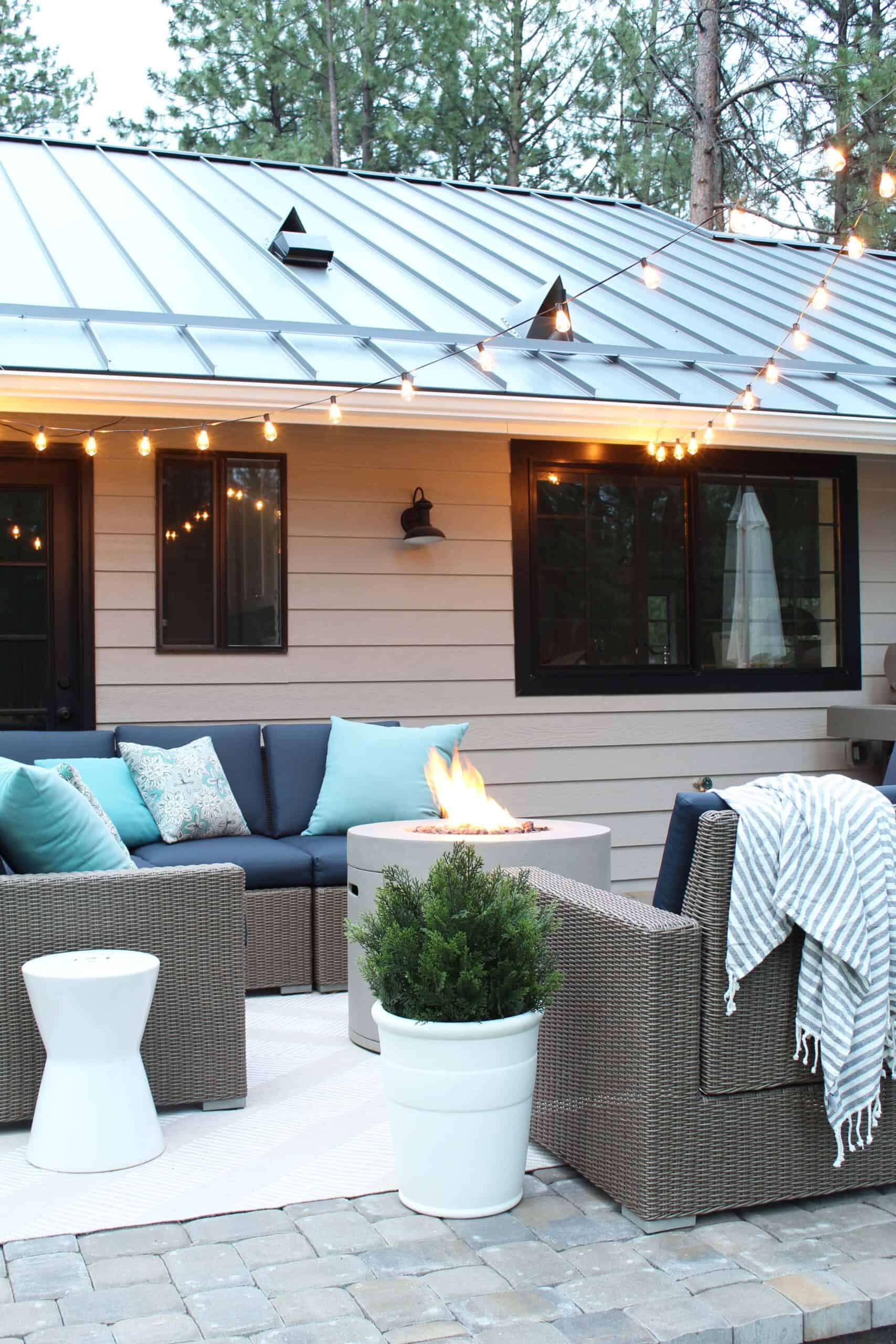 The Easiest Way To Hang String Lights On Your Patio
What You Need
(1) 8 foot wood closet rod
A heavy duty umbrella stand
A pack of  ceiling hooks (sometimes called c hooks)
(3) 4 inch galvinized nails
Extension cord if needed
Paint color of your choice for rod
We, like a lot of people, have a patio off the back of our home. It doesn't have a railing because it's just one step down to our lawn. A lot of string light tutorials add posts to the railings to support the string lights. Some people are lucky enough to have a tree close by in their yard that they can use as an anchor point. Others make their own posts using planters and cement.
Since the first two weren't options, and planters and cement seemed like a lot of work, we decided to get creative with what we were going to attach our string lights to.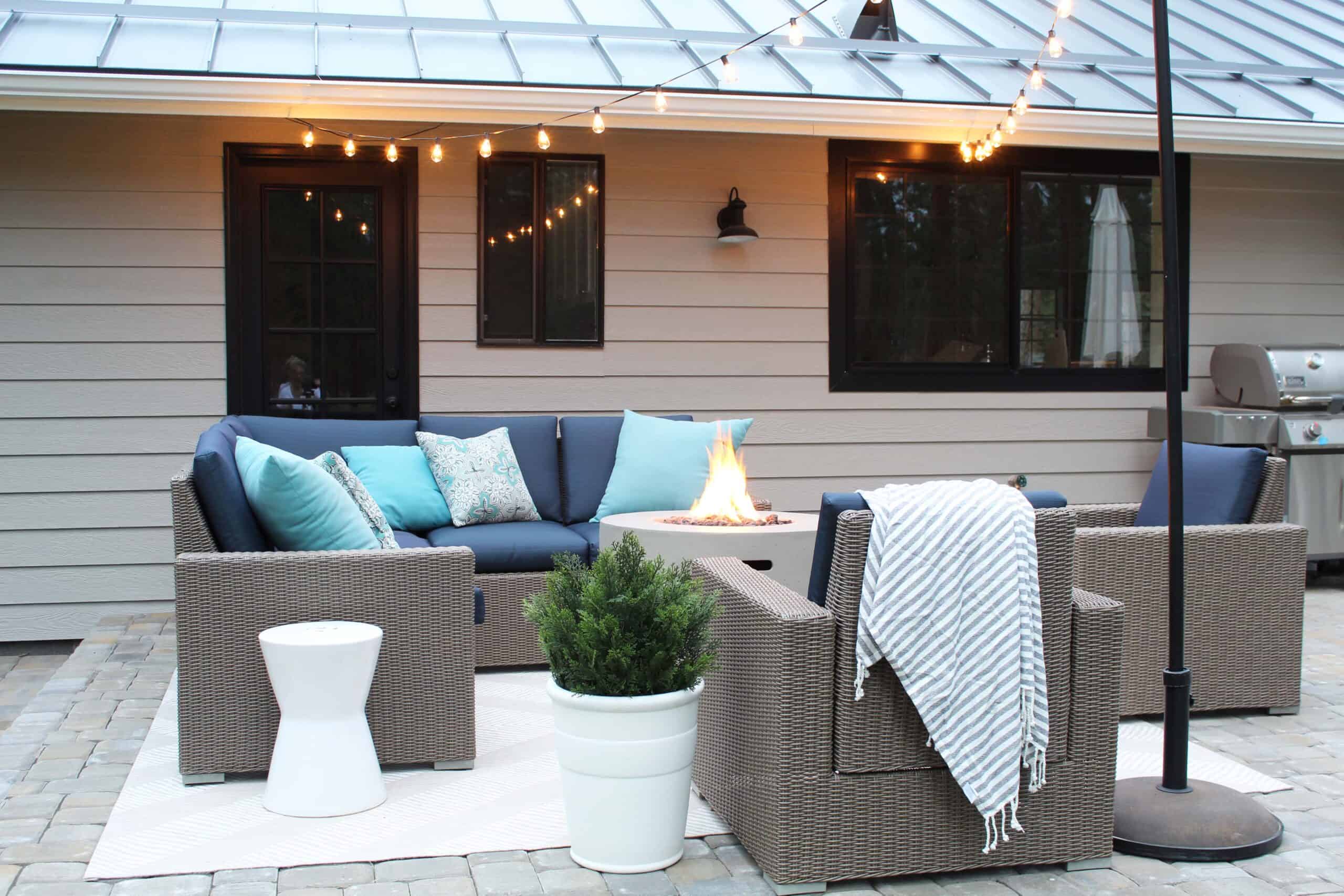 How To Add String Lights With A Pole
I really wanted our string lights to have that nice swag effect across our patio you see in cute courtyards and restaurants. This meant we were going to need a long sturdy pole to create an anchor point for our lights.
After a lot of research and looking I actually ended up using a basic 8 foot closet rod made from poplar wood painted with black exterior paint. You can find these at any home improvement store. Make sure you get a nice straight rod and check the rod for any warping, which is very common in wood. This is the most cost effective way to do this project, but if you're willing to spend more you can also buy ready made metal rods that stick into your lawn (linked below in post sources). 
String lights are surprisingly heavy, so you want to make sure you use something heavy duty to support the pole. A strong wind and string lights are not your friend. We used a heavy duty umbrella stand that we already had. We got ours at a local garden supply center. Side note: a standard closet rod fits perfectly in a standard umbrella stand (yay!)
If you don't want to go the umbrella stand route, another way to accomplish this would be to fill a tall planter with cement and secure the rod that way (as mentioned above).
Post Sources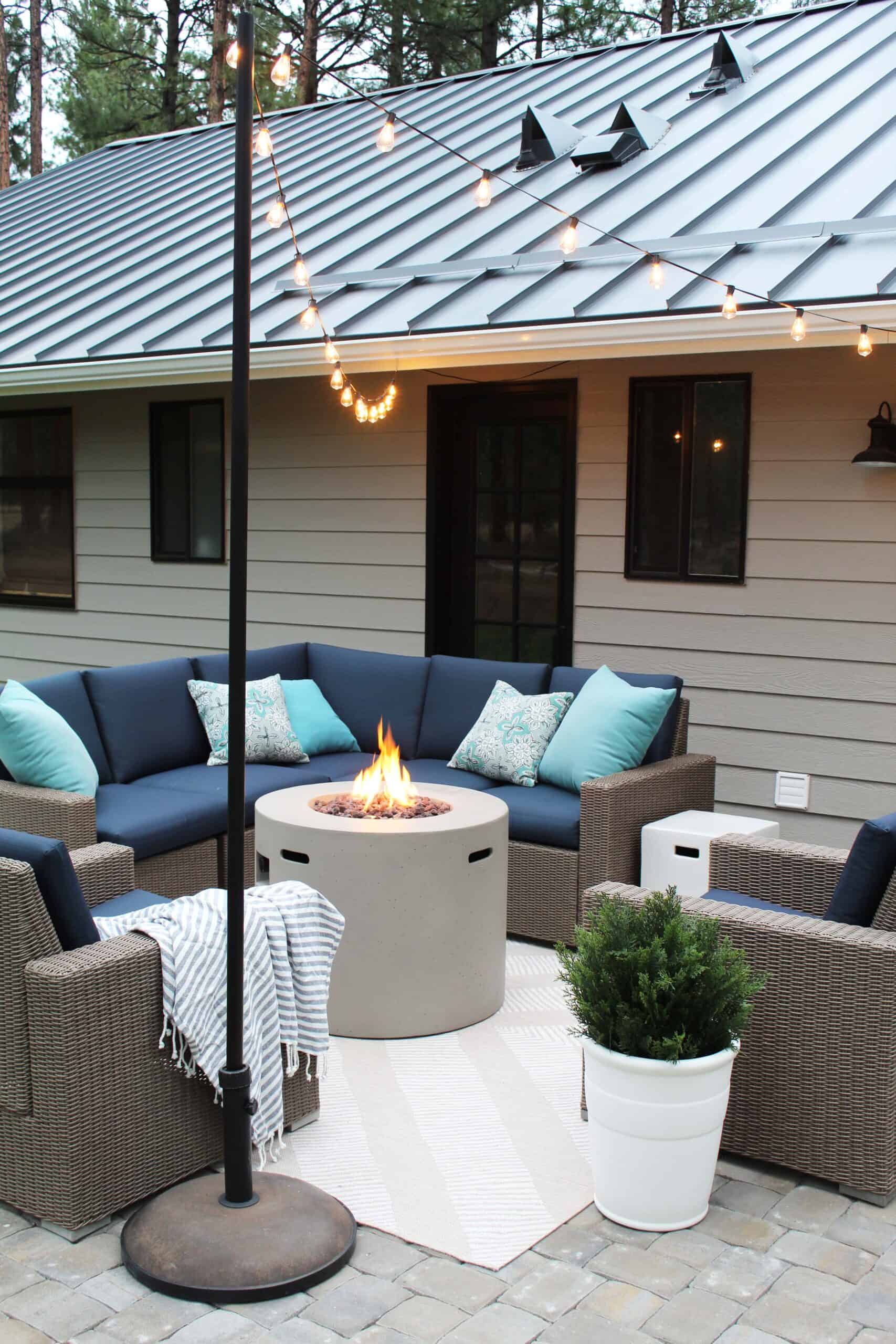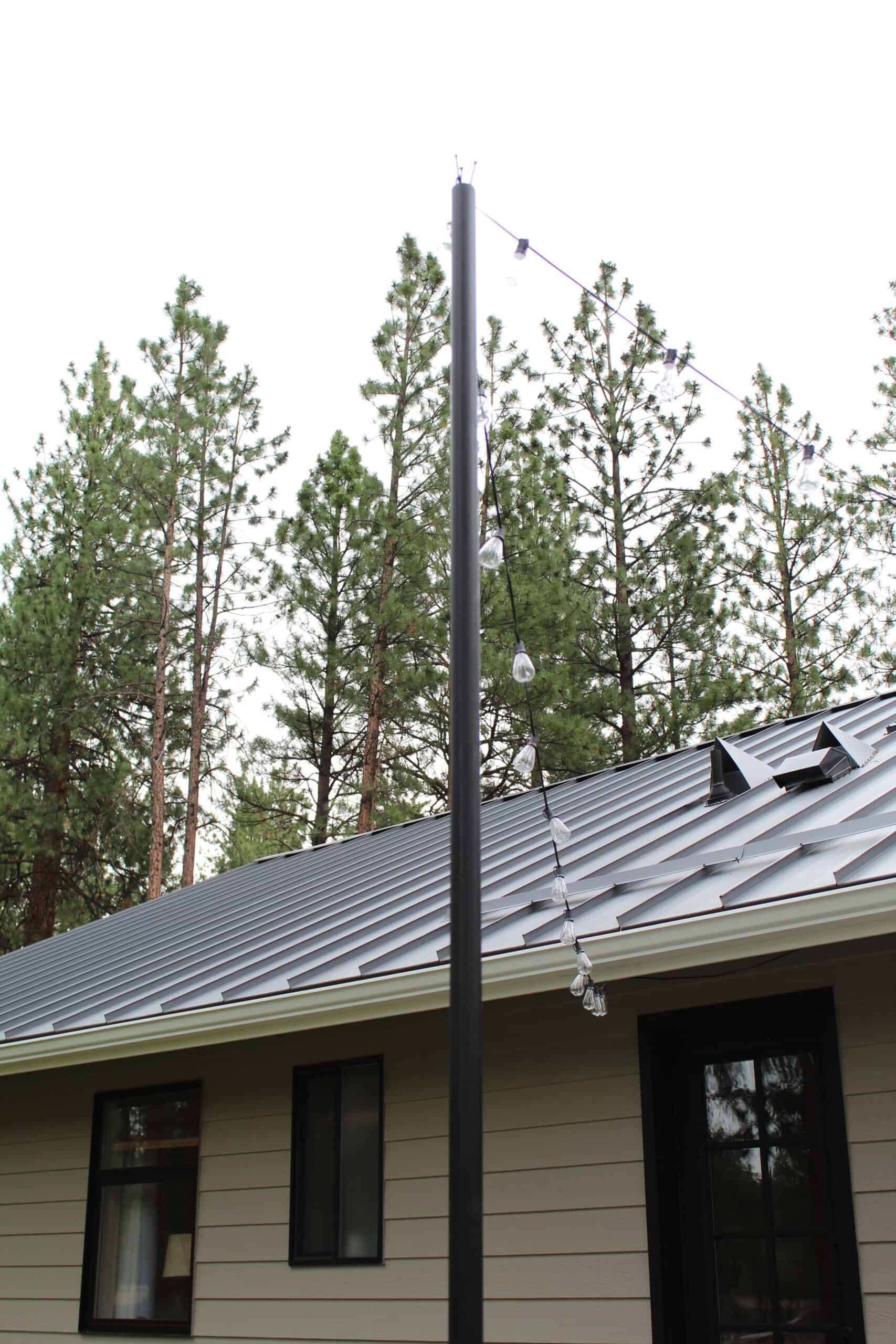 Secure String Lights To Pole & House
Once the pole was painted and dried, we nailed three 4 inch galvanized nails into the top of the poplar rod (pictured above). This is what we wrapped our string lights through to secure them to the rod. The nails also provide the added bonus of keeping birds from wanting to perch there and create a mess on the patio.
The next step will depend a little bit on where your exterior outlet is located. We added an exterior outlet under our home's eaves when we did our renovation. If you don't have an outlet under your eaves, you will need an extension cord or some extra length in your string lights to make sure you can plug into an exterior outlet. Take note of where your outlet is before you attach anything to your home so you know what you're working with.
We then used two c hooks screwed into the fascia board of our house to secure the two separate string light points and get that swag look I was going for.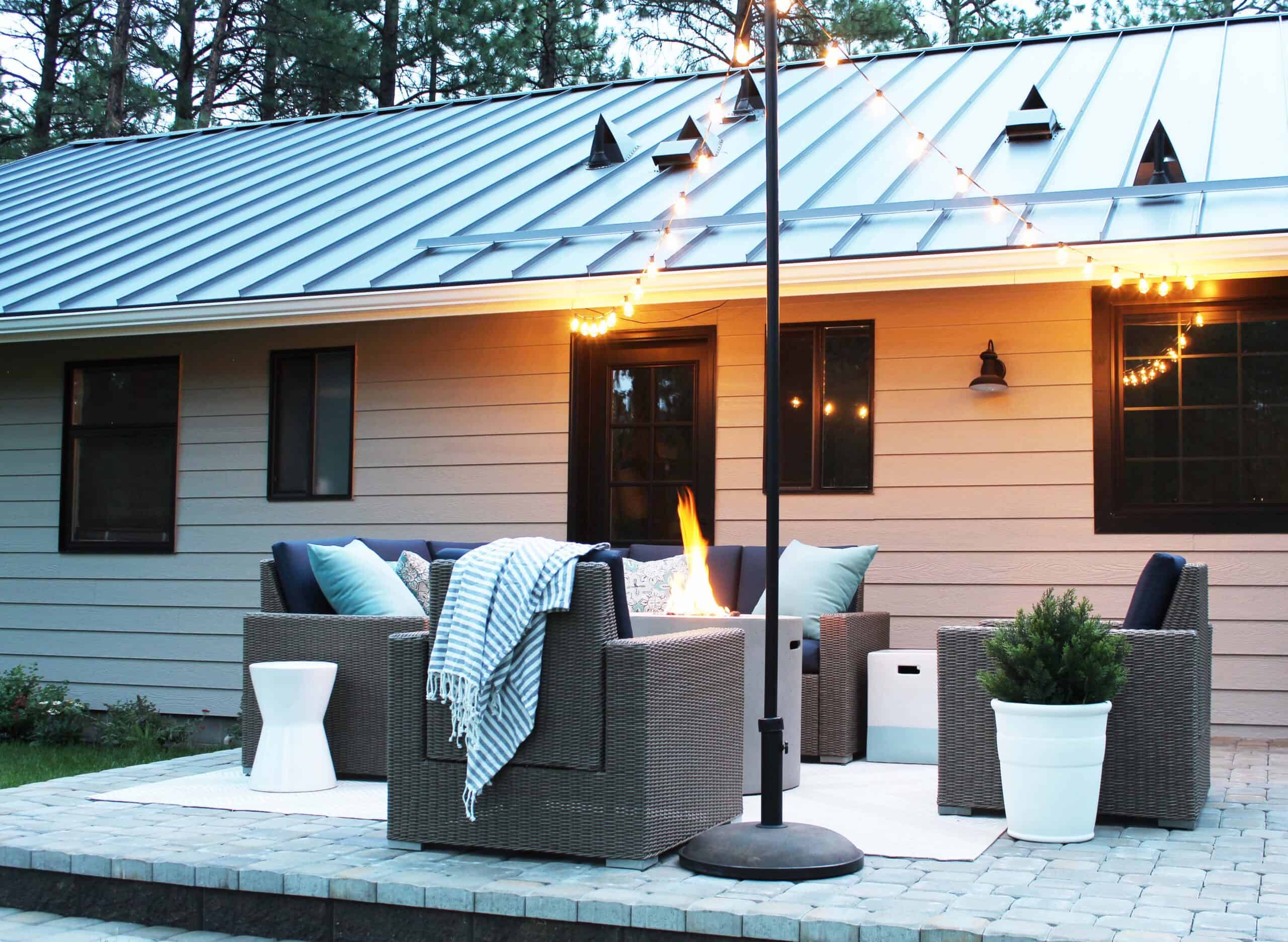 Magical, right? I'm so happy we finally got around to this project. It's one of those things that adds so much ambiance and character with very little investment in time or money.  Here's to more balmy summer nights and cool fall evenings spent outside!
P.S. If your enjoyed this post you might like  5 Simple Patio Makeover Ideas
Post Sources

This post contains some affiliate links for your convenience. Click here to read my full disclosure policy.
Want to save this post? Pin it here!