This pumpkin spice hot chocolate is a fun take on the ever popular pumpkin spice latte. The best part? It's made with real pumpkin!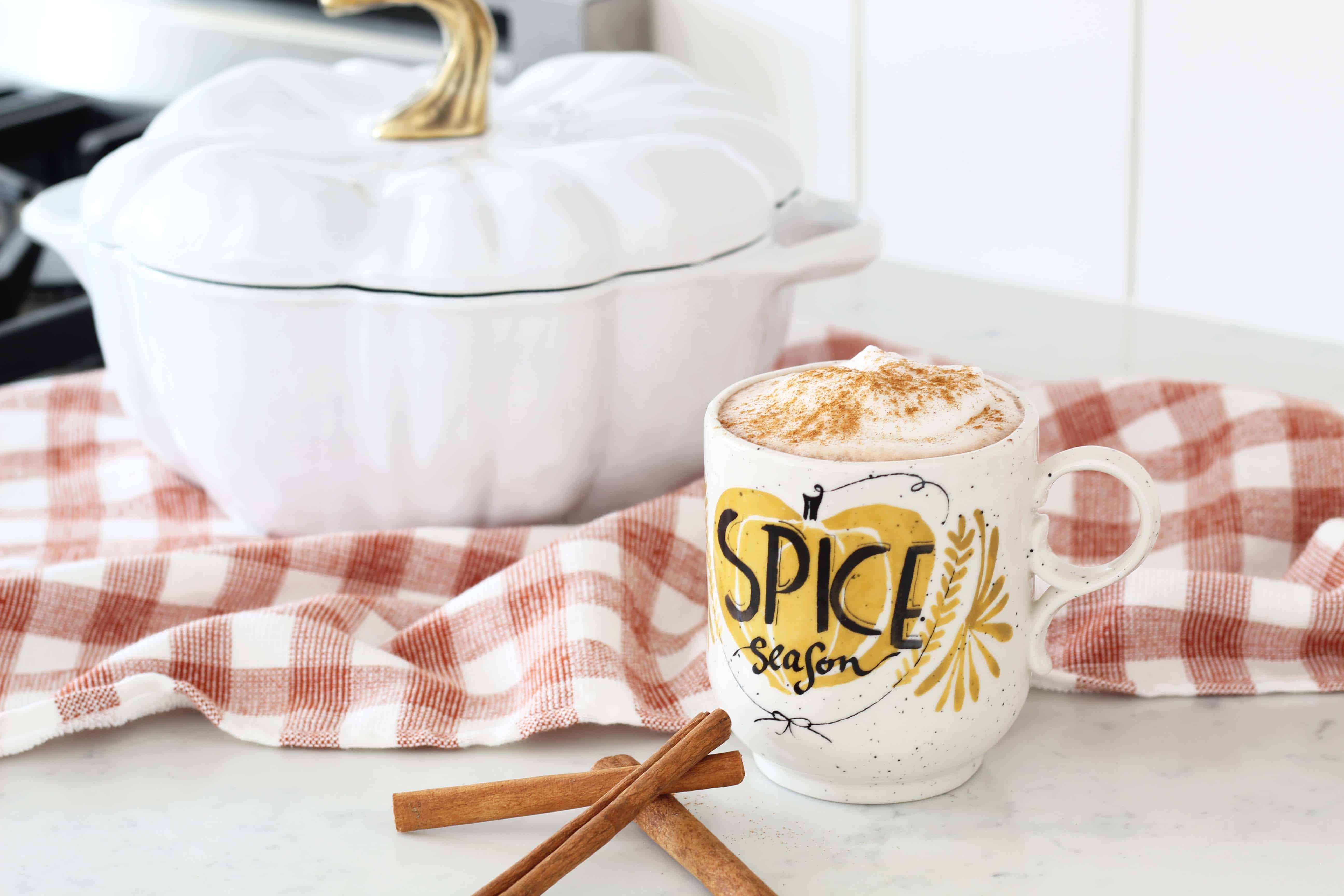 Since it's officially pumpkin season here (complete with crunchy leaves and knit hats!) I thought I'd share one of my favorite ways to celebrate the season…..with a pumpkin spice hot chocolate!
My love of hot chocolate runs long and deep, so updating a classic favorite to match the season is an easy way to celebrate fall in a simple way that can be enjoyed anytime at home.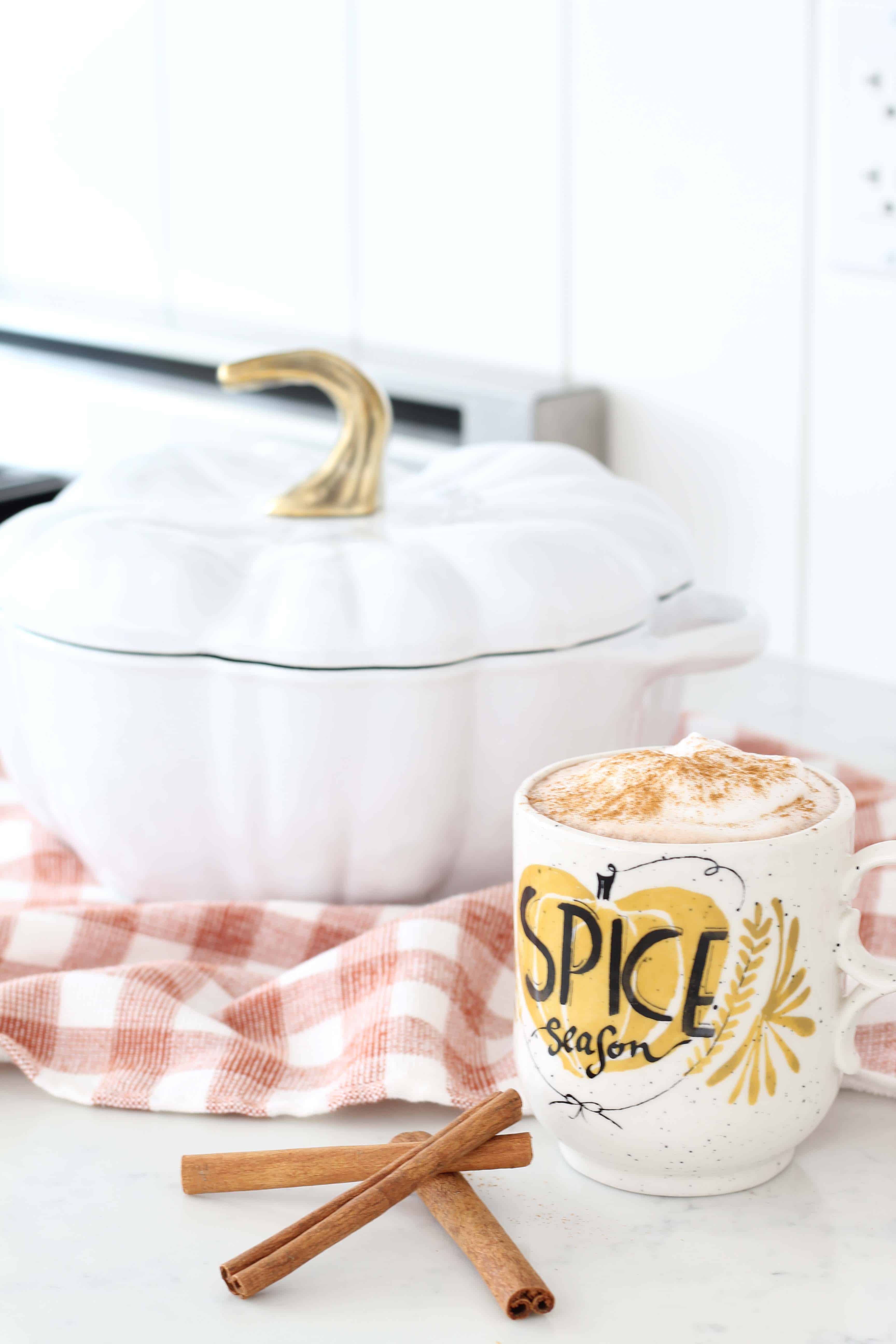 Pumpkin Spice Hot Chocolate
Since I'm not a coffee drinker, I've never really fallen into the lure of the pumpkin spice latte that seems to have started it all. What I do know is that I love the actual pumpkin spice blend we're all so fond of using in our pies and baked goods, so why not add it to a drink?
The best part about this pumpkin spice hot chocolate (in my opinion) is the fact that it has real pumpkin in it. This adds to the creaminess and flavor of the drink in a way an artificial flavored syrup could never do.
The second best part? There are so many different ways you can use this recipe. If you already have a favorite way of making hot chocolate, just adapt it to include the pumpkin and spices from this recipe and, violá! You have a new favorite seasonal drink.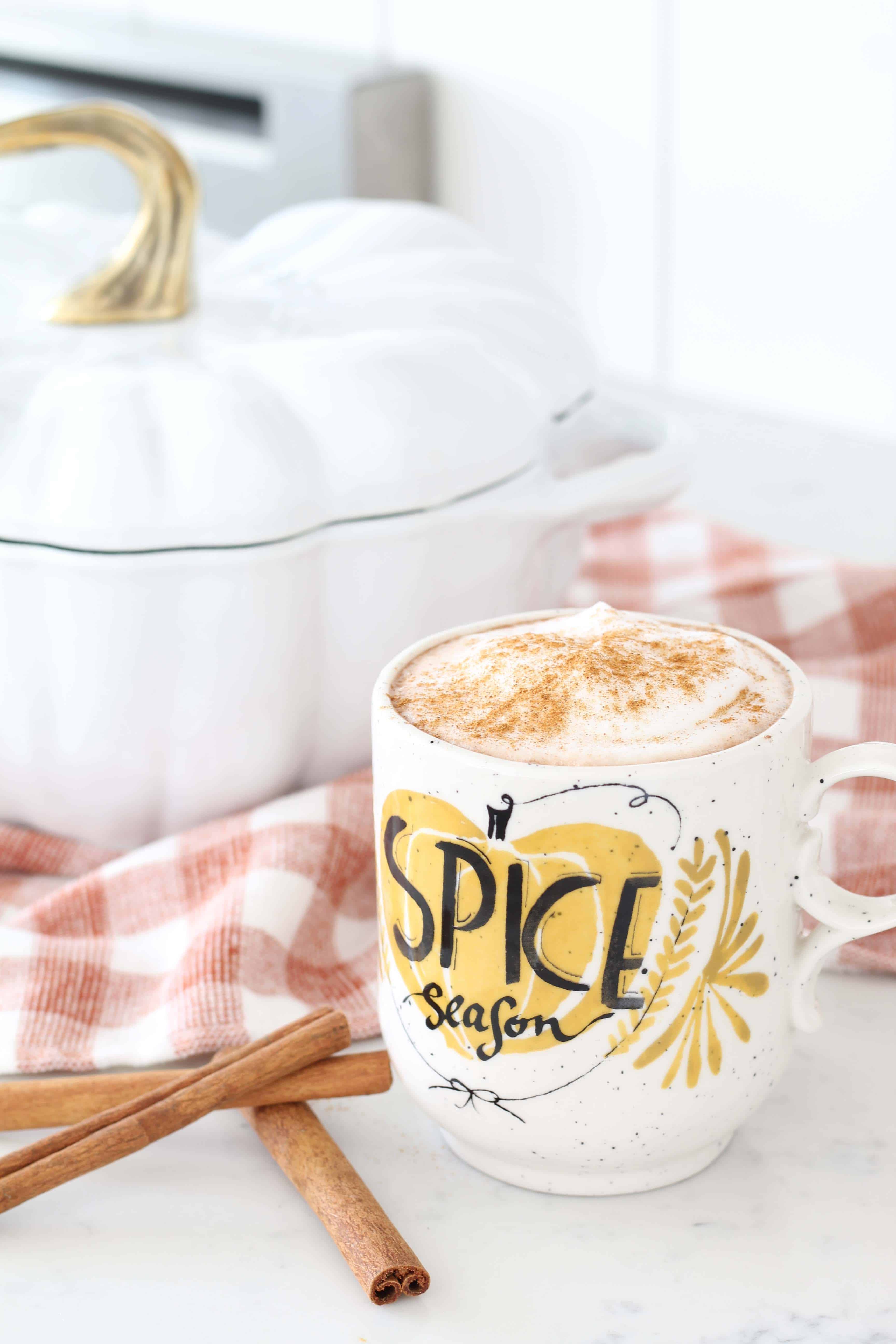 Pumpkin Cocotte // Pumpkin Season Mug (last seen here) // Gingham Dishtowel
Basic Hot Chocolate Recipes
If you don't already have a favorite version of your own hot chocolate recipe that you use, let me lay out a few different ways I've made this one. The easiest way (and the way I make it most often) is to use a pre-made hot chocolate powder. I use this one most often  and have been impressed with the quality.
You can also make your own hot chocolate powder.  This option has it's advantages since you can make it as sweet, chocolaty, etc. to your own tastes. When I make my own powder, I like to use this recipe.
Another popular way to make hot chocolate is to use chocolate chips or small chocolate buttons and whisk them into the warming milk until they dissolve. This is a great way to make hot chocolate if you already have a favorite chocolate brand that you like the taste of, or favorite local chocolate maker that you like to buy from!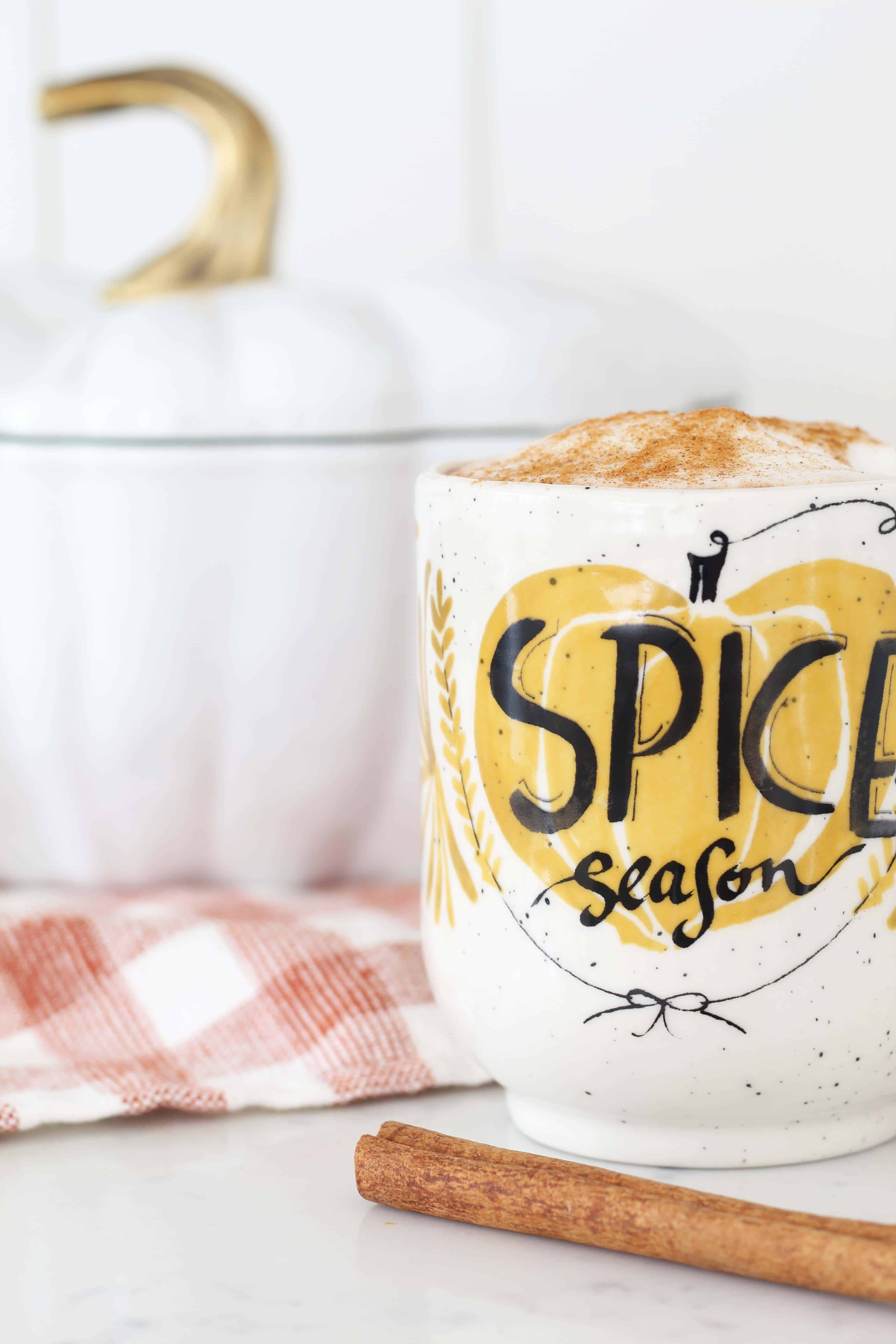 Making A Pumpkin Spice Hot Chocolate
One of the biggest things to remember when you're making this recipe is that there is no wrong way to do it! Feel free to experiment with extra spice (or less), and more or less chocolate depending on how chocolaty you like things to taste. I would recommend not overdoing the chocolate too much though or some of the pumpkin spice flavor might get overpowered.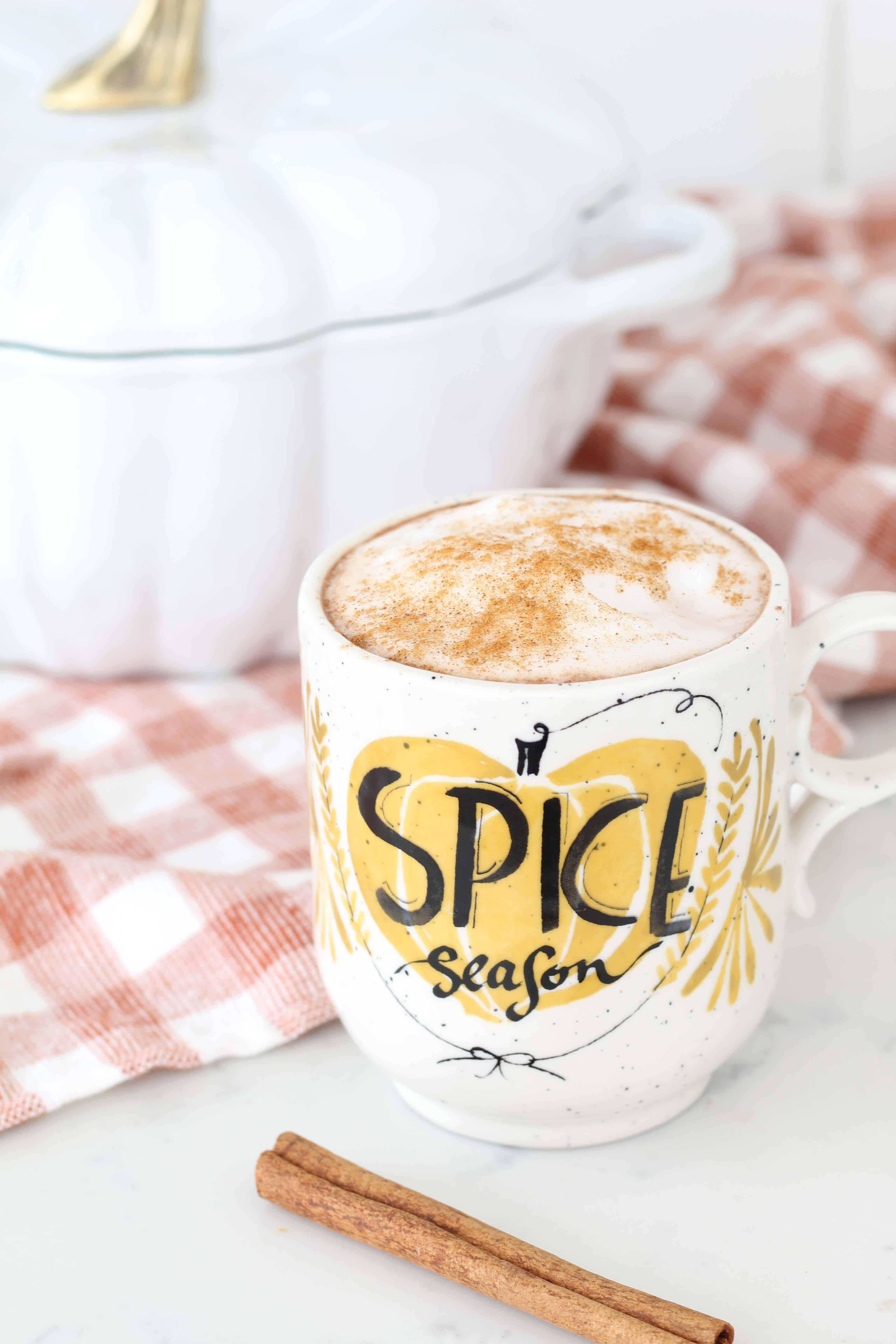 Recipe:
1 cup whole milk
1 pinch ground nutmeg
Whisk milk and cocoa powder together in a saucepan over medium heat until powder is melted and hot chocolate is smooth, 3 to 5 minutes. Stir in pumpkin puree and pumpkin pie spice until fully blended. Top with whipped cream, sprinkle cinnamon and nutmeg over the top and enjoy!
This post contains some affiliate links for your convenience. Click here to read my full disclosure policy.
Want to save this post? Pin it here!