Merry Christmas! Our Christmas tree this year is a little bit old fashioned and kid friendly, but full of memories!
Sometimes it can be hard to share the real life stuff in blogland. There are so many perfectly flocked Christmas trees to be seen while scrolling instagram. Not to mention the abundance of tutorials out there on how to decorate your tree with giant ornaments, faux flowers, and floral picks! And while all of these trees are gorgeous, they just aren't reality for our particular family.
Having grown up in the Pacific Northwest, we've been spoiled by the sheer amount of trees that surround us. Some might even say we take it for granted (which we do). So much so that going out into the woods and cutting down your own tree seems like a normal tradition that everyone gets to enjoy (which they don't). So I thought I'd take you along on our Christmas tree hunting adventures this year. 🙂 P.s. You can see our Christmas tree from last year here.
Hunting For a Christmas Tree
We knew Thanksgiving was a week late this year and the weather in our neck of the woods turns really quickly this time of year. So we made the decision to head for the mountains to find a tree a full week ahead of Thanksgiving this year, which might be a record for us. This turned out to be good timing because we got hit with an early snow storm about three days later. While the snow looks lovely, tramping through two feet of it with a toddler in tow while looking for a tree to cut down is not my idea of a good time.
Trees out of the forest are obviously not groomed and grown to be perfectly symmetrically like they are on a Christmas tree farm. This means you definitely have to embrace the imperfection when looking for a tree. In our alpine climate, we get a lot of different types of fir trees that grow. My favorites are noble firs and boy do we have a lot of them!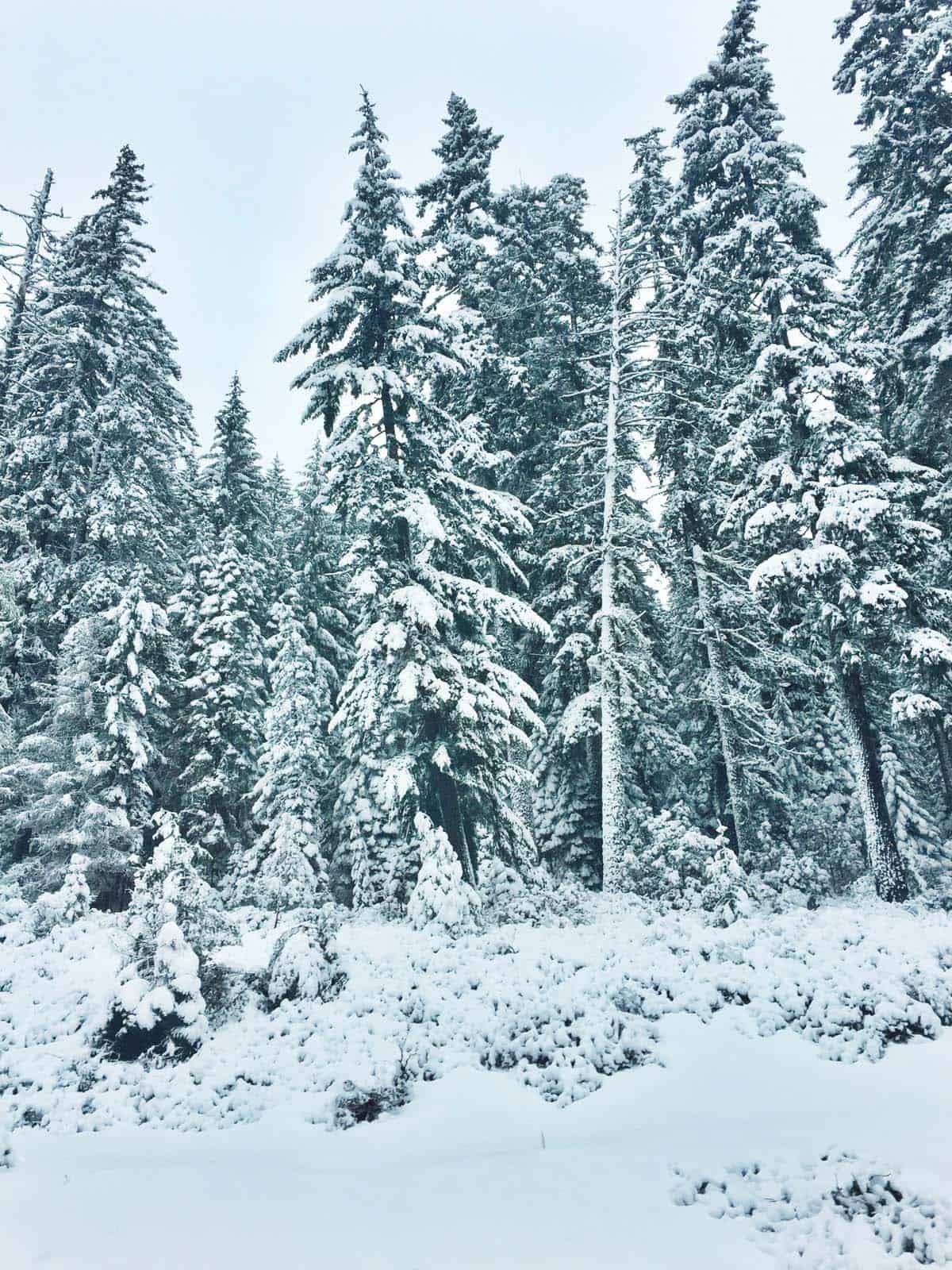 Our Christmas Tree
After a couple of hours and two different locations, we found a tree that fit our space. Tall but not too tall, not too wide so we could still get around it, and with nice strong branches for hanging ornaments.
After some trial and error (and three broken ornaments) I gave up and went with a totally kid friendly tree.  Felt, wood, and plastic ornaments have become my friend. I have two boxes of colorful ball ornaments; one plain and one with the twelve days of Christmas painted on them that I got at the Land of Nod years ago. These along with some white wood bead garlands helped create my kid friendly decorating base.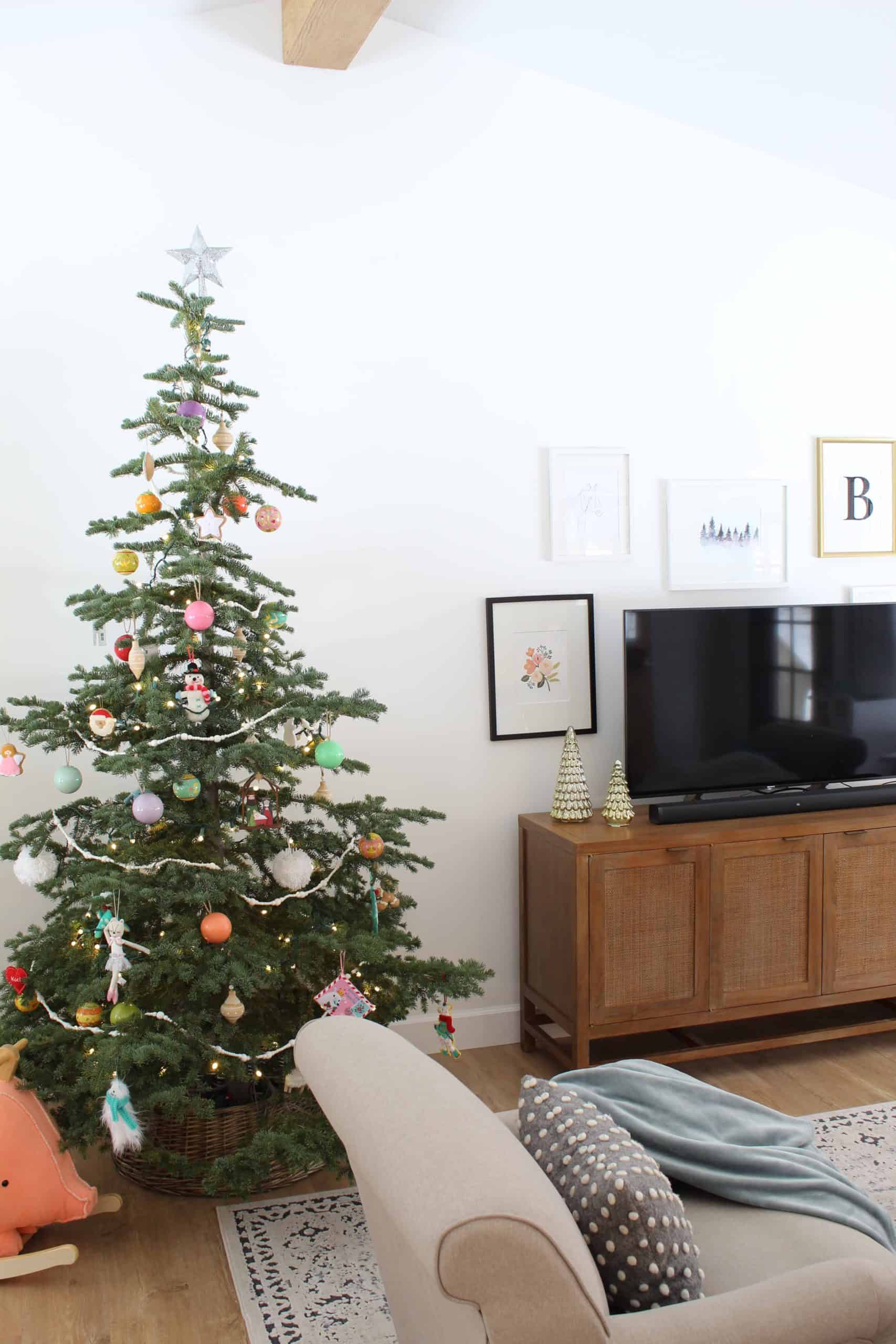 I think this main living room wall is just begging for some box moulding, don't you? Maybe another project to add to the list for 2020. 😉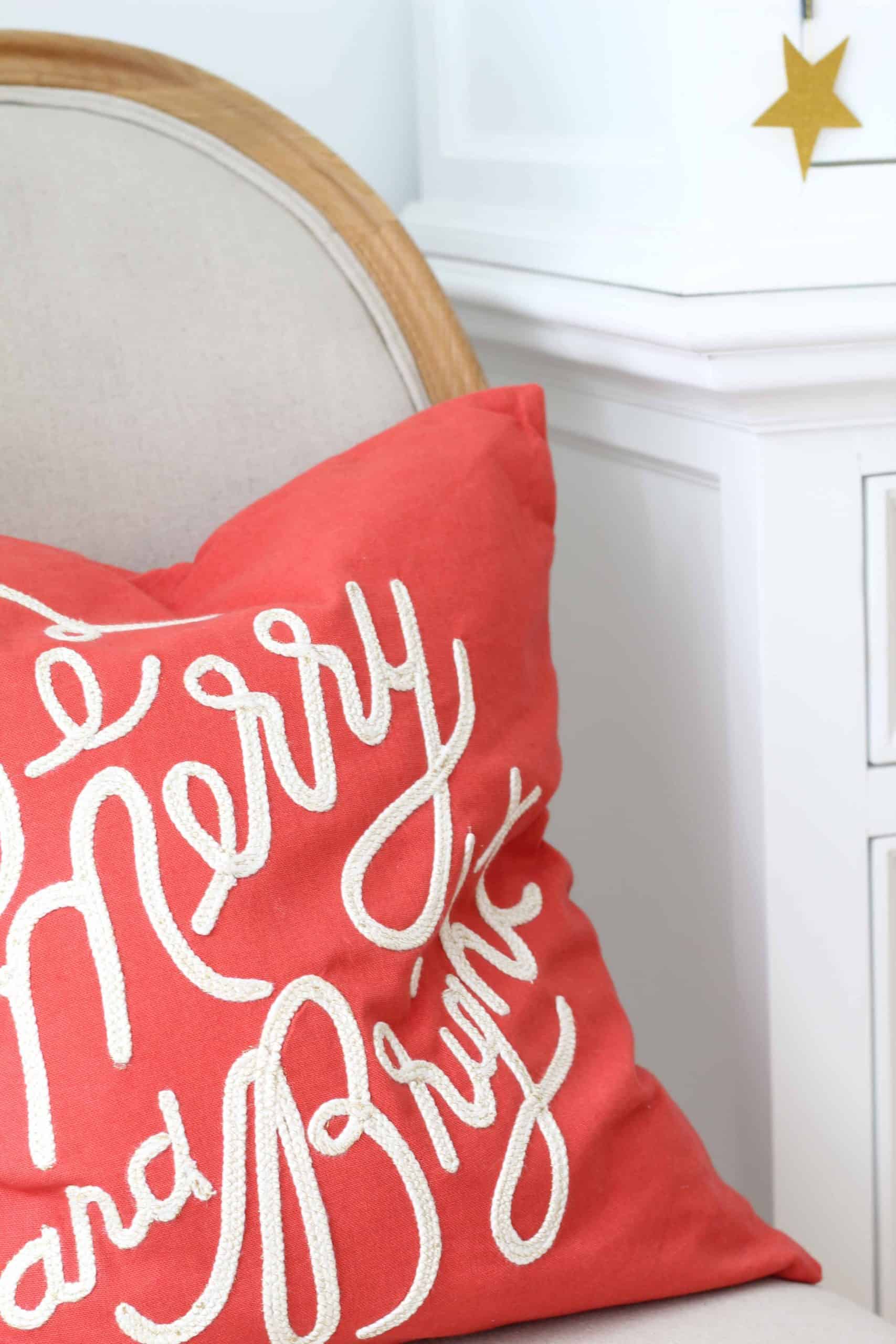 This cheerful merry & bright pillow was the one new addition to our Christmas decor this year. I love anything Anna Bond does, so I snapped this up during the black fridays sales.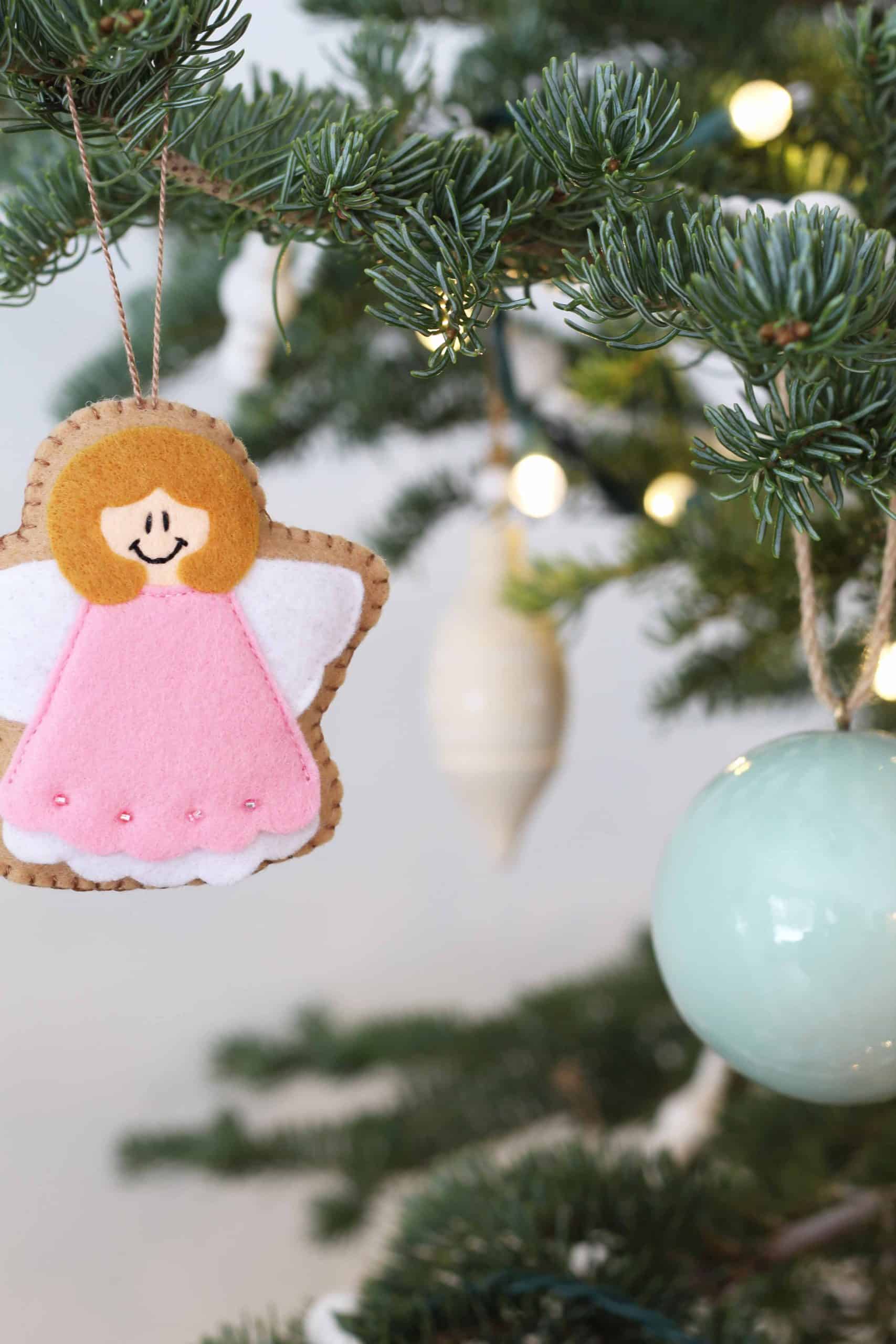 Felt Ornaments
Almost all of the felt ornament are from Target over the years, with a couple from Etsy that I just couldn't resist. They're great for kids to decorate the tree with and honestly I'd probably have a bunch up there even if I didn't have kids because they just feel nostalgic to me.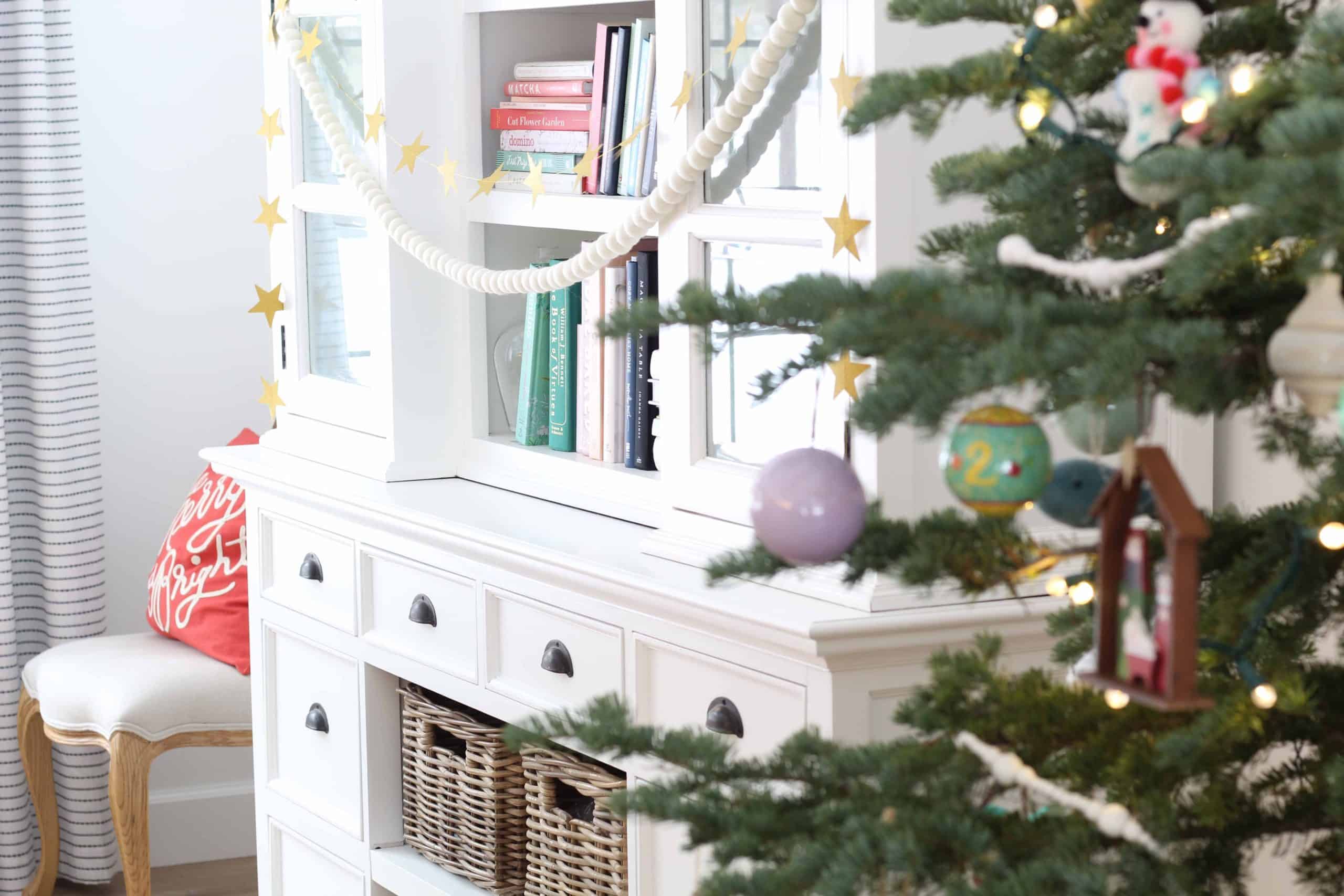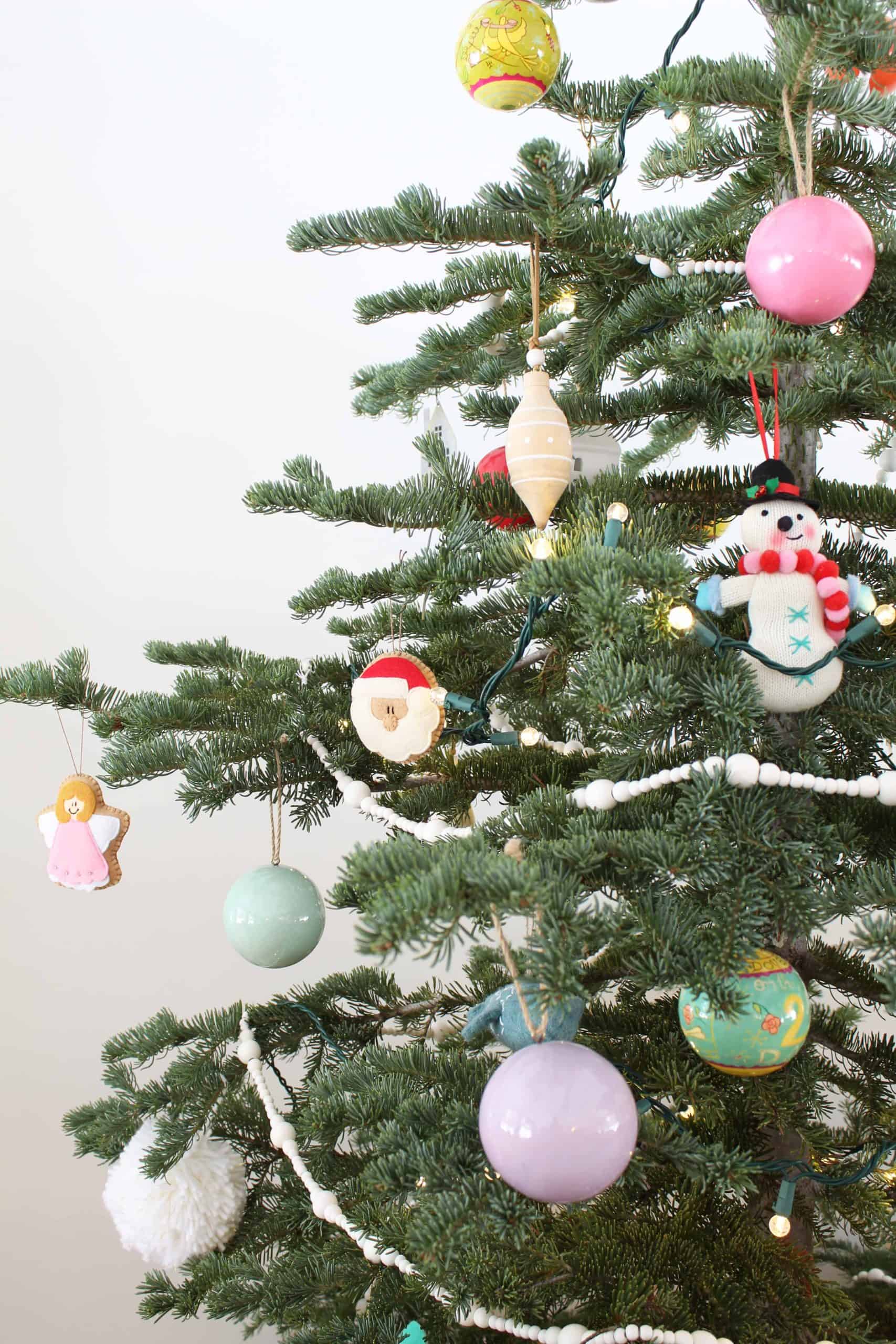 I'm such a firm believer in creating a tree that's unique to you and what you or your family is all about. Whether that's a big ol' flocked tree, a fake tree, a real tree, or something you see on the social media that inspires you. Just make sure you enjoy all of your hard tree decorating work while you sit on the sofa at night and watch the lights twinkle.
Want to save this post? Pin it here!