Merry Christmas! Our kid friendly Christmas tree this year is a little bit old fashioned and kid friendly, but full of memories!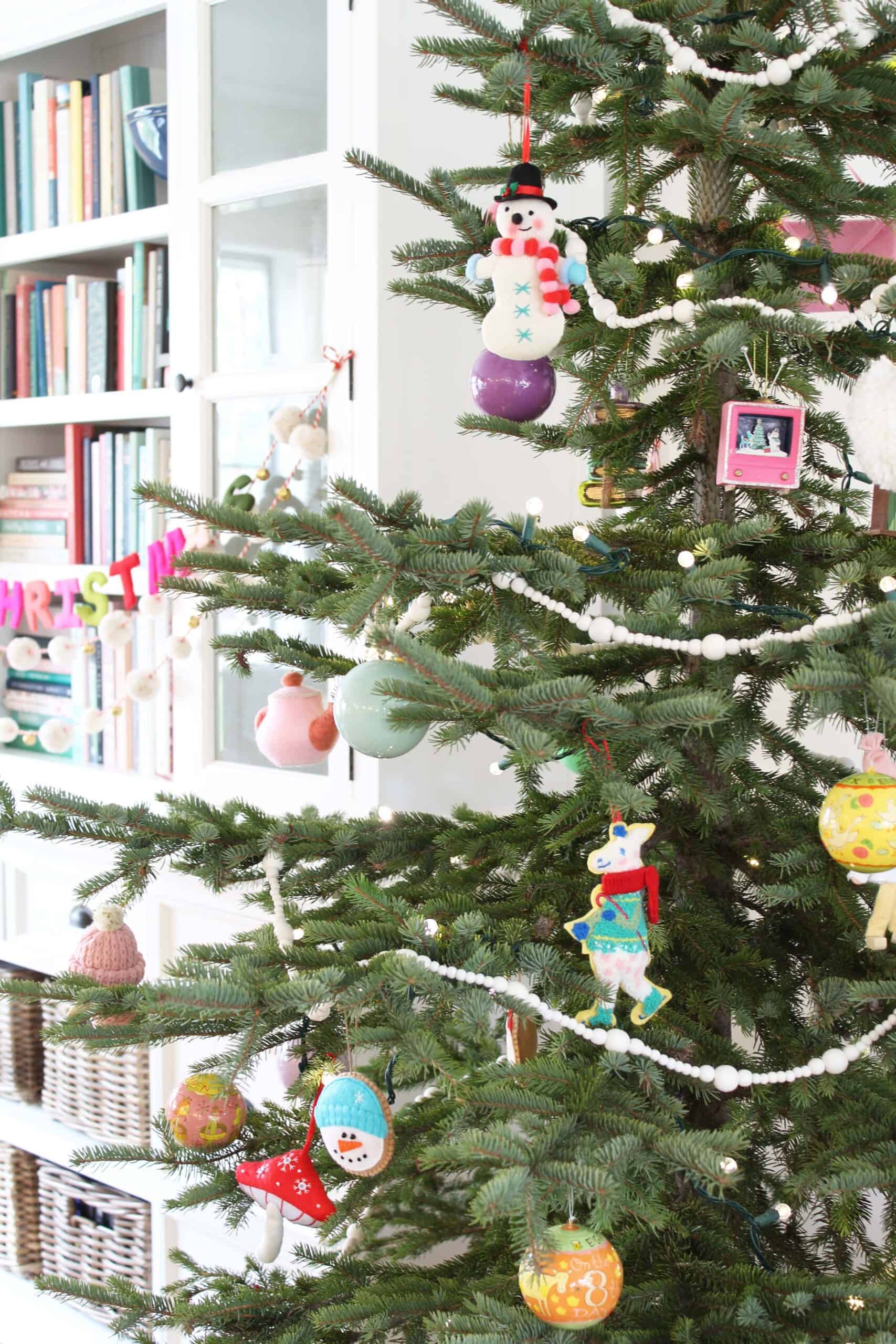 Sometimes it can be hard to share the real life stuff in blogland. There are so many perfectly flocked Christmas trees to be seen while scrolling instagram. Not to mention the abundance of tutorials out there on how to decorate your tree with giant ornaments, faux flowers, and floral picks! And while all of these trees are gorgeous, they just aren't reality for our particular family.
Our Kid Friendly Christmas Tree
After some trial and error (and a bunch of broken ornaments) I gave up and went with a totally kid friendly tree.  Felt, wood, and plastic ornaments have become my friend. I have two boxes of colorful ball ornaments; one plain and one with the twelve days of Christmas painted on them that I got at the Land of Nod years ago. These along with some white wood bead garlands helped create my kid friendly decorating base.
Since our main living area has white walls, Christmas is definitely a time when we embrace all the color. This means colorful ornaments, garlands, and Christmas pillows.  I've found that if I use ornaments made from unbreakable materials (and garlands and pillows made from felt or other soft materials) that my Christmas decor has pretty much become kid proof.  Which means we can enjoy the season without worrying about hearing the sound of something breaking. 🙂
Post Sources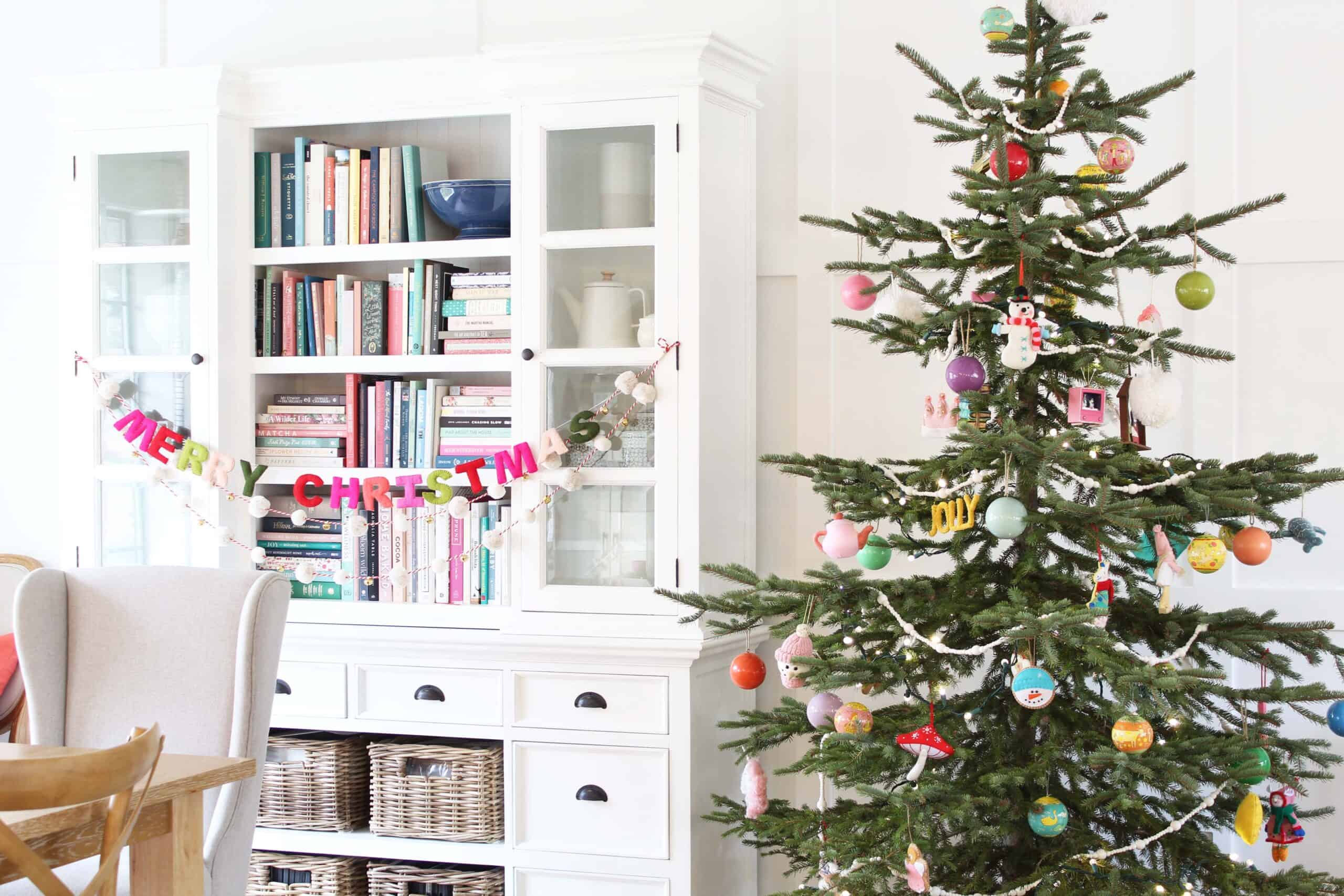 Kid Friendly Doesn't Have To Mean Ugly
If a lot of color isn't your jam, it is still totally possible to use kid friendly materials that are in keeping with your decor style. For instance, if you love neutrals, consider using chunky knits, garlands made of white or earth tones, and pillows that stick with the same color theme.
No matter what you style is – modern, farmhouse, boho, you can almost always find Christmas decor in that style. Just remember that you don't necessarily need a lot of it to make a statement. Focus on a few key pieces to use as focal points in your home.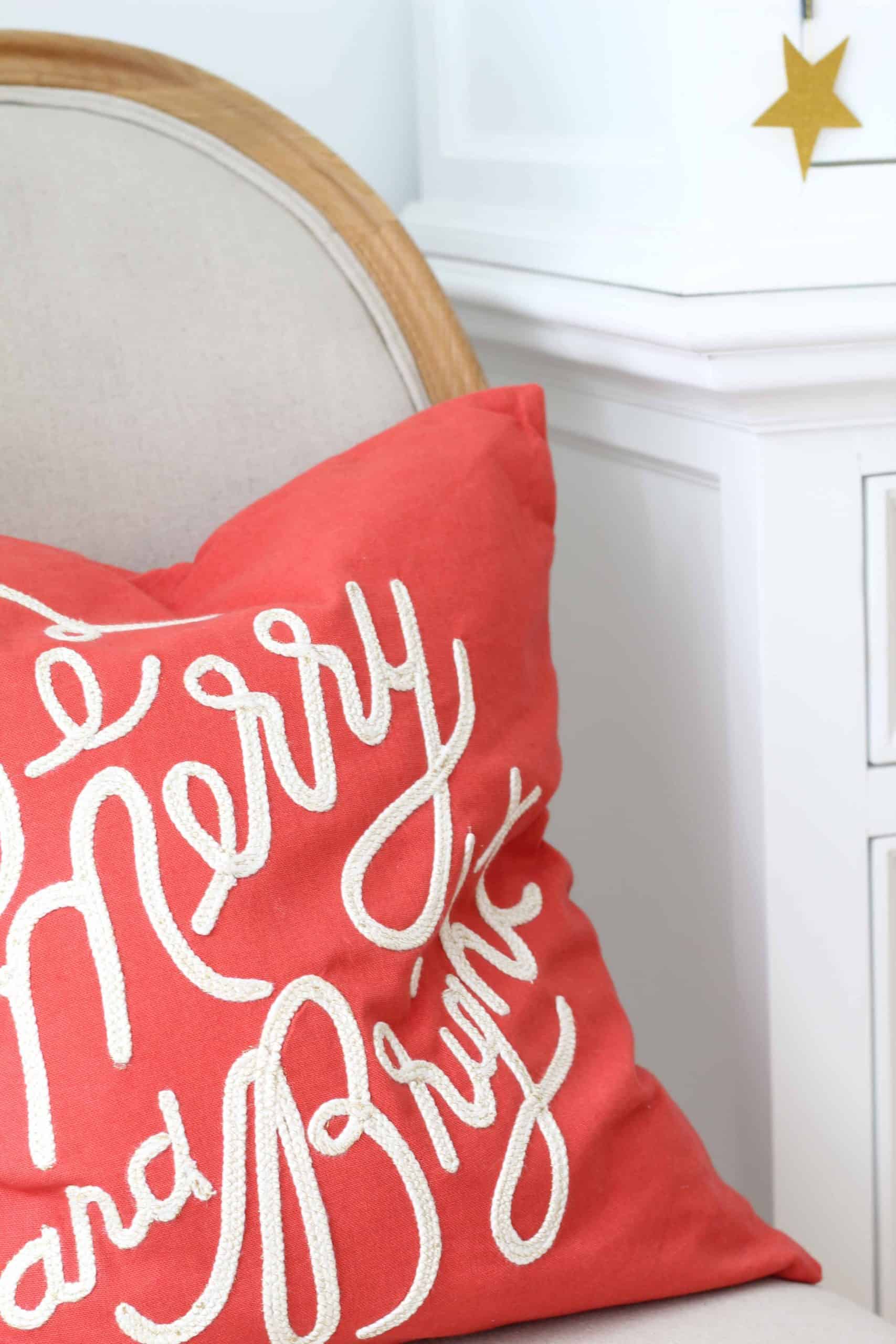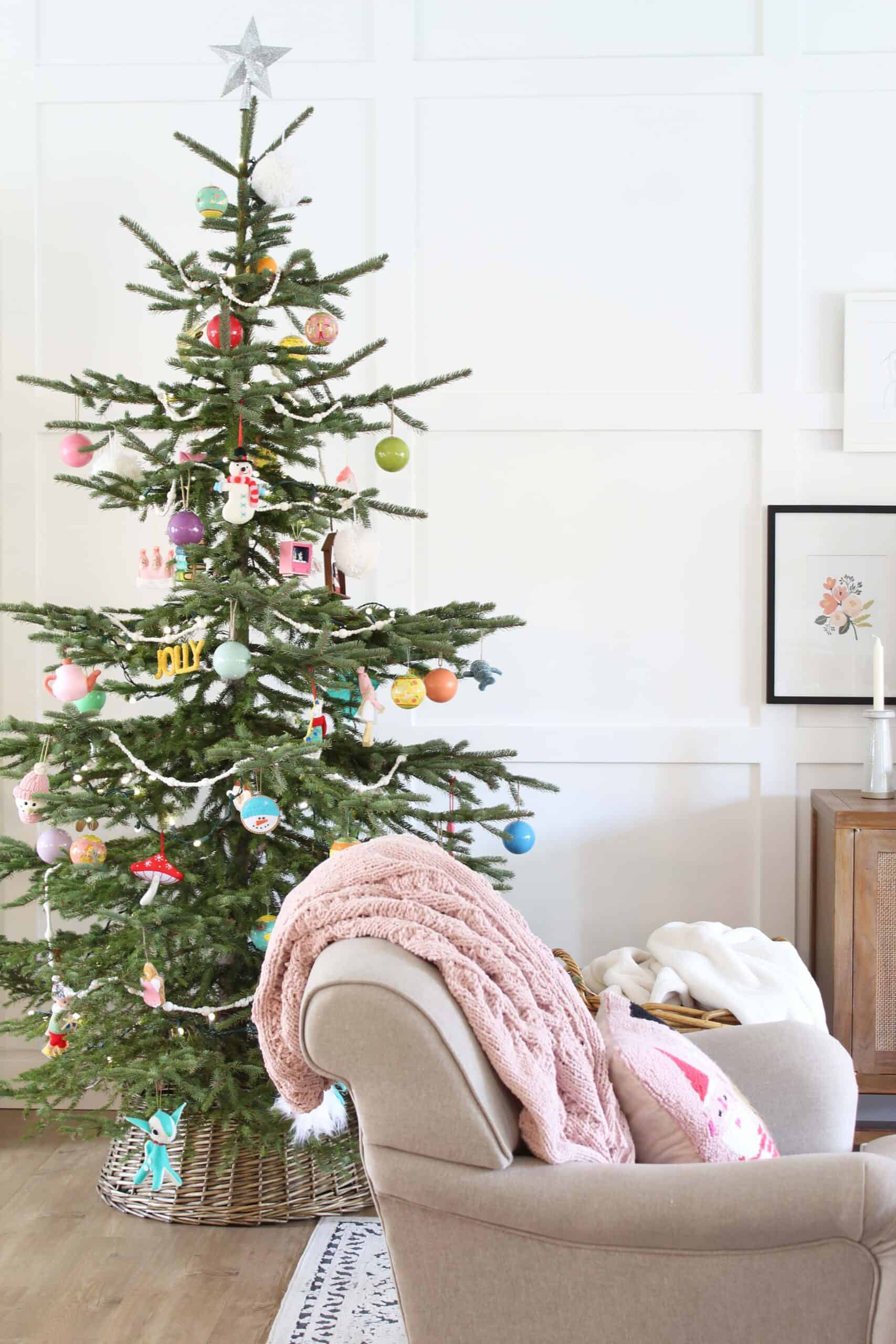 Kid Friendly Ornaments
Almost all of the felt ornament are from Target over the years, with a couple from Etsy that I just couldn't resist. They're great for kids to decorate the tree with, and honestly, I'd probably have a bunch up there even if I didn't have kids because they just feel nostalgic to me.
These ornaments have been collected over years, so don't feel the pressure to have a complete set you love all at once. Here are some of the main things I look for when I'm ornament hunting:
Material : felt, wood, or plastic
Nothing with a ton of sequins or glitter that can be pulled off.
Wood or felt garlands
If something feel delicate, I put it up higher on the tree where it's out of the way.
Post Sources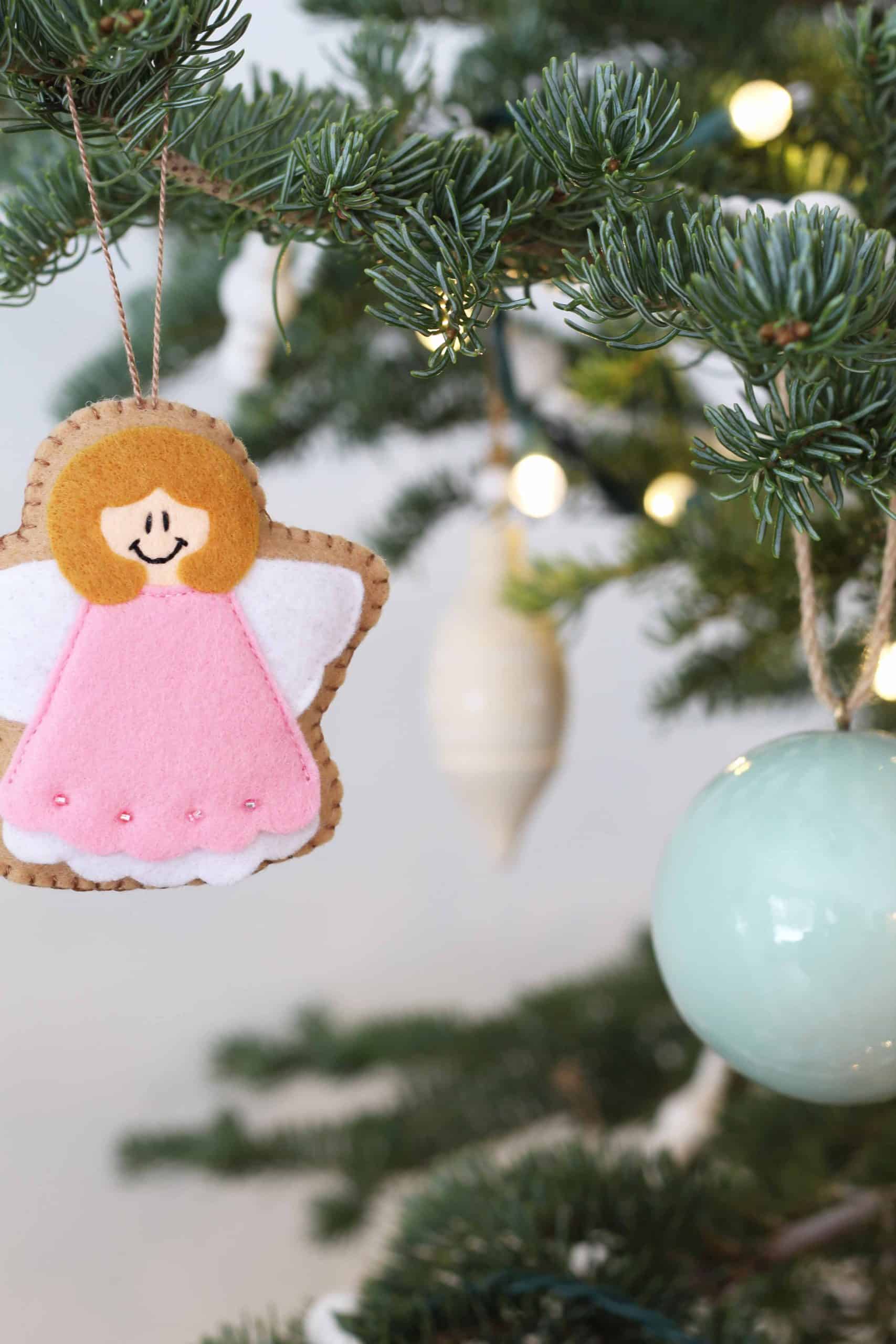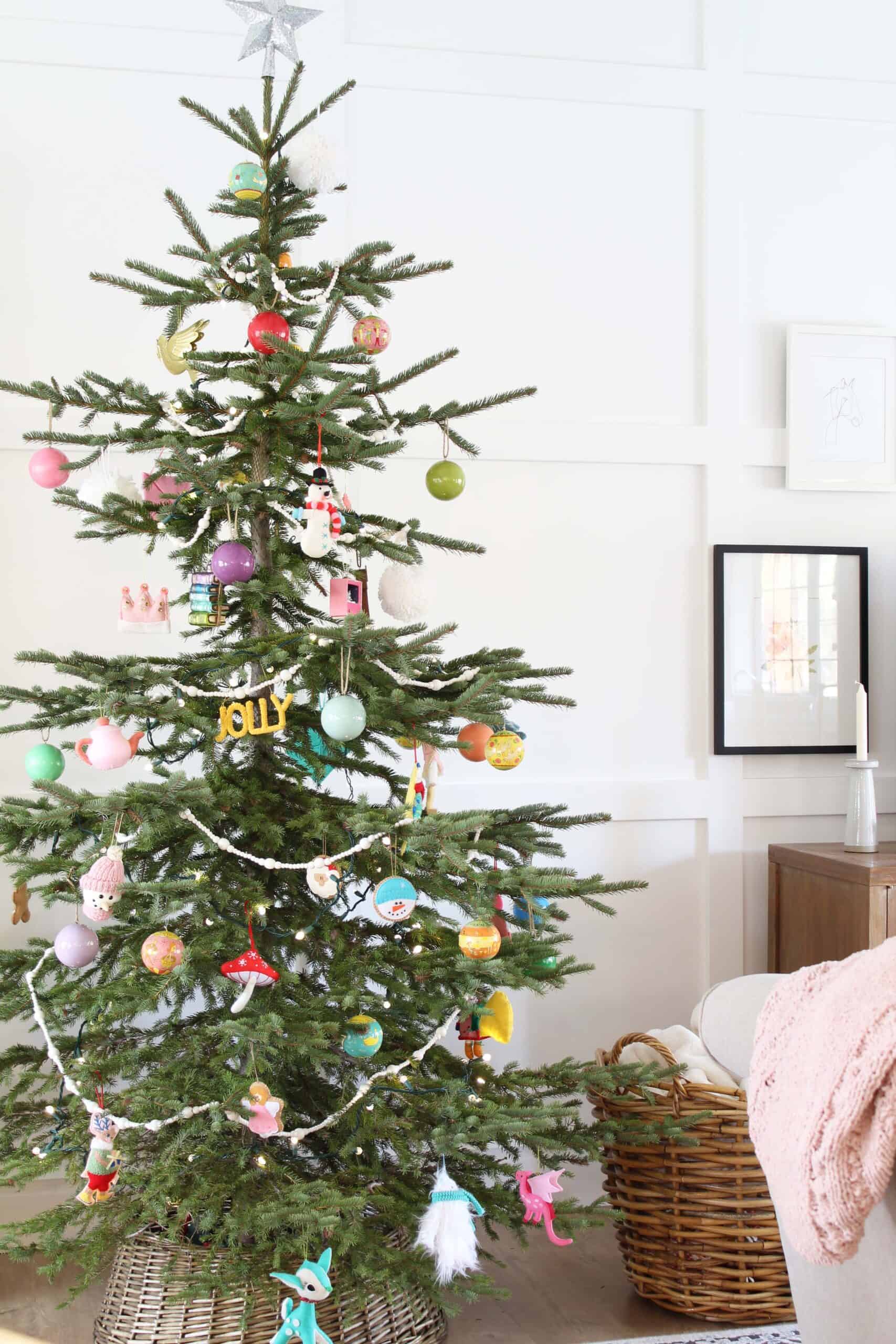 I'm such a firm believer in creating a tree that's unique to you and what you or your family is all about. Whether that's a big ol' flocked tree, a fake tree, a real tree, or something you see on the social media that inspires you. Just make sure you enjoy all of your hard tree decorating work while you sit on the sofa at night and watch the lights twinkle.
Like this post? You might enjoy these:
8 Creative Christmas Tree Collars to Spruce Up Your Tree
Post Sources

This post contains some affiliate links for your convenience. Click here to read my full disclosure policy.
Want to save this post? Pin it here!