This DIY diaper bag tassel keychain is an easy way to add a bold touch of color and a practical way to wrangle your keys.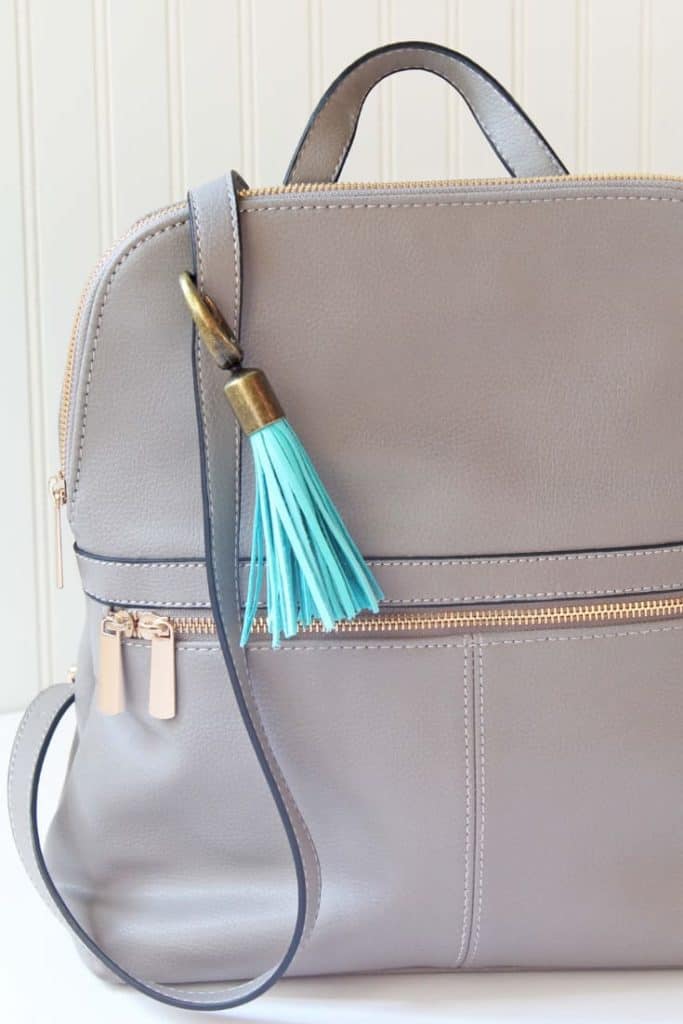 This DIY project was one born out of a small amount of frustration and a large amount of wanting to get more organized. I use to listen to friends talk about not being able to find their keys in their purses and I just didn't get what the big deal was.
Then I had a baby. And a diaper bag that seemed to carry half of our household in it. And I finally understood what the big deal was because I was suddenly the one who could never find my keys! After months of lugging a toddler in and out of the carseat while I fished for my keys in the diaper bag, I decided to do something about it.
I knew I would need something big that would be easy to grab and help make my keys more prominent when I was reaching for them. Two ideas seemed to fit the bill – some sort of pom pom or tassel keychain would fit the bill and look cute while doing it! I settled on making a large tassel keychain in one of my favorite aqua colors.
Obviously this DIY tassel keychain could be used for more than just a diaper bag – it would work great for a backpack, tote, or large purse as well!
This project was by far one of my easiest and fastest to make, mainly because I used precut tassels and found this great heavy duty antique brass clip to use as a base.
This post contains some affiliate links for your convenience. Click here to read my full disclosure policy.
Materials For This Project: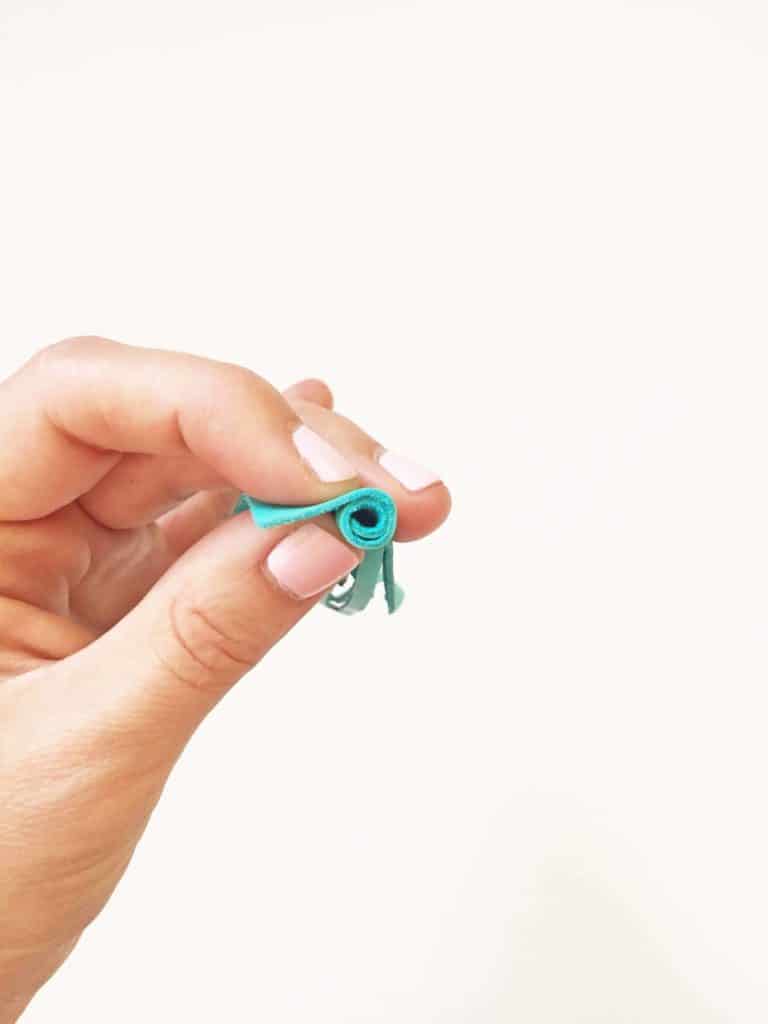 Start by rolling the leather fringe into a tight spiral. How large you want your tassel to be will determine how many layers of fringe you use.
I bought two packets of leather fringe and each packet had two pieces in it. I was originally going to use all four pieces (because I wanted to make as big a tassel as possible!) but I was only able to fit three pieces into the base of the key clip.
Next, holding your key clip base upside down, add a dollop of glue to the bottom. Insert the top of your rolled fringe sections into the base of the clip. Hold it for about 1 minute to let it set up.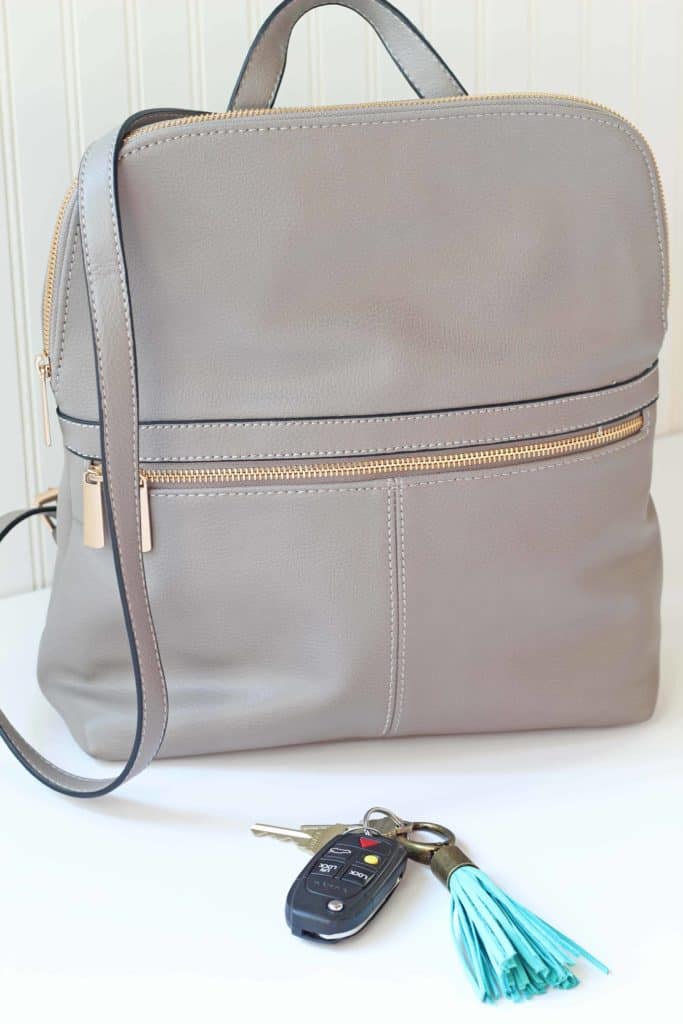 And, voila! You have a nice large tassel keychain to attach to your keys and your bag.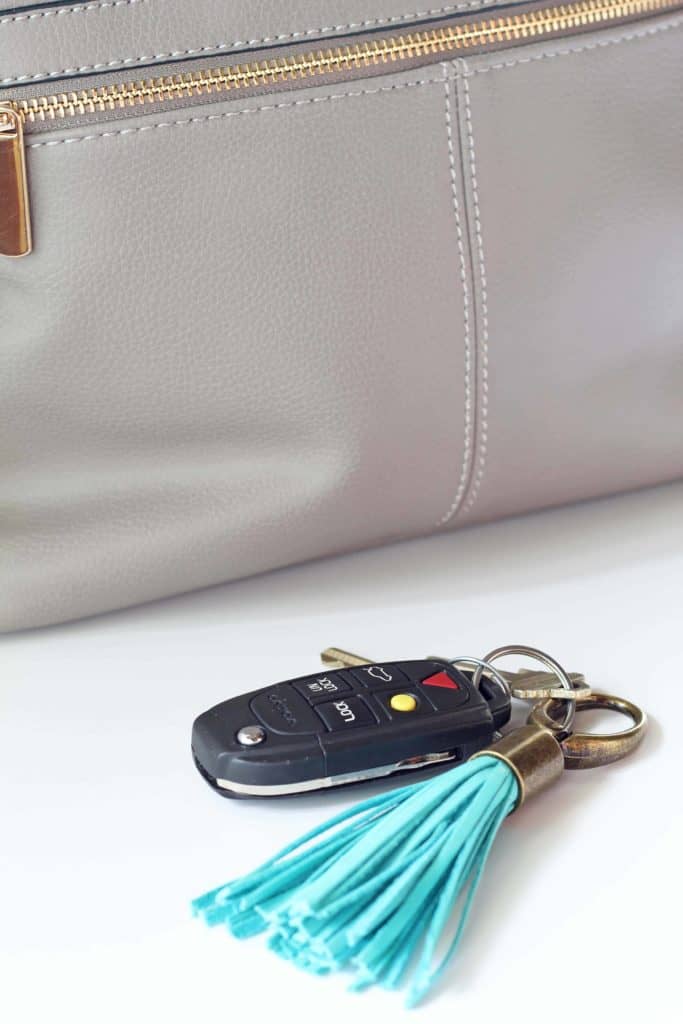 It also adds cute pop of color if you're like me and carry a neutral color bag. Speaking of bags, if you're in the market for an affordable faux leather backpack, I'm using this one  as a diaper bag (even though it's not one) and love it. It's a great size and goes with just about everything. Plus it frees up my hands and looks a little more stylish than your average backpack.
p.s. If you're interested in some cute key covers to go with your tassel, I recently bought these  and they're adorable!
Want to save this post? Pin it here!