Now might be the perfect time to change up the art around your home. Here are some ideas for fresh and pretty artwork for your home!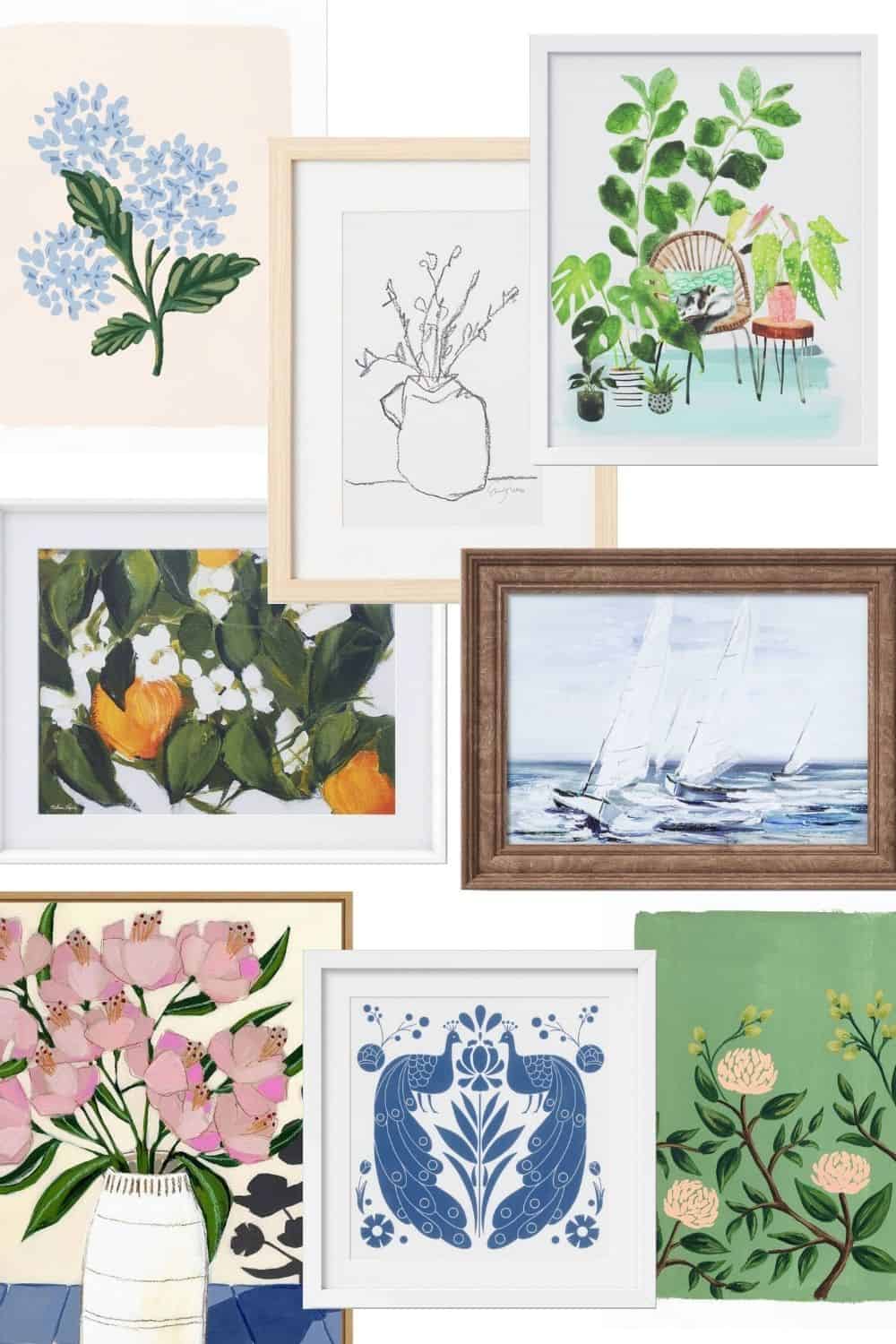 I love art, but sometimes it can feel a little overwhelming to choose art for your home – especially if you've just moved into a new home or apartment. Those bare walls staring staring at you can start to feel a little intimidating. Where to start? As with anything in our home, I like to start with what I love and build from there. Blue tones, florals, and botanicals always feel homey to me, so this art round-up includes a lot of those elements!
Artwork is one of the easiest ways I've found to change up the mood in our home depending on the season. While I'm not always in the market for changing big ticket items, art, when done right, can be that affordable, cohesive piece that really pulls a home together. Here are some art prints that are sure to give your home an instant mood boost!
Artwork Sources (click thumbnail for link)

Fresh & Pretty Artwork For Your Home
If you've never really been a big art person, or don't really think about what the art in your home says about you, I would encourage you to! The internet is amazingly full of just about any type of art you could think of to fit any style of home or season. Everything from digital downloads to one of a kind paintings can be bought online if you're willing to take the time to find it.
Art is personal. But there are a few universal things that feel especially springlike to me. This collection of art prints is pretty much chock full of them; flowers, plants, birds, citrus fruit, vintage botanical prints, and the ocean. All speak to the ideas of new beginnings, nature, and that oh so delicious fresh feeling that spring evokes.
Color is the other component that really makes a piece of artwork feel like spring to me. Rich blues and greens intermixed with pops of pinks and oranges make for art pieces that just sing spring.
Ideas For Displaying Artwork
If you love art (maybe you even have a lot of it) but have run out of ideas for displaying it, don't give up hope! The days of art just being displayed in a frame and hung on a wall are long gone. There are so many creative and unique ideas out there for displaying art. Whether you want to go super casual and lean your art against a wall or be trendy and use a skirt hanger to hang your art, there is  something for everyone.
Here are a few other ideas for places where seasonal art makes a big impact:
In your laundry room propped up above your washer or dryer.
In a bedroom layered over a mirror or other artwork above a dresser.
On an entryway table to set the tone of the season as you walk into your home.
On a bookshelf tucked in amongst books or other items you regularly display.
Propped up against the backsplash on a kitchen counter.
I hope this art round-up helps put you in a spring frame of mind and gets the creative ideas flowing!
Shop The Post (click on the picture for link )

This post contains some affiliate links for your convenience. Click here to read my full disclosure policy.
Want to save this post? Pin it here!